Sword of Trust (2019)
Dir: Lynn Shelton | IMDb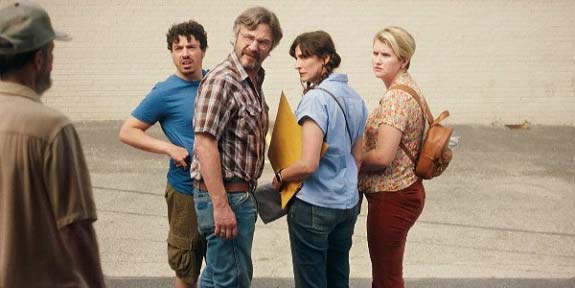 Mumblecore was a short lived independent film movement in the mid to late 2000s associated with low-budgets, talky partially-improvised scripts, and a focus on the trials and tribulations of twenty-somethings. Alongside the likes of the Duplass brothers and Joe Swanberg, director Lynn Shelton emerged as a new and exciting talent. Shelton's new movie, Sword of Trust, continues the essence of this movement even if the budgets a little bigger, and therefore is firmly entrenched in what is now known as the post-mumblecore genre.
The film follows Cynthia (Jillian Bell) and her partner Mary (Michaela Watkins), who after the death of Cynthia's grandfather, believe they will inherit his house. Instead all they are left with is an old Civil War-era sword and a letter from the grandfather that seems to indicate that the sword is proof that the South actually won the War. The pair go to Marc Maron's Mel, owner of the local Pawn shop, in order to flog it. Along with Maron's employee Nathaniel (Jon Bass), they get dragged into a conspiracy theory.
Don't go in expecting a rip-roaring adventure or you may be left disappointed. Sword of Trust is a gentle off-beat comedy that's not exactly revolutionary, but certainly enjoyable. The cast are excellent, and they work well with Shelton's stripped-back story. Bell and Watkins show great chemistry, with Watkins's Mary the straight woman to Bell's quirky Cynthia. Jon Bass's Nathaniel is a constant source of silly humour also. Marc Maron is his usual gruff, witty self as Mel but he shows a deeper layer as he tackles the relationship drama at the centre of his character.
Shelton is an experienced writer and director now and her unique style shines throughout this film. There's a scene where the four characters relay backstories and exposition which would feel hackneyed in a lesser director's hands and with less capable actors. However, here it comes across as a wonderful piece of post-mumblecore conversation thanks to Shelton and her cast.
There's nothing about Sword of Trust that is life-changing, but not everything has to be. Sword of Trust is a fun albeit brief tale that is certainly worth a watch for the four central actors and the talent of the director/writer alone.
Recommended
Ghost Tropic (2019)
Dir: Bas Devos | IMDb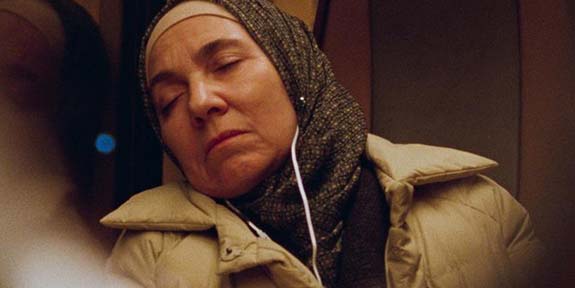 Shot on 16mm in 1:33 ratio, Ghost Tropic follows cleaner Khadija (Saadia Bentaïeb), as she makes her way across Brussels in the middle of the night. After a shift, she falls asleep on the metro missing her stop and ending up at the end of the line. With no way home but to walk, she must find her way through the deserted streets of Brussels meeting a host of characters along the way.
Ghost Tropic is a gorgeous film to watch. The camera lingers on the empty streets and finds magic in the dancing streetlights. The haze of the 16mm only adds to this ambience that seeps out of the screen. The problem is that this alone is not enough. With only the bare bones of a story, the images are ultimately not enough to keep an audience's attention. It is ultimately beautiful but hollow. The film has a nugget of an idea but not much else, and the film is stretched way beyond breaking point as it relies on this. If Ghost Tropic had been a short, it would've been a wonderful minimalist treat. It would have condensed and streamlined this, quite unbelievably, baggy 85-minute film.
Not Recommended
Current Rankings from MIFF:
1. The Souvenir
2. Sword of Trust
3. Les Misérables
4. Ghost Tropic