The Details
Release Date
21st September 2018 (UK)
Synopsis
French dancers gather in a remote, empty school building to rehearse on a wintry night. The all-night celebration morphs into a hallucinatory nightmare when they learn their sangria is laced with LSD.
Starring
Sofia Boutella, Romain Guillermic, Souheila Yacoub
Early on in Climax, a dancer is asked what he thinks paradise is. "I don't believe in God" he responds. "So if there's a paradise, it's here." It's a bold statement for a movie that parties all the way to hell.
Gaspar Noé has always taken glee in the uproar his films cause. And yet at the heart of his work lies a profound sense of despair and nihilism. To watch a Noé film is to feel bleak about humanity's capacity for compassion and kindness. In that sense, Climax isn't much different, but rarely has he presented his philosophy in such a thrilling, nuanced fashion.
The film is set in an isolated, empty school in the mid nineties. A French dance troupe has just finished an intense three day rehearsal and a US tour beckons. But what should be a time for celebration turns into a vicious nightmare when it becomes apparent that the communal sangria has been spiked with a high dose of LSD. Racial, sexual and professional grievances all come to the fore, and at least one fatality occurs.
The set up is typical Noé fare, allowing him to engage in the sort of carnage that he's made a name out of. And make no mistake; once the acid kicks in, Climax is a nasty beast. Paranoid beatings ensue, unpleasant sexual advances are made and a child is locked in a power room full of cockroaches.
Noé covers the majority of the action in one unbroken take, hopping from one character to another as the troupe becomes increasingly deranged. Long takes can often be an unnecessary bit of showboating when a sequence could use the tighter pacing that conventional coverage provides. Here however, it works like gangbusters. Seeing everything occur in real time, in this incredible sequence of choreographed escalation, creates a stomach churning sense of dread.
And yet, for all the horror and brutality, Noé and his cast are having one hell of a time. In contrast to his previous films, which tend to stew in the sheer bloody hopelessness of it all, Climax finds beauty, liberation and maybe even a little tenderness in the depravity. Noé confirms the bona fides of his performers in the incredible opening routine, but it's their movements when tripping that cause the jaw to drop.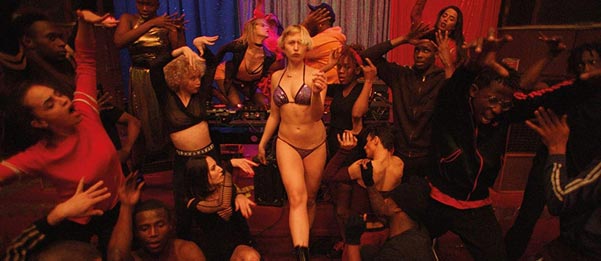 Arms twist and turn, torsos contort, and everyone vogues like their lives depended on it. Bathed in harsh red light and filmed at odd angles, the dancers bodies become abstracted, seemingly bending into new forms. At times it's deeply unsettling, but just as often it's a thing of strange beauty.
The music also keeps things from getting too dowdy. Climax may have one of the best soundtracks of the year; at any moment, there's a brilliant club beat reverberating through the halls. Sure, you may have just seen someone get set on fire, but how bad a time can you really be having when Giorgio Moroder and Soft Cell are pounding out of the speakers?
The film culminates in a hellish orgy of flesh, shot upside down and in close up, making it impossible to tell where the dancing ends and the fornicating begins. Limbs fly around the screen, bodies crawl over one another, and one dancer twists his arms hard enough to create wince-inducing cracks. People lay dying, or wailing for help, but no one has the interest or wherewithal to do anything about it. All the while, title cards boom phrases like DEATH IS A UNIQUE OPPORTUNITY. It's a better metaphor for a world gone to hell than all 2 hours of mother! could conjure.
And you have the feeling that Noé kind of loves it. Throughout the film his trademark misanthropy is present and correct, but for the first time he's depicting some of the joys of hedonism, rather than wallowing in the depths of it. In an insane world, maybe the best paradise we can find is in a dance, or a sweaty lesbian hook up. He even makes time for an affectionate cuddle between a young gay man and his mentor.
Noé always makes films that you experience, rather than engage with on an emotional level, and that's true here. Characters are thinly sketched and his attempts to add shading to them in the sluggish opening are painful. You can only listen to horny guys talk about anal for so long before it goes beyond acceptable art house indulgence and into the realm of obnoxiousness.
That scarcely seems to matter though once people start to get a head of acid on them. Climax is a purely sensory experience, and on those terms, it's a complete success. You'll stagger out of the cinema like you've just come down from a bad trip of your own. And like the dancers themselves, you might find yourself taking a surprising amount of pleasure from the madness.
We Liked
Incredible camera work
Breathtaking dancing
A soundtrack that makes you want to rave all night
We Didn't Like
The sluggish opening act