The Details
Release Date
28th September 2018 (Netflix Premiere)
Synopsis
After the deaths of three children suspected to be killed by wolves, writer Russell Core is hired by the parents of a missing six-year-old boy to track down and locate their son in the Alaskan wilderness.
Starring
Jeffrey Wright, Alexander Skarsgård, James Badge Dale, Riley Keough
Netflix's latest original production Hold the Dark takes us to remote Alaska, a frozen land of savagery and wolves. But does unambitious direction and a baffling conclusion risk leaving audiences out in the cold?
Based on William Girauldi's novel of the same name, Hold the Dark introduces us to Russell Core (Jeffrey Wright), a hardened wolf expert approaching his twilight years. Core travels to the secluded Alaskan village of Keelut at the behest of Medora Sloane (Riley Keough), who tells him her young son has been taken by wolves and implores him to hunt the animals and retrieve her son's body.
However, things are not quite as they seem and, returning from his hunt, Core discovers the horrifying truth. When the boy's father, Vernon Sloane (Alexander Skarsgård), comes home from a faraway war with bloody vengeance on his mind, the hunt begins and Core soon recognises the ferocious animal in us all.
Girauldi's book is a visceral, compelling read and this absolutely translates to the screen. The early twists and turns of the plot are met by the ruthless violence of action scenes, each packing a punch and their requisite eight pints of blood.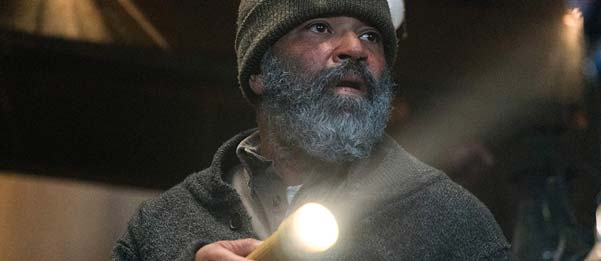 This is largely thanks to director Jeremy Saulnier, whose experience in films like the 2013 critically-acclaimed slow burn revenge thriller Blue Ruin shows a penchant for convincing brutality and gory practical effects. He's a self-confessed fanatic for 'cinematic violence', which is perfectly suited to this screenplay.
Unfortunately, other elements of Hold the Dark don't hold up quite as well. Jeffrey Wright, a star of HBO's mindbending Westworld and an accomplished actor to say the least, takes on the lead role of Core. While he's believable enough as a grizzled wolf expert, his performance feels a little devoid of nuance, a little flat, with his character suffering from a hasty introduction and ultimately robbing us of a further look into what could have been a very interesting character.
Alongside Wright are Riley Keough (Mad Max: Fury Road) and Alexander Skarsgård (The Giver, Straw Dogs) as the Sloanes, the not-so-loving couple. Both characters are cold, unemotional, even psychopathic at times and both actors do a fine job of this. But after a while, this loses its intensity and begins to feel a one-note; you only need look at Javier Bardem in No Country for Old Men to see how cold-bloodedness needn't be dull.
Another example where the film misses a great opportunity is in its setting. In lieu of an authentic Alaskan setting, Hold The Dark was shot in the similarly looking location of Alberta, Canada. Cinematographer Magnus Nordenhof Jønck had a beautiful environment at his disposal; mountains, spruce forests and vast snow drifts – none of which were used to their best potential. In fact, throughout the film the environment doesn't feel like a factor at all.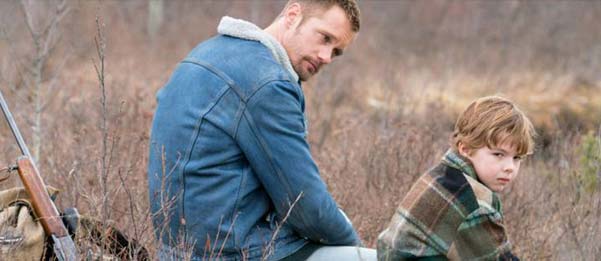 Sure, the characters wear thick jackets, drive heavy duty pick-ups and there's tonnes of snow on-screen, but all of this feels shallow and diminutive in comparison to what could have been achieved with such a harsh environment to play with. It never makes the audience feel the cold. 2016s Oscar-winning survival drama The Revenant is an example of how this is can be done better, and despite what we imagine is a huge difference in budget you can't help but feel maybe Hold the Dark could've aimed higher. Perhaps then, as a director used to self-financing his own movies, Saulnier has played it too safe in his first "big-budget" foray.
Overall, though, the greatest disappointment is the conclusion. After undertaking such a thrilling hunt, the ending feels rushed, especially for a movie of this length, and leaves threads unanswered or uncertain. For better or worse, it also omits the book's controversial final twist of the knife (we'll leave that for you to look into); an understandable decision, but one that doesn't go any further in creating a satisfying conclusion for the audience.
For those who have read Hold the Dark, then, this film is not worth your time. Most of its redeeming elements can be found on the page and much more besides. For the majority who haven't, the journey of the hunt might just be worth joining, but bear in mind – you could come back empty-handed.
We Liked
Brutal, hard-hitting action and violence
A fast-paced, riveting plot
We Didn't Like
A wasted opportunity to bring the most out of the location
The rushed, aimless conclusion