The Details
Release Date
1st February 2019
Synopsis
Six strangers find themselves in a maze of deadly mystery rooms, and must use their wits to survive.
Starring
Taylor Russell, Logan Miller, Jay Ellis
Adam Robitel's claustrophobic thriller Escape Room follows six strangers, including Zoey Davis (Taylor Russel) and Ben Miller (Logan Miller), who come together after being offered the opportunity to win $10,000 through taking on an infamous Escape Room. From the offset, the characters quickly realize that what it is instead is a deadly series of challenges which will test how far they are willing to go to prove their worth as a sole survivor.
Throughout Escape Room's run-time, I got a vibe that Adam Robitel was trying to liken his film to James Wan's gleefully torturous Saw, with the unique twist being the Escape Room angle. The narrative almost follows the exact same structure: a cold opening location which we come back to and an initial establishing of the character's everyday lives who are then thrust through a deadly series of traps. Unfortunately then, the audience already has a strong idea of how the film is going to play out and by the time we get to the ending, it both doesn't feel like much of a surprise and delivers nowhere near as big a prolonging impact as it should.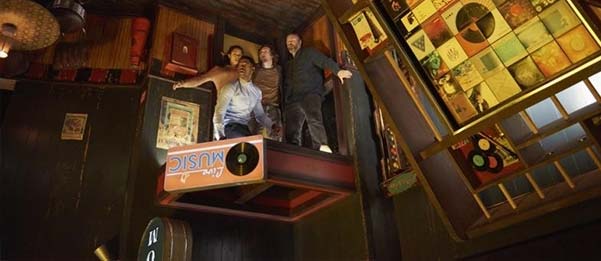 The differences in each suffocating room and the challenges set by it give the audience a sense of unease that a film like this must absolutely deliver – one that we are trapped just as much as the characters. The designs of some of these are diverse and interesting enough that the puzzles presented within them remain fresh and interesting throughout the whole way through.
Although each character does seem like they overplay an obvious personality trope rather than feeling like all-round and well defined characters- the rich successful person, the quiet, shy individual, the dope smoker and so on – the characters do still decently bounce off of each other and have enough difference to really feel like these are six odd jobs who are all coming together, even if their character arcs are a little bit cliche. This one-dimension of emphasizing only one side of their personality works with separating them out, but not so much as grounding them further than pawns of this game's deadly workings.
Even if there are some issues with it's character originality, Escape Room is still a decent horror film that manages to keep it's audiences hooked in sequences that possess a great variety. Although as a film with narrative, characters and meaning it doesn't quite hit the mark with any of these further elements, Escape Room consistently maintains it's high tension factor to an effective degree for the run-times duration. Escape Room's strength is not in it's destination and the realisation of working out where this is, but Adam Robitel's fresh and unique take on the journey to get there.
We Liked
Diverse and interesting set design
Remains tense for the most part
We Didn't Like
Obvious and tired personality tropes of characters
Predictable story

Escape Room is as much fun as knowing all the answers to the riddles before entering one - and having the exit door open the entire time with a smiling attendant giving you the opportunity to leave whenever you like.