The Details
Release Date
21st September 2018 (UK)
Synopsis
After a doctor is called to visit a crumbling manor, strange things begin to occur.
Starring
Ruth Wilson, Josh Dylan, Domhnall Gleeson
What is it with studios and their haphazard approach to marketing horror films?
2015's The Witch, 2017's mother! and this year's Hereditary all fell victim to marketing akin to The Conjuring or other jump scare spooktaculars. Arguably this method does plant bums in seats, as two of the three aforementioned films were rousing financial successes, with mother! just about scraping back its $30 million budget with a still-impressive Worldwide haul of $44 million.Regardless of Box Office takings, there is a definite sense that we are being misled by trailers nowadays.
Enter The Little Stranger. Bid as a British neo-Gothic haunted house horror from it's various previews, it barely resembles it's promotional material when viewed in full. The film instead requires a lot of patience as it slowly burns along, gradually peeling back layers not of supernatural anomalies, but of character psychosis. It exceeds if you're after thoughtful watching, but will be a guaranteed bore if you seek scares.
Domhnall Gleason (Star Wars: The Last Jedi, Peter Rabbit) stars as countryside doctor Faraday, a tightly wound and extremely glum fellow from a humble farming family, who in 1948 is called to make a medical evaluation of a maid in Hundreds Hall. The hall is now a slowly decaying mansion run by a once prosperous family headed by Mrs Ayres (Charlotte Rampling; Red Sparrow), her daughter Caroline (Ruth Wilson; Locke, Saving Mr. Banks) and her war wounded son Roderick (Will Poulter; We're The Millers, Maze Runner: The Death Cure). Faraday has history with the house, his mother having worked there when he was a child. He developed an envious obsession with the then lavish estate, but after tragic events befalling Mrs Ayres youngest daughter Susan, the family and the house both drastically changed.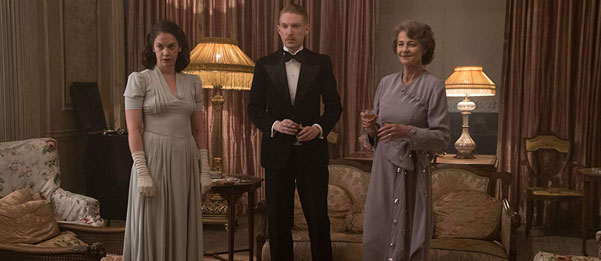 The entire cast never put a foot wrong. Gleason sinks into a performance with depth seemingly unending, conveying an impressive range to such a quiet and reserved character. Wilson is equally terrific, and arguably the true soul of the movie. Rampling is reliably solid and Poulter produces another mesmerising transformation. All have their moments to shine in dedicated scenes, and play off each other so well it would be a treat to see any of them on screen together again.
Oscar nominated director Lenny Abrahamson, who picked up the nod for 2016's captivity drama Room, smartly knows that most ghost stories aren't about the spirits themselves, instead they are a reflection of us: our fears, doubts and guilt. The supernatural happenings in The Little Stranger are subtle and thankfully obtuse, and practically all of them can be viewed as explainable. This opens up the possibility of two individuals having two very different readings of the film, which is always fun, although I do feel that the ending hinted a little too heavily towards one side unfortunately.
The films keen sense of character is truly it's strongest merit. The growing relationship between Faraday and Caroline starts rather sweetly, but eventually turns sour as we start to see certain characters in a more unfavourable light than we first might have thought. The tension slowly bubbles away in the background creating a confident and controlled picture that's hypnotic to watch; something Stephen Rennicks' score helps with immensely.
The Little Stranger may not resemble it's marketing. It may not be the traditional horrifying story to keep you up at night. It may not even be the most exciting film out at the moment. But it is a solid example of a subdued, well told drama/mystery, with a dash of Gothic sensibility thrown in for good measure.
We Liked
Superb performances all around
Hypnotic slow burn
We Didn't Like
Ending suggests a little too much

I highly recommend for parents to stick with Beatrix Potter's enduring books instead of subjecting their young hoppers to this con artist.