The Details
Release Date
20th September 2018 (UK)
Synopsis
A woman seeks to uncover the truth behind the disappearance of her best friend.
Starring
Anna Kendrick, Blake Lively, Henry Golding
After his controversial but mostly unecessary all-female version of Ghostbusters in 2016, director Paul Feig had largely fallen out of favour with audiences. Now he's back with a 'simple' one in a delightfully wicked dark comedy filled with more twists than a dozen Martinis.
Stephanie (Anna Kendrick) runs a video blog of recipes for mothers (or a 'vlog' for you internet savvy folk). The film opens with her recording an episode, tearfully updating her viewers on the current situation involving her friend, the enigmatic Emily (Blake Lively). Five days prior to the recording of the video, Emily had asked for, yep, a simple favour: for Stephanie to pick up her son Nicky from school. That was the last Stephanie had heard from Emily and after countless unreturned phone calls, Stephanie finally gets a response – but it's not from her friend, it's Nicky's dad Sean (Henry Golding).
Together, Stephanie and Sean uncover unsettling truths about Emily, and discover that neither of them knew her at all. As the mystery deepens, the case delves into places neither of them could have ever predicted.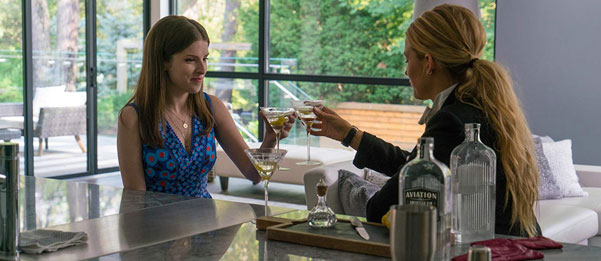 Feeling like the illegitimate offspring of a Desperate Housewives and Gone Girl affair, A Simple Favour is deviously cruel and razor sharp-witted. Kendrick and Lively are a dynamite duo who perfectly compliment each other by being the polar opposite of the other. Kendrick delivers her usual sweeter-than-sugar persona while Lively is callously cynical as Emily.
Feig successfully balances the mystery and comedy for the most part, but there's occasion wobbles where the film threatens to fall into the OTT awkward situation territory seen in his previous directorial offerings Bridesmaids and The Heat. But it gets back on the tension-pulled tightrope when it matters, delivering satisfying if somewhat predictable narrative swerves as it edges towards its conclusion.
Don't ever get comfortable with A Simple Favour either – Feig certainly doesn't rest on one story, offering enough twists to make Chubby Checker proud. Like a careless driver with you as the passenger, Jessica Sharzer's script frenziedly swerves left to right, headlights off at midnight, in a car with the seatbelts removed. Sometimes you can anticipate these plot curves and brace accordingly, but then Feig starts doughnutting, flinging you off-centre once again.
We're also treated to a soundtrack dripping with stylish French 60's pop that includes the likes of Brigitte Barot, Jaques Dutronc and the silky 'Laisse Tomber Les Filles'. You may have heard its English version, 'Chick Habit', featured in Quentin Tarantino's 2007 Grindhouse segment Death Proof. Either way, its cucumber cool accompanying music will be stuck in your head for days and gives A Simple Favour an artificial air of sophistication – much like Emily's character.
Deliciously puzzling and ruthless in its black comedy, this Simple Favour will pay you back in laughs and surprises.
We Liked
A helter-skelter amount of twists
Lively and Kendrick are a dynamic and darkly funny pairing
60's French pop soundtrack is sublime
We Didn't Like
When comedy is the focus, the films tone falters
Supporting cast are forgettable