The Details
Release Date
6th April 2020 (VOD Premiere)
Synopsis
When the Queen of the Hard Rock Trolls tries to take over all the Troll kingdoms, Queen Poppy and her friends try different ways to save all the Trolls.
Director
Walt Dohrn, David P. Smith
Starring
Anna Kendrick, Justin Timberlake, Rachel Bloom
Who could have predicted that Trolls World Tour would rock the cinema industry to its core?
That's exactly what happened when Universal made the unprecedented decision to release the film digitally as a result of a Worldwide lockdown brought on by the Coronavirus Pandemic. Exhibitors were furious at the lack of communication and the longer the shut-in of Planet Earth continued, the worse the feud became, with both AMC (the World's biggest theatre chain) and Cineworld (not the World's biggest theatre chain but pretty darn close) refusing to show Universal films under the distributor's current stance.
But that's another story (and one you can read more about right here). You're on this page presumably to see if a grown man enjoyed a film aimed at people twenty years his junior, so let's get to it.
Still adjusting to life as Queen, Poppy (Anna Kendrick; A Simple Favour) and her friend Branch (Justin Timberlake; The Social Network, Wonder Wheel) discover that they are but one of six different Troll tribes scattered over six different lands devoted to six different kinds of music: Funk, Country, Techno, Classical, Pop and Rock. Punkish Troll Barb (Rachel Bloom) of the Rock land, aided by her father King Thrash (an all-too-brief cameo from Prince of Darkness but certainly no Thrash King himself Ozzy Osbourne), wants to destroy all other kinds of music to let rock reign supreme. With the fate of the world at stake, Poppy and Branch, along with their friends, set out to visit all the other lands to unify the Trolls in harmony against Barb, who's looking to upstage them all.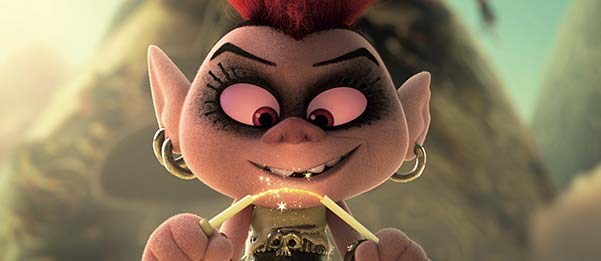 Trolls World Tour irritated more than it should have. If I were a Troll, I'd place myself firmly as a resident of the rock land, so I may be taking its message a little too personally for a throwaway kids film. Nevertheless, Trolls World Tour does what the girl who rejected Bon Jovi did for love and gives rock fans a bad name. At worst, it could discourage up and coming rockers from digging into the goldmine of what the music has to offer due to the negative representation shown here.
Granted, a minority of them can be narrow minded and elitist to their beloved genre (I'm looking at you, Black Metal fans), but for the most part we're an accepting bunch. More than any other genre, I'd say. So to paint us as the big bad evil who want to eradicate every other kind of music is absurd. Rock and metal frequently venture into other genres territory to compliment and incorporate their sound into ours.
Don't believe me? Here's some examples –  Rage Against The Machine and Red Hot Chilli Peppers are unquestionably Funk Rock. Nu-Metal pioneers KoRn produced an album with Dubstep artist Skrillex. UK band Enter Shikari incorporate Techno elements to their rock sound. Thrash titans Metallica played with entire orchestra on the S&M album and there's an entire culture of symphonic metal with bands like Epica, Nightwish and Symphony X.
I could continue, but I've already gone too far off topic. The point is, Trolls World Tour's core message trumpets the idea of acceptance and diversity while simultaneously tarring an entire subculture with the same brush. Even at its predictable conclusion, this problem isn't resolved – in fact, it makes it worse. Again, I'm fully aware I'm likely making a mountain of a molehill, but as you can tell the whole thing irked me.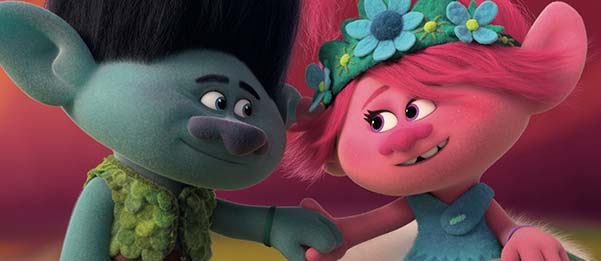 As for the film, it's perfectly passable entertainment. It's pleasant, if a little garishly over-coloured at times, to look at and the different areas are humorously themed to the corresponding musical styles giving the impression that our high-haired heroes are essentially travelling through a far reaching theme park. Techno is a neon-lit Utopia, Classic Trolls live in the clouds, Funk may as well be inside a disco ball and Rock resides in a volcano. The sun scorched Countryland provides the films most memorable musical number with the excellent Born To Die by Kelly Clarkson. It also punishes us with the worst too, with a medley of pop 'classics' like Gangnam Style and Who Let The Dogs Out.
The key voice players of Kendrick and Timberlake return with unspectacular results for the lead roles of Poppy and Branch and, unfortunately, so does the ever-irritating James Corden (who continues to destroy childhood characters after voicing 2018's Peter Rabbit) as bumbling sidekick Biggie. Rachel Bloom, of TV's Crazy Ex Girlfriend provides the chops for our spiky foe Barb, giving her the personality of a scorned rebellious teenager who hates the world, while Sam Rockwell provides welcome support as a yee-haw centaur Hickory.
Much like the current 'biggest thing' in the music charts, Trolls World Tour is merely another cog in the machine for the brand. It supplies a brief respite for exasperated parents as their own real-life Trolls will no doubt be distracted by the explosion of colour fired directly into their eyes. There's just not a lot of praise to sing about once the final notes have sounded.
We Liked
Each musical area is well defined by its stereotypes
Troll Bounty Hunters
We Didn't Like
Sends out the wrong message, no matter how well-intentioned it may be
James Corden