The Details
Release Date
21st June 2019 (UK)
Synopsis
When a new toy called "Forky" joins Woody and the gang, a road trip alongside old and new friends reveals how big the world can be for a toy.
Starring
Tom Hanks, Tim Allen, Keanu Reeves, Christina Hendricks, Jordan Peele, Tony Hale
As trilogies go, the Toy Story franchise is a near-perfect trifecta of films with an emotional and conclusive finale. For a fourth to feel worthwhile it would require a story crafted with unbreakable material that comes with a lifetime warranty. Sadly, despite being packaged in the most beautiful of animated wrapping, Toy Story 4 only barely scrapes through Quality Control.
To help her overcome first day jitters at kindergarten orientation, new owner of the toys Bonnie creates a makeshift toy called Forky (Tony Hale; Arrested Development, Batman Ninja) out of thrown away materials sneakily placed by Woody (Tom Hanks; Forrest Gump. Taking an instant admiration for the creation, Bonnie becomes extremely attached to the inanimate object – much to the confusion of Forky, who firmly believes that he's nothing but trash and will stop at nothing to find refuge in the refuse bin.
Woody, seeing how connected Bonnie is to Forky, takes it upon himself to raise Forky's confidence and give him the belief to appreciate his place in Bonnie's life. During a road trip to celebrate her successful first day at pre-school, Forky throws himself from the moving RV window. Wracked with guilt for letting it happen, Woody follows suit and so begins the adventure of finding Forky and getting back to Bonnie and the rest of the gang while meeting new toys along the way.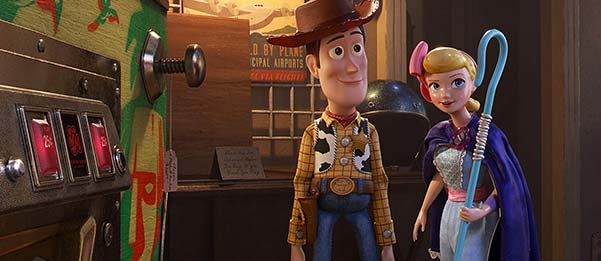 Toy Story 4 doesn't particularly harm Pixar's greatest creation, but it doesn't do enough to justify its production either. The original bunch – Buzz (Tim Allen; The Santa Clause), Slinky (Blake Clarke), Mr. Potato Head (understandably absent vocally due to voice actor Don Rickles' tragic passing in 2017), Hamm (John Ratzenberger; Coco, The Incredibles 2), Rex (Wallace Shawn) – are all but forgotten about and left to gather dust bunnies in favour of fresh introductions such as failed Canadian stuntman Duke Caboom (voiced by the man-of-the-moment Keanu Reeves; John Wick: Parabellum), a defectively voiceless Gabby Gabby doll (Christina Hendricks) who is flanked and guarded by the loose-limbed and frankly terrifying Benson puppets, and energetic motormouth stuffed toy duo Ducky & Bunny (Keegan-Michael Key;  The Predator, and Jordan Peele; Us, trotting out their comedy double-act schtick and making the film all the better for it).
I'm not saying the new additions are bad: they all have their moments to shine, with Ducky & Bunny's short-lived feud with Buzz and their one-track mind for making plans being real highlights of the whole film, but the inclusion of them all is far less seamless than in previous entries. Both Toy Story 2 and 3 expanded the crew with the likes of Jessie, Bullseye, Lotso, Barbie and Ken, but it never felt like the original gang were made to feel like secondary characters. That's not the case in Toy Story 4. If they aren't named Woody or Bo Peep, then they're out of luck and largely stuck in the RV. There's a subplot with Buzz trying to find his 'inner voice', but there's nowhere near enough time dedicated to it for it to amount to anything meaningful. Disappointingly, the unbreakable friendship between Buzz and Woody is non-existent here as the two groups, the new toys and the originals, are kept separate for the majority.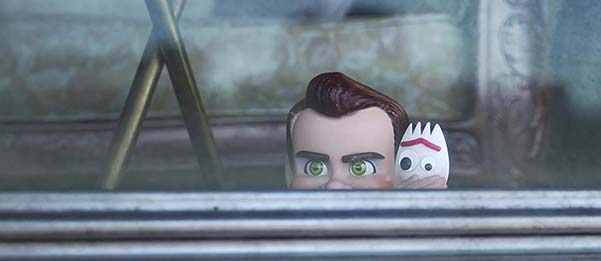 Like the previous three, Toy Story 4's plot does have some important morals and messages. It's a celebration of imperfections and champions the acceptance of being different. While we're too busy comparing lives to our friends because of the social media snapshot of the way they live that we see on a daily basis, too often do we forget that we're all unique in our own ways and that's what should truly matter. There's a definite theme of embracing change too, with Woody no longer the jealous and possessive cowboy who simply must be the alpha toy, but now taking on the role of a mentor and aiding others to believe in themselves. As always with the Toy Story films, and indeed most of Pixar's releases in general, these are lessons and themes that transcend specific age groups, genders or race and absolutely everybody should take note.
A noticeable and welcome focus on strong female characters is present as well, with Bo Peep and Jessie both having pivotal moments in the film. Bo Peep especially is a no-nonsense, self-reliant pathfinder who is a fantastic example for a role model to young girls. Nevertheless, the abandoning of core characters of the franchise for the films' duration remains a huge hindrance for the intended emotional climax and while most who have grown up with the series are likely to shed a tear or two in the closing moments, it doesn't feel as organic, earned or as hard-hitting as Toy Story 3's decisive conclusion.
Perhaps most frustratingly, Toy Story 4 still doesn't feel like the end of this series, instead giving the impression of it being more of a passing of the torch – one which is likely to burn for many years to come thanks to the financial fuel of a predictably strong Box Office performance – regardless of how adamant Pixar's claims are of this entry being the extinguisher.
We Liked
The level of animation continues to raise the bar
Ducky & Bunny inject some much needed energy
We Didn't Like
Original toys are left behind
Woody/Buzz friendship non-existent
Plot stretched to its limit