The Details
Release Date
22nd March 2019 (UK)
Synopsis
A family's serenity turns to chaos when a group of doppelgängers begins to terrorize them.
Starring
Lupita Nyong'o, Winston Duke, Elisabeth Moss
While on holiday in Santa Cruz, the Wilson family are terrorised in their home by four figures who have an uncanny resemblance to them all. Dressed in bright red boiler suits and armed with golden scissors, the intruders are exceptionally violent towards their counterparts which, at first, there appears to have no motive to the assault. But as the hours go by, it becomes alarmingly apparent that there is indeed a method behind this madness – and this home invasion is not just an isolated attack. Who are these evil identicals and what do they want?
There's an understandably high level of anticipation attached to Us, Jordan Peele's follow-up to 2017's racially charged paranoia thriller Get Out. His debut won an Oscar for Best Screenplay and skyrocketed him towards the top of the list of most promising talents in the genre. It's a relief then that Us proves his debut was no fluke and while it's not as tightly written or bitingly satirical as his breakthrough picture, it's a wholly ambitious and unsettling experience that only furthers his place as a flag-bearer for modern horror.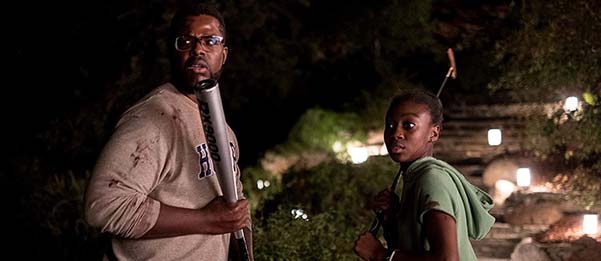 The cast pull double duty as both the victims and perpetrators and all exhibit stellar work. Winston Duke (Black Panther's M'Baku) is terrific as the timid but primatively protective father Gabe yet when the time comes, is equally intimidating as his menacing counterpart, the hulking Abraham. Young Shahandi Wright Joseph is tremendous in her first major starring role as the terrified Zora but even better as the grinning track 'n field expert Umbrae while 10-year-old Evan Alex displays all the makings of a promising future in the industry as the budding magician Jason Wilson – and as the pyromaniac Pluto who gallops on all fours to get around.
Unsurprisingly though it's Oscar winner Lupita Nyong'o (12 Years A Slave, Star Wars: The Force Awakens) who emerges as the standout performance. As Adelaide Wilson, she's perfectly paranoid of her family's safety due to a childhood trauma at the same beach where they're all vacationing. But it's her role as the guttural, raspy-voiced Red in which Lupita shines. She's chilling even when silent through piercing stares, but Lupita's research and implementation of the medical condition Spasmodic Dysphonia, in which the muscles that generate a person's voice go into periods of spasm resulting in breaks or interruptions in the voice, makes Red a truly unforgettable creation.
Us is at its best when shrouded in mystery. Luckily, the majority of its 2 hour runtime keeps us in the dark as to the story specifics and provides an often chaotic and disquieting atmosphere. The violence is vicious and the humour, of which there is plenty thanks to Peele's sketch show background, is sharper than the weaponized scissors. It's all set to a superb soundtrack too, with the 1995 Luniz track I Got 5 On It featuring prominently. What was once a catchy slice of mid-90's hip hop has been transformed to send shivers down the spine for altogether more sinister reasons, with an orchestral remix sounding exceedingly ominous. Peele's inclusion and subsequent use of seminal rap group N.W.A's F–k Tha Police is equally ingenious as it accompanies a sequence in which it defies the typical logic used in suspense building.
A strange thing happened while watching Us, however. The less mysterious it became due to narrative reveals, the more I found myself actively disliking it. There's an abundance of symbolism throughout and of course many aspects are open to interpretation, but the ham-fisted and lengthy explanation of the fundamental plot points in the third act seriously hurt the initial positive reaction that the first two had on me. A closing curve ball doesn't make a whole lot of sense in hindsight and isn't as much of a revelation as Peele probably would have liked it to have been, as it asks more questions before answering the ones already posed but it does enough to make me want to revisit Us at some point to pick up potential clues.
Despite its disappointing conclusion though, Us seals Peele as a prominent force in contemporary horror as he confidently beats the dreaded sophomore slump with a frequently perplexing and unquestionably ambitious tale which pits self against self.
We Liked
Lupita Nyong'o finally getting a role worthy of her talent
Sublime soundtrack is used effectively - you'll never listen to I Got 5 On It the same way ever again
At its best when shrouded in mystery
We Didn't Like
Third act is heavy on exposition and overall unsatisfying
Ends up posing more questions with no intention of answering them