The Details
Release Date
8th April 2019 (UK VOD Release)
Synopsis
Pregnant with director Roman Polanski's child and awaiting his return from Europe, 26-year-old Hollywood actress Sharon Tate becomes plagued by visions of her imminent death.
Starring
Hilary Duff, Jonathan Bennett, Lydia Hearst
Just from reading the title, there's something about The Haunting of Sharon Tate that doesn't sit well with me. Even on first glance, it seems a little tasteless to entice potential viewers with a name usually associated with over the top supernatural stories like "The Possession/Exorcism/Haunting (delete as appropriate) of 'X or Name of mansion/establishment' when the brutal murders of Hollywood actress Sharon Tate and her friends in 1969 were a grisly reality.
'The Haunting' part here is loosely in reference to alleged comments made to reporter Dick Kliener by Tate during an interview to promote her 1968 film Wrecking Crew. In the conversation, she describes a dream she had two years prior to her untimely death. When staying at her then-boyfriend and hair stylist Jay Sebring's house in the summer of 1967, which was previously owned by Hollywood agent Paul Bern who had committed suicide in the property, she claimed to have seen a figure in her room. Terrified, she fled downstairs only to see an even more disturbing sight – someone, or something, was tied to the staircase with their throat slit. Having difficulty making out whether this entity was male or female, Tate claims to have had a distinct feeling that it was either her or Sebring, who both would eventually meet a violent end at the hands of deranged followers of cult leader Charles Manson in the luxury home located at 10050 Cielo Drive in Beverley Hills.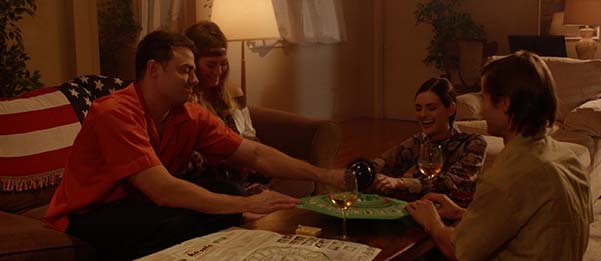 The Haunting of Sharon Tate uses this speculation as the basis for its narrative, bringing the lucid dream forward to occurring and reoccuring only a few nights before the tragic events. While at the house with a few friends including her ex and good friend Jay Sebring (Jonathan Bennett), aspiring screenwriter Wojciech Frykowski (Pawel Szajda) and his lover, the heir to Folger coffee brand fortune Abigail Folger (Lydia Hearst), a heavily pregnant Tate begins to have increasingly distressing visions of the groups imminent death.
In a somewhat bewildering casting choice, Hilary Duff plays Sharon Tate and while there's a slight visual resemblance that's where the similarities end. Duff, known for her roles in more light-hearted and teen friendly films such as A Cinderella Story and the Lizzy McGuire TV series, doesn't capture any of the nuances of Tate's mannerisms and as a result regrettably becomes indistinguishable from the typically expendable characters found in this kind of violent escapist entertainment.
This failure to present the subject as the serious matter it so obviously is rather than a salacious throwaway thriller is a huge problem that cuts through the entirety of The Haunting of Sharon Tate. Built on baseless conjecture and with very little proof of the 'haunting' side of things other than one interview from Tate who at the time of the dream was staying in a house where a suicide was committed so would be understandably on edge, the film does not attempt to shed any new light on the crime, nor does it seem interested in doing so. Instead it turns one of the most heinous mass murders in history into a conventional home invasion story that features real life names and personalities.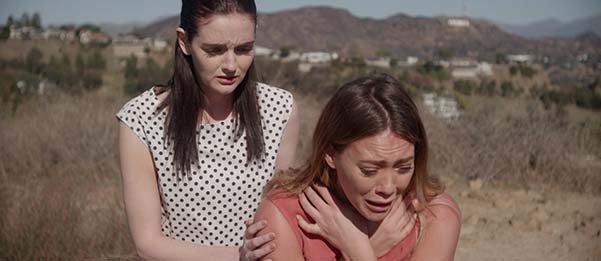 Its scenes of killing are indeed uncomfortable viewing, but for the wrong reasons. There's an distinct level of gleeful gratuity to its violence. There's no disputing the stabbings were vicious; Sharon was knifed a total of 16 times with five of the wounds being fatal. Of course, it would have been impossible not to convey the brutality and viciousness of the attack on the group, which also included eighteen-year-old Stephen Parent (played by Ryan Cargill) who was on the estate visiting the caretaker there, but The Haunting of Sharon Tate's approach is one of cheap jump-scares and is unforgivably exploitative.
I'm struggling to think of who the target audience would be for this. There's far too many factual inconsistencies and a complete lack of insight on both sides, victims and perpetrators, for true crime enthusiasts to find this appealing or revealing. Its use of a genuine atrocity that had real World effects to enhance the shock value of what is an otherwise typical intrusion picture is undoubtedly tacky. The final few moments may sway some viewers back to having a Eureka moment and, at best, force them to reconsider everything they've just seen.
For me though, The Haunting of Sharon Tate doesn't need or deserve to be thought over again – we've already got the unforgettable horror of what happened that August night in 1969 etched into the annals of history without having to resort to sordid supernatural speculation.
The Haunting Of Sharon Tate will be available to watch on Digital Download from 8th April and can be bought here.
We Didn't Like
Exploitative
Uses a genuine tragedy for cheap shocks
Duff isn't the right fit for Tate

Enraging in its subject matter and engaging thanks to its mesmerising performances, Richard Jewell is a diamond of a drama.

A competent but ultimately unnecessary retelling of events which are still fresh in people's minds.