The Details
Release Date
5th April 2019 (UK)
Synopsis
We all have a superhero inside us, it just takes a bit of magic to bring it out. In Billy Batson's case, by shouting out one word - SHAZAM! - this streetwise 14-year-old foster kid can turn into the adult superhero Shazam.
Director
David F. Sandberg
Starring
Zachary Levi, Djimon Hounsou, Michelle Borth
It's no secret that DC have been playing catch-up with Marvel in the cinematic battlefield. Too eager to push their products out for a quick buck based on their popular hero and villain names alone with the likes of Justice League and Suicide Squad, DC arguably haven't taken the time like Marvel has with their decade-long narrative arcs to craft meaningful stories that audiences can really invest in. But there's been a noticeable improvement of quality to DC's output in recent years, starting with 2017's Wonder Woman and continuing with 2018's Aquaman, a film which eventually wound up taking in an impressive $1.1 billion Worldwide. With the release of Shazam!, DC's upward trajectory continues and proves that when they aren't trying to compete, they can really create something truly special.
When foster child Billy Batson (newcomer Asher Angel) flees from some school bullies by taking the subway, he doesn't expect the next stop of the journey to be a magical realm inhabited by a greying wizard (Djimon Hounsou; Guardians of the Galaxy). Explaining that he's the last 'Champion' of his kind, The Wizard entrusts Billy with his powers which in turn transforms him into an adult superhero named Shazam! (Zachary Levi; Thor: The Dark World, TV's Chuck).
While playing around with his newly received abilities, he attracts the attention of the evil Dr Sivana (Mark Strong; Tinker, Tailor, Soldier, Spy, Green Lantern) who years prior came within touching distance of receiving the powers given to Billy. Now infested with the demons of the seven deadly sins which he is able to unleash at any time, Sivana seeks to obtain the capabilities of Shazam! for his own nefarious means.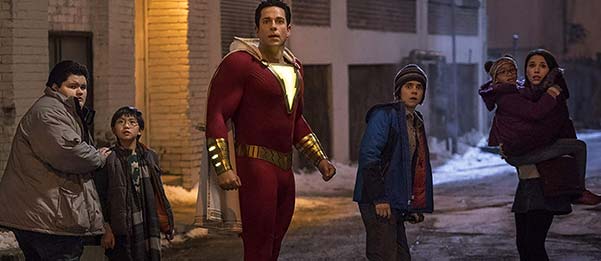 There are many factors as to why Shazam! succeeds, but none would be so effective if it wasn't for the inspired casting choice of Zachary Levi as the excitable and hyperactive Shazam!. It takes a little time for him to be properly introduced, but within minutes of him appearing, it's crystal clear Levi has captured lightning in a bottle in a role his career has been calling out for. It's the scenes of self-discovery and childlike amazement from Levi which sets Shazam! apart from the plethora of origin stories for comic book characters as Levi unwillingly and naively causes havoc and seems to be having an absolute blast in doing so.
He's aided by young Freddy Freeman (Jack Dylan Grazer; 2017's IT), a self-confessed superhero expert. Never seen without wearing the emblem of a DC character on his t-shirt, Freddy's knowledge of the caped crusaders is immensely helpful as the hapless pair try to figure out what Billy's alter-ego is capable of, as seen in an absolutely uproarious montage.
Shazam! features all the attributes of a typical superhero movie, but deconstructs them in such a way that it feels like we're watching them for the first time. These fresh eyes on the tropes result in the film's funniest moments as Henry Gayden's script lovingly pokes fun at a genre, and indeed DC's film output, that at times takes itself far too seriously. It's entirely self-aware but never pretentiously so, existing in the same Universe as other DC heroes such as the aforementioned Wonder Woman, Aquaman and most notably Batman, frequently acknowledging their presence in its World but not at all reliant on the Justice League to save it.
By keeping the stakes relatively small-scale and the location contained within one city, it gives the film time to develop its characters, resulting in some genuinely heartfelt moments. Yes, it's consistently hilarious but there's a considerable amount of emotional heft in Shazam! as it deals with what it means to be a family and that it's sometimes better to ask for help rather than struggle alone.
Like many an origin story, it slightly falters on its villain front. There's nothing particularly wrong with Mark Strong's Dr Sivana; in fact the ever-reliable and snarling Strong brings far more to the antagonist than most other casting choices would, but looking past him obtaining Shazam's power, the ultimate goal neither entirely transparent or substantial. The demons of the Seven Deadly Sins are largely only sinful in name alone, with most not exhibiting any characteristics of the immoralities they're supposed to represent. Their appearance may be too scary for younger viewers too, which is slightly at odds with the film's overall jovial tone.
But these are minor irks in what is one of the most enjoyable films of the year. The 132 minute run time zips by in a flash and you'll likely find yourself disappointed that the ride is over when the credits roll – but not before seconds long and show-stealing cameo occurs to send a smile flying across your face.
We Liked
Levi is out of this world as the man-child hero
Every joke lands like a fist to the face
Genuinely heartfelt story beneath the flashy surface
Seamless integration into the world of DC
We Didn't Like
Throwaway villain
Demons may be too scary for anyone under 12