The Details
Release Date
20th July 2020 (UK Blu-Ray Debut), 28th September 1985 (Taiwan Theatrical Premiere)
Synopsis
The planned reburial of a village elder goes awry as the corpse resurrects into a hopping, bloodthirsty vampire, threatening mankind. Therefore, a Taoist Priest and his two disciples attempt to stop the terror.
Starring
Ching-Ying Lam, Siu-Ho Chin, Ricky Hui
Combining comedy, horror, romance and theatrical martial arts, Ricky Lau's genre-hopping Mr Vampire comes to Blu-Ray for the first time ever in the UK through Eureka Releasing.
When Master Kau (Lam Ching-ying) and his two bumbling students Man Choi (Ricky Hui) and Chou-sang (Chin Siu-ho) are given the task from wealthy businessman Yam to exhume a corpse for reburial in an attempt to bring prosperity to the family, the trio get more than they bargained for when the body looks to be freshly laid to rest. Kau, an expert in all things supernatural, suspects the man to be a Vampire and returns the coffin to his grand home, which is protected by amulets and spells. Taking no chances, Master Kau gets Man Choi and Chou to seal the coffin with enchanted ink. But despite repeated warnings not to miss any lines, they of course do and the Vampire escapes.
Meanwhile, the inept work-hands have their eyes on other matters. Namely, Yam's beautiful daughter Ting-Ting (Moon Lee). But they're not the only ones enamoured with the girl. An incompetent police detective named Wai also has eyes for Ting and uses his authority to keep the others away. Sang has other problems too, as he's been targeted by a seductive spirit. With a powerful bloodsucker on the loose looking for new victims to join his undead army, the three men must find a way to defeat an increasing number of ghoulish dangers.
Forget the traditional method of disposing vampires with a wooden stake through the heart. To kill the unkillable in Mr. Vampire, you need to be armed with handfuls of incense, magical ink, chicken blood and more glutinous rice than you ever thought possible. Resembling more of a zombie than what Western Culture has painted the fanged creatures to be, they cannot talk, travel by hopping and sense your presence by your breath. Ricky Lau's film is endlessly wacky in its seemingly never-ending approaches to rid the World of vampires. I was positively lost amongst the barrage of spells, enchantments and burial traditions to begin with, but no matter. In the end, all you really need to know is a coffin is dug up, there's a vampire in it, must be stopped.
Performances as equally goofy too, namely Kau's buffoonish assistants. Their immaturity is the heart and soul of Mr. Vampire's comedy, setting up the majority of the outrageous scenarios, most of which end in some seriously excessive (and very funny) combat scenes. Standout scenes for me include the pair using spells to influence Wai's behaviour while he's trying to woo Ting. Another scene of Man Choi and Master Kau calamitously failing to grasp the concept of coffee nearly had me spitting my own out from laughing. The untouchable Ting doesn't get off lightly either, as a disastrous misunderstanding has a shopkeeper completely disgusted with her line of work.
Admittedly, its unceasing increase of absurdity became a little too exhausting for me and by the time the vampire showdown – long forgotten and replaced by much less amusing sultry, manipulative spirits which vanish and appear on a whim – takes place, my interest for the film as a whole had waned.
The importance of Mr Vampire to Hong Kong cinema should not be understated, however. Not only did it spawn four unrelated sequels (one arguably considered canon in Mr Vampire 1992), but video games, theatrical productions and a slew of board games relating to the film were born. It is rightly viewed as the breakthrough film of a genre in Hong Kong known as Jiangshi Fiction, with it setting all the tropes in place.
It's one of the many reasons Mr Vampire thoroughly deserves its place among Eureka's Classic series. Presented in 1080p from a brand new 2K Restoration and making its worldwide debut on Blu-Ray, the film looks visually superb. Audio wise, the original Cantonese Mono presentation means it sounds a little flat, but it's not too much of an issue. Two English dub tracks (one for the European Release and one for the American) are included, and the English subtitles are freshly translated for the most up-to-date dialogue adaptation yet.
There's also a brand new Audio Commentary by Asian Film expert Frank Djeng, three archival interviews with the film's stars Chin Siu-hou and Moon Lee as well as director Ricky Lau. The original Hong Kong trailer and an option to view the end credits (which essentially recap the film) without the scrolling text is there too. Its first run, limited edition print of 2000 comes enclosed in a slick O-Case slipcase with newly commissioned artwork and a Collectors Booklet. This contains an essay by author and film critic Jon Towlson which go a little more in-depth about the Jiangshi genre and another by Filmmaker James Oliver. He outlines the cultural significance, both in the East and West, of Mr. Vampire. 
Mr. Vampire is out on Blu-Ray in the UK from 20th July 2020 and available to buy from

Eureka Store

and

Amazon

.
BLU-RAY SPECIAL FEATURES
Limited Edition O-CARD Slipcase with new artwork by Darren Wheeling [2000 units]

PLUS: A Collector's Booklet featuring new writing on the film [2000 units]

1080p presentation from a brand new 2K restoration

Original Cantonese audio (original mono presentations)

English dub track produced for the film's original European home video release

English dub track produced for the film's original American home video release

Newly translated English subtitles

Brand new and exclusive feature length audio commentary by Asian film expert Frank Djeng (NY Asian Film Festival)

Alternate end credits

Archival interview with Chin Siu-hou [40 mins]

Archival interview with Moon Lee [15 mins]

Archival interview with Ricky Lau [12 mins]

Original Hong Kong Trailer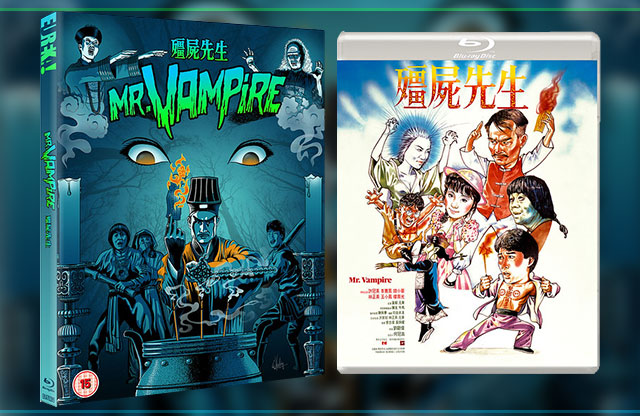 We Liked
Infectiously goofy performances
OTT comedy frequently elicits earned laughter
A seminal early entry in the horror comedy genre
We Didn't Like
Its unceasing increase of absurdity may be exhausting for some
Convoluted introduction of plot through burial traditions
So Basically...
Mr. Vampire is a little seen gem that has been buried for far too long. Now, thanks to Eureka's exhuming, it will live forever to bring laughs and scares for generations to come. 
You have rated this
Creator. Owner. Maestro. CEO. That last one is probably a bit too much, but basically Sean is a rarity by being both the brains AND looks behind Review Avenue. Having established the site in 2010, he still can't believe people still value his opinion, with some even genuinely asking for it without laughing.