The Details
Release Date
9th November 2020 (UK Blu-Ray), 26th August 1993 (Hong Kong Premiere)
Synopsis
Zhuo Yihang, the unwilling successor to the Wu-Tang clan throne and the unsure commander of the clan's forces in a war against an evil cult, falls in forbidden love with Lien Ni-Chang, a killer for the evil cult
Starring
Brigitte Lin, Leslie Cheung, Francis Ng
Loosely based on the 1950's serialisation Baifa Monü Zhuan, which already had two drastically different film adaptations at the time of this one's release, The Bride With White Hair follows Zhuo Yihang, a member of the Wu-Dang Sect (aka the Wu-Tang Clan, a fictional martial arts sect that appears in many wuxia novels and films). He is favoured to be next in line to lead the Martial Brothers and Sisters, but he's an unruly and controversial pupil, constantly going against the grain. Regardless, the younger members remain in admiration of Zhuo.
Meanwhile, a dangerous Demonic Cult is gaining power. Known as the Cleric of the Divine, it is (double) headed up by conjoined twins but solo named Ji Wushuang. They have an adopted daughter, Lien, whose power is immense. The Cult believes the Wu-Dang Sect must be destroyed and during a clash between the two groups, Lien and Zhuo meet for the first time. The attraction is instant but due to their associations it is a love that cannot last. Zhou convinces Lien to leave the Cult and he will retire from the Sect – a decision which will ultimately lead to death and betrayal.
The Bride With White Hair unfurls its characters and World at a breakneck pace. The first half-an-hour or so require a degree of concentration and to an extent confusion, but before long all the players become clear and the conflict becomes apparent making for the next hour fly by. It's the easiest of comparisons to use, and even director Ronny Yu makes it, but The Bride With White Hair is essentially an over-the-top, combat filled retelling of William Shakespeare's Romeo & Juliet. At its heart, It's about a taboo attraction and the ramifications of the lovers following their hearts. There's just 100% more fanciful fighting wire work, snakes skinned by whip cracking and suggestively incestual relationships involved here. That last one is no mean feat for a non-Shakespeare piece.
Leslie Cheung, who tragically took his own life in 2003, is magnificent as Zhou, the smart mouthed and outspoken Martial Brother. Equally as excellent is Brigitte Lin as his heart's desire and titular bride, Lien. They are both torn between what they've known all their lives and what their souls are telling them to do. In a way, the collective groups they are shackled to aren't all that different. They both want their members to conform to their rules and ways. It's just one of them strives for peace and tranquillity, whereas the other causes chaos.
Relating to the latter, the conjoined twins Ji Wushuang are consistently hilarious. Male Ji likes to be seen as the head of the unit, as it were, but forever has his sister literally and figuratively breathing down his neck. Every move he makes is ridiculed and he's belittled at the smallest of opportunities. They add another interesting angle to the mix by Male Ji being in love with Lien too, only for him to be scorned in favour of Zhaou. I wouldn't be surprised if their Cult went some way in influencing the look of Robert Rodriguez' set design for the Titty Twister bar in 1996's From Dusk Til Dawn; I very much got the same vibe from their introduction as I did when Salma Hayek's sultry Santanico Pandemonium is first shown. There's an inkling of potential feelings between Zhaou and Martial Sister Ho Lu Hua, whose father is servant to the Leader of Wudang, too but I felt it never fully resonated. Perhaps some of her later actions are out of spite, but I didn't find it overly important.
Yes, The Bride With White Hair is predominantly a romantic film, but in the most unconventional sense. It still has plenty of Martial Arts action to justify its place in that genre. The swordsplay here is so gloriously over the top that it's hard not to laugh – intentionally – at its preposterousness. Lien and her whipping weapon of choice in particular strike up some truly memorable moments. It's helped by Eureka's brand new 4K restoration and updated colour grading approved by the man Ronny Yu himself. The Bride, her guests and the blood-splattering victims of her wrath have never looked better.
It's not all fun and games though. There's an undeniably tragic streak through this Bride's White Hair. Romeo and Juliet didn't end with them riding off into the sunset and while the outcome here isn't a carbon copy of Shakespeare's poisonous finale, The Bride With White Hair doesn't mess with its solemn formula. It ends with almost the same frame as it begins with, although this time I'm seeing it, I'm older, wiser to what's occurring on screen and infinitely more entertained than I was 90 minutes ago.
Special Features
An Interview with Ronny Yu (40 Mins) – Conducted over webcam by Asian Film expert Frank Djen. Little awkard to begin with, Djen clearly in awe of Yu and reminds him they did the audio commentary together for The Phantom Bride around 20 years ago. Yu does not remember it happening. Questions include: what films inspired Yu while growing up, which films influenced Bride With White Hair, and how the unusual nature of the synth-heavy score for a Martial Arts came about. They speak about the pre-production process for the film too and what his initial intention for making it was. Plenty of anecdotes of his creative process and the struggles he had with cinema owners in Hong Kong due to the state-of-the-art post production of the sound mix. Yu also speaks about his experiences working on established horror franchises while directing Bride of Chucky and Freddy vs. Jason. He also touches upon the death of Bride's lead star Leslie Cheung.
An Interview with Film Composer Richard Yuen (23 Mins) – Yuen recalls how he first met Ronny Yu, who his music composer idols are and the drastic difference between composing now and 27 years ago without computers. He plays a theme from Bride on his piano and reveals what it was like to work with Leslie on the theme song.
An Interview with actor Joe Tay (21 Mins) – Joe plays one of the Clan brothers. He tells us how he was cast in Bride, if he had any input of how his character was portrayed and whether he improvised, the post-production dubbing process and much more.
An Interview with Jason Lam Kee-To (51 Mins) – One of Bride's scriptwriters. He's asked about how he got the job, how they developed the story from the novel and tailored it to a Western audience and how personal crises in Ronny Yu's life found their way into the film. Kee-To also reflects on what it was like working with Leslie Chau, the thought process behind some narrative decisions including having it begin at the end and the inclusion of a voiceover, discloses some startling revelations between this version and the ones which came before it and a variety of other anecdotes.
Archival Making-Of (12 Minutes) – Featurette from roughly the time of the film's 1993 release. This one's heavy on the promotional clips from the film and is more of an extended marketing piece than the other features. Worth watching just to see the incredible restoration and colour correction efforts, as all of the footage comes from its original theatrical/home entertainment run.
The Bride With White Hair is available now on Blu-Ray and can be ordered through the Eureka Store.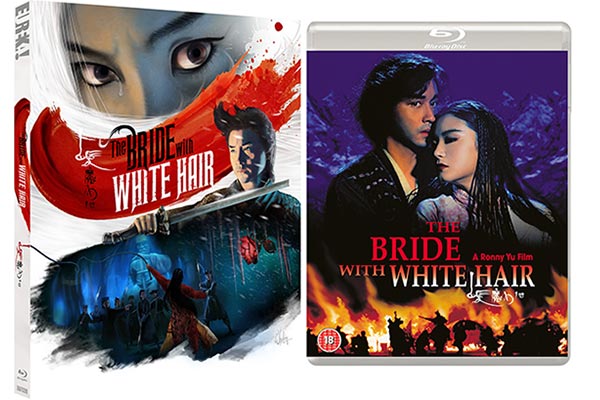 We Liked
An ethereal combination of Martial Arts and Romance
Bickering of conjoined twins Ji Wushuang
Striking visuals have never looked better thanks to a superb 4K restoration and new colour grading
We Didn't Like
Relatively difficult to follow the first 30 minutes as the characters and World introductions are mercilessly rushed through

Police Story stands as one of the finest cases of Jackie Chan's legendary career. Featuring some of the best stunt work ever seen on film, Chan's clean direction highlights both the incredible action and story in equal measure. A genre classic.