Having never properly seen a Friday the 13th or A Nightmare on Elm Street film despite pretensions to being a fan of horror movies, I knew I had to rectify this.
Looking at the respective history of both series, I found they intertwine pleasingly over the course of nearly a quarter century, and culminate in a crossover movie between the two franchises.
Thus I set out to watch both franchises concurrently and chronologically. I decided to exclude films not strictly seen as 'canon', namely the metafictional Wes Craven's New Nightmare, or the futuristic sci-fi horror of Jason X. I also wouldn't include any subsequent remakes.
As I'm offering a capsule overview of two entire series, it should go without saying that there will be plenty of SPOILERS in this article.
During the course of watching both series I found the vast majority of the Friday movies aren't really that good. It's hard to view them objectively these days, as the franchise helped codify so many of the slasher movies tropes (alongside its inspiration, Halloween) that it's difficult in retrospect to quantify just how impactful they may have initially been at the time of release.
It's fun to see the birth of a horror icon in Jason Voorhees over the course of several movies; gradually assembling the visual and thematic elements that would go on to inspire a million Halloween costumes.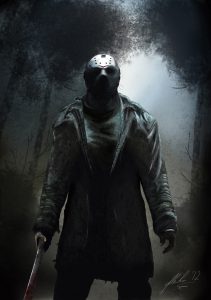 Jason is depicted at times as an oddly sympathetic character or tragic figure; deformed, developmentally challenged, orphaned, and simply trying to defend his land and have people leave him alone. Though he's always a reliably menacing and imposing presence; galvanised to do heinous acts by the traumatic memories of his past mistreatment and neglect, and the murder of his deranged mother.
The series is essentially a collection of memorable scenes and components rather than individually great works of cinema.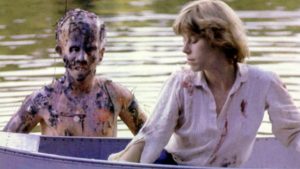 The violent beheading of Mrs Voorhees in the first entry, and the end of movie shocker of Jason emerging from the river to torment the lone survivor. Crispin Glover's typically eccentric dancing and charisma, and an endearingly dorky and at times disturbing turn from a young Corey Feldman in Part IV. A handful of chillingly sadistic kills, such as Jason kicking a wheelchair bound kid down a flight of stairs, beating a camper to death in their own sleeping bag, or bludgeoning an aspiring rock chick with her own guitar.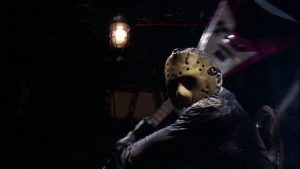 Like many 80s horror franchises that start in some sort of reasonably, recognisably grounded 'reality', The Friday franchise tumbles inevitably into supernatural hokum, with a reanimated, undead, unkillable Jason, mystic knives, possessions and protagonists with telekinetic powers. Although goofy, these tonal and narrative shifts do provide a pleasant change of pace and shake things up. At the expense of the franchise losing any consistency or internal logic.
Sex and death regularly intertwine, perhaps even more blatantly than in the series' contemporaries. Penetration in these films usually results in Jason penetrating your skull with the business end of a cleaver. Or any number of other pronged or pointed objects. Subtle it isn't but grimy, sleazy fun it is.
Although some films, presumably to avoid the wrath of the censor, are surprisingly tame on the gore front, on occasion the effects and stunt work featured in the movies is excellent, especially when maestro Tom Savini is involved.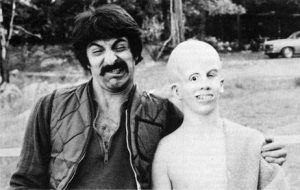 Of the films the first, third, fourth, sixth and seventh entries are really the only ones worth any serious consideration. The first for establishing the franchise, the third and fourth for cementing the visual iconography of Jason, and the sixth and seventh for their playful genre experimentation and introduction of supernatural elements. There are spotted highlights in the others but you're not missing out on much.
The Nightmare on Elm Street franchise is innately a lot more interesting. It has a somewhat more consistent and well thought out mythology. The central conceit; a ghostly serial killer who can murder you in your dreams, allows for far more visually rich and imaginative scenarios with which our plucky teens can meet their grizzly fates.
Although he inevitably descends into camera-winking self parody by the end of the franchise, Freddy Krueger is a remarkable creation, with his burnt face, and an acid wit as pointed as his bladed mitt. An unstoppable child killer who can get your children in the one place you can't protect them; their own subconscious. It's a concept of pure elemental fear and it's very easy to see why he and the films caught the public's imagination like they did.
Inspired by everything from urban legends to troubling characters from creator Wes Craven's own childhood, Robert Englund brings Freddy to mesmerising life.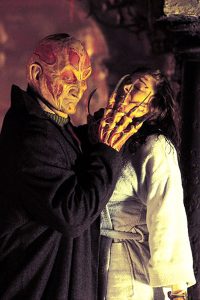 One, Two, Freddy's coming for you...

Insert "falling asleep because of how average this movie is" joke here.