A relative latecomer to the horror revival of the 80's, A Nightmare on Elm Street is arguably the most memorable. Released 6 years after the genre altering Halloween and 4 years after Friday the 13th, Nightmare confidently exhibits all the ingredients that the two films before it contained, while spawning a horror icon in the form of Freddy Krueger.
Nancy Thompson (Heather Langenkamp) lives on Elm Street, an unspectacular suburb in Springwood Ohio. Her friends Tina Grey, Rod Lane and Glen Lantz also live there too. But something other than common interests link them: they are all being tormented in their dreams by a claw fingered killer named Fred Krueger. These are more than the average nightmare, however: any injuries sustained in the dreams are visible when they wake. It isn't long before Fred kills off one of the group, and the others are powerless to stop it. Who is he? Why is he targeting these particular teens? And how can they stop what they can't control?
Let's get straight to the point here: Freddy is terrifying. Even now, three decades later, his impact hasn't faded. His disfigured face, striped jumper and razor sharp blade-glove are images that stay burned in the mind. What's surprising then, is just how infrequently he appears in this movie. He doesn't HAVE to. Director Wes Craven is clever enough to know not to over-expose him (at least in this film anyway; the same can't be said for the twenty years that follow it), and much like Krueger targeting the teens in their sleep, he picks the perfect moments to showcase the killer. Robert Englund channels the remorselessness of Krueger brilliantly, and makes us believe that not even death will make him regret the crimes he committed while alive. In fact, he revels in it – more often than not, he's laughing or smiling at his victims suffering.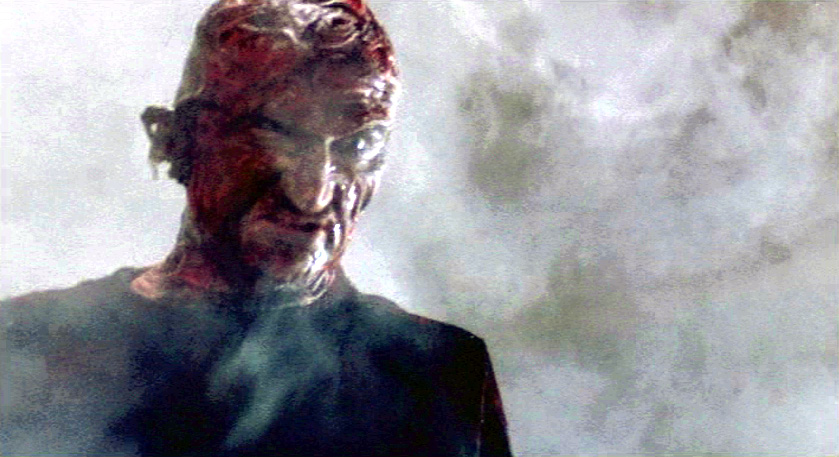 And suffer they do – Tina's demise is both gloriously bloody and a great introduction to the helplessness that Freddy brings. There's nothing anyone can do about her death, other than watch it happen. That's where the real horror of A Nightmare on Elm Street comes from: we all have to sleep. And sometimes, we have nightmares, but are safe in the knowledge that that's all they are. Craven preys on the most basic of actions, something which connects us all (yes, even you insomniacs) and makes it something to be scared of.
It's undoubtedly a product of its time though. There's a large number of aspects about the film that scream "I was made in the 80's!", with the most prominent being the music. The main title music is right up there with the unmistakable piano chords of Halloween, and the music that accompanies the opening credits is delightfully creepy (Listen to it here, especially from 1:20 to 1:32). But then in the first chase scene of Nancy, the music becomes laughably awful (you can find it here). It encapsulates 80's movie music brilliantly though, with its synth-heavy sound, and the scene itself is memorable enough to forgive the soundtrack of this part. Slightly related to the music is the spine tingling jump-rope rhyme that the little girls sing. "One, two, Freddy's coming for you…"
The special effects too are hit and miss. One standout scene and great example of a stellar effect sees Freddy pushing through the ceiling with his hands and face imprinted on the wallpaper. On the other side of the coin, there's Tina's killing. Now, I have nothing against the scene itself – the idea that it conveys is scary enough. But there's no denying that 30 years later, the effect of Freddy stretching his arms across the alleyway hasn't stood the test of time (watch for yourself, and see if you agree – skip to 3:08).
A small mention has to go to Johnny Depp, who makes his film début here. It's nothing spectacular, and from this performance there's no way anyone could have guessed his career would be as big as it is. The best thing about him being in the film is his death scene, which would give any film an 18 age certificate. The other cast are sufficient, but as expendable as the plethora of teenagers who featured in the many, many slashers of the 1980's.
If nothing else, A Nightmare On Elm Street taught us that horror movies don't need to be serious to be scary. Freddy literally is your worst nightmare, and  although much like every other horror franchise his likeness has been milked to the maximum, he still manages to create a substantial amount of terror. Time may not have been kind to the aesthetic nature of the film, but the dream stalker Krueger will never be forgotten.
Creator. Owner. Maestro. CEO. That last one is probably a bit too much, but basically Sean is a rarity by being both the brains AND looks behind Review Avenue. Having established the site in 2010, he still can't believe people still value his opinion, with some even genuinely asking for it without laughing.

In this special feature, Christopher Burton looks over the history of two iconic horror villains.

Insert "falling asleep because of how average this movie is" joke here.