The Details
Release Date
26th April (UK), 27th April (US)
Synopsis
The Avengers and their allies must be willing to sacrifice all in an attempt to defeat the powerful Thanos before his blitz of devastation and ruin puts an end to the universe.
Director
Anthony Russo, Joe Russo
Starring
Karen Gillan, Josh Brolin, Letitia Wright, Chris Evans, Chris Hemsworth, Robert Downey Jnr, Mark Ruffalo
In professional wrestling, there's a match type known as a 'Triple Threat'. The idea is simple enough: instead of the traditional, one-on-one match, it's three men pitted against each other at the same time for victory.
The idea of having a trio of high caliber competitors all with unique styles battling it out with a plethora of potential outcomes is tantalizing, but what usually happens in this match type is one of the combatants will get temporarily knocked out of the ring, leaving two to scuffle for a while. Just when it seems like one of two left in the squared circle have secured the win, the grappler on the outside will swoop in at the last minute and take over the bout while sending one of the men who were just in the ring to the outside.
Eventually though, in the closing moments of the contest, all participants will briefly but swiftly exchange their best shot in a last-ditch attempt to secure the pinfall.
What this means is while the fan is getting the three-man bout match they were promised and are most definitely in for a satisfying time, it's not entirely the collaborative clash they may have been expecting.
The same method and ideology can be seen in Avengers: Infinity War, an unprecedented gathering of Superheroes from the world of Marvel. There's so many of them (over 60, apparently) that the film can't possibly contain them all in one place and instead opts to sprawl them all over the universe which makes the film feel more like separate short films with their own story that link up at the end.
At the centre of it all is Thanos, a villain teased since the first Avengers film back in 2012. He's in possession of a fancy golden glove (or the Gauntlet as it's more commonly known) which can house six 'Infinity Stones': Space, Mind, Reality, Power, Time and Soul. When all Stones are collected and inserted, it gives the wearer the power to do whatever they want.Thanos intends to use the Gauntlet to cleanse the Universe by wiping out half of the population to restore balance and it's up to Earth's Mightiest Heroes to protect the Gems and stop Thanos from his galactical spring cleaning spree.
One of the most impressive things about Infinity War is its ability to exist as a standalone film as well as the conclusion of a decade-long experiment. In the first 10 minutes, the importance of the Infinity Stones and how they came to be is briefly explained, setting up for a conventional good-vs-evil narrative that is easy enough to follow even for newcomers.
Of course, the vast majority will have been on the Marvel-ous journey since the first installment, Iron Man, way back in 2008. It's no exaggeration to say we've grown up with these characters; like it or not, they've been the definition of cinematic blockbuster entertainment for ten years now and are unquestionably at the forefront of popular culture. So while it's an accessible picture for everyone, Infinity War has many nods to each entry in the franchise and even surprise appearances which are sure to please even the most hardcore of fans.
The fact that Infinity War isn't crushed by its own premise is miraculous enough, but astonishingly it excels at being a coherent and extremely entertaining piece of sci-fi fantasy. Screenwriters Christopher Markus and Stephen McFeely, who are no strangers to the MCU after penning all three Captain America movies and Thor: The Dark World, successfully tackle the seemingly impossible task of showcasing the dozens of characters involved by giving a 'greatest hits' display and exaggerating the strengths and weaknesses of them all. This is largely in part to the separation of characters mentioned earlier too, allowing each of them to breathe and giving them enough tasks to justify their inclusion. It may be a little disappointing that certain characters don't meet (or in some cases show up at all) but there are enough run-ins of various superheroes to keep things interesting. The action set pieces are the biggest they've ever been and are choreographed to perfection as well with each crusade somehow being bigger than the one prior but never being repetitive.
Only a few months removed from Black Panther and the villainous Eric Killmonger dubbed as 'Marvels best bad guy ever', Infinity War one-ups the Wakandan Prince with Thanos. Flanked by his henchmen, who would make worthy villains themselves in standalone films, Thanos travels across the galaxy laying waste to anyone in his way in search of the Infinity Stones. The scariest thing about Thanos though isn't his destructive ability: it's the reasoning behind it all.
Thanos wholeheartedly believes he's doing the right thing by wiping out half of the universe to restore balance, and it's hard to really argue with that logic. I'm no genocidal maniac and there's definitely a better way of going about things, especially when you own a magical Gauntlet which gives you infinite capabilities, but Thanos' mindset makes a change from the usual power-hungry, humanity enslaving villains we're used to seeing. Markus and McFeely touch upon a more emotional side of him too as his path crosses with Guardians of the Galaxy's Gamora, but make no mistake: he's as ruthless as they come. Infinity War is undoubtedly his movie, and The Avengers get colossally clobbered like never before.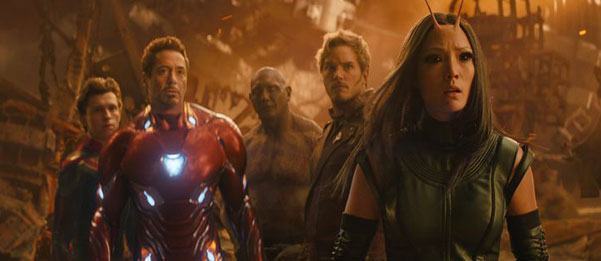 These superheroes have never seemed more human thanks to Thanos and his cronies. There are very few scenes in its breezy two-and-a-half hour runtime where Earth's Mightiest Heroes appear to have the upper hand and when they do it's almost immediately followed by him becoming angrier and stronger. Combine that with the common knowledge that some Avengers don't make it out of Infinity War alive and theoretically it means the stakes have never been higher.
Except, that's not the case at all. Infinity War's Gauntlet is both the films biggest threat and also it's the biggest failing. Its existence and abilities mean any action that occurs can be easily undone. In effect, it means the supposedly game-changing closing moments are less of a cliffhanger and more of a headscratcher to how Avengers 4, which was filmed back-to-back with Infinity War, addresses the ramifications of Thanos' actions – a discussion which no doubt will continue between fans for weeks to come.
Gauntlet gripes aside, Infinity War is a dream come true for comic book fans. Collaborations and team-ups that only existed on paper are brought to life and, more importantly, they work wonderfully. Each superhero retains their unique personality, resulting in some genuinely funny confrontations as identities clash, with Thor's run-in with the Guardians being a real highlight of the entire series.
Infinity War signals the final threads in Marvel's meticulously woven tapestry and with Avengers 4 will come the grand unveiling. The next (and potentially final) entry into the MCU as we know it arrives in 2019 and I have a feeling that is where the real gut-punches and long-reaching consequences will be hiding.
As it stands now, Infinity War is another agonizing precursor for what's to come, with the real implications yet to be revealed. Still, it's an enormously satisfying penultimate battle which does justice to the 10-year wait that preceded it.
In the spirit of Star Lord's 70's and 80's rock-inspired Awesome Mixtapes, there's only one song that comes to mind in regards to Thanos and The Avengers: 'You Ain't Seen Nothing Yet.'
We Liked
Successfully brings together a never-before-seen amount of superheroes
The Avengers meet their match in Thanos and his henchmen
Action set pieces are bigger than ever
Easy to follow for newcomers
We Didn't Like
The Gauntlet means the stakes aren't as high as they should be

Since their introduction in 2011, Funko Pop Vinyls have been an affordable way to collect your favourite characters from popular culture. Now, partnering with Marvel, Funko make the leap from the display cabinet to the table top in Marvel: Battleworld, a micro collectible, table-top gaming system in which you pit your heroes in various battles […]

Like being obliged to watch the support band which features a member of the headliners who you really paid to see, Captain Marvel is an adequate starter to the main course that the world is waiting for.

While it doesn't push any boundaries, Spider-Man: Homecoming succeeds through sheer force of good will alone. Its likable characters do drift through a pretty standard story, but the added humour and wily casting elevate it to a breezy and fun popcorn movie.