The Details
Release Date
5th July 2017
Synopsis
Peter Parker/Spider-Man uncovers an illegal alien weapons black market and works to shut it down, despite being encouraged by Tony Stark/Iron Man to leave it to the "real heroes".
Starring
Tom Holland, Michael Keaton, Robert Downey Jr.
Back in 2017 I wasn't exactly blown away by Spider-Man's sudden appearance in the third Captain America movie, Civil War (my review of which can be found here). Yet I couldn't deny the significance of the cameo. For all the non-Marvel fan boys, Spidey-couldn't-give-a-damners or just regular people who don't follow the whims and desires of Hollywood movers and shakers, please understand that this was a big deal.
Spider-Man, the intellectual property, was and still is owned by Sony Entertainment, notably a direct competitor of the Disney owned Marvel studios. Until Civil War, the two "universes" were just that, two totally separate entities despite Spider-Man being a major Marvel superhero in the comics.
It was understandably a bit silly that Marvel couldn't include one of the most popular characters in its growing cinematic universe. But Sony still managed to cling to its precious property, like Gollum clutching that One Ring. But after Spider-Man 3, a bloated, disappointing climax to an otherwise fantastic movie series in 2007, Sony felt future iterations had to match the likes of Christopher Nolan's darker, grittier and more adult-oriented Batman films. Thus, The Amazing Spider-Man was born.
Now I've only seen Amazing Spider-Man 2. I didn't bother with ASM, because despite there being five years between Sam Raimi's Spider-Man 3 and this new film, I still felt it was too soon. It looked the same as well. It didn't feel like it was bringing anything new to the table. Nor was it seemingly righting any wrongs. Batman Begins was necessary to wash the foul memory of Batman & Robin from our minds, like one of them showers taken by people who work in nuclear reactors. Yeah, Spider-Man 3 was bad, but not 'George Clooney in a nippled batsuit' bad.
In Amazing Spider-Man they do change some minor origin bits yeah, but no one cares about any of that crap; we just want to see a dude swinging about and web-jizzing all over bad guys. A sequel was released two years later and while commercially sort of successful, it was hardly the critical barn-burner Sony were hoping for. Considering Guardians of the Galaxy and Captain America: The Winter Soldier both made more in the same year, it made sense for Sony to whore Spider-Man out for a bit.
So just two years removed from the last reboot, Spider-Man is born again. This time it's Tom Holland (The Impossible) as Peter Parker, a science student who is bitten by a radioactive spider and given amazing…yada yada yada. We've had three films of this shit, we know the drill. Thankfully, so does Spider-Man: Homecoming. There is no origin backstory. We're instead thrust straight into the middle of Peter's spider-life.
Following the events of Civil War, Tony Stark ('That Iron Guy'), had given Peter a special spider-suit, and a mobile phone. He's now sort of a ringer for the Avengers, with Stark's former bodyguard Happy (Jon Favreau), his contact. All Parker wants to do is help and be useful. But Happy and Stark never return his calls. They've obviously got bigger fish to fry, so Spider-Man is left to handle low-level street thugs and perform other YouTube-style heroics.
Besides moonlighting as a crime-fighter, he's also busy trying to do well at some special science academy. Of course, there is a girl to impress. But you'll be relieved to hear that there's no asshole bully/boyfriend, or cliquey high school hierarchy. Instead, Parker has his own little group of nerd friends. Of particular note are Liz (whom he fancies), MJ (who fancies him) and Ned (his fat side-kick homeboy).
Ned (Jacon Batalon) especially brings a nice dynamic to the film. The aforementioned Peter Parkers always seemed to be loners, save for his billionaire buddy Harry Osbourne. Here he's much more like a regular teenage guy, doing regular teenage guy stuff, like nerding out over the Lego Deathstar, going to parties, school trips, dates and homecoming dances.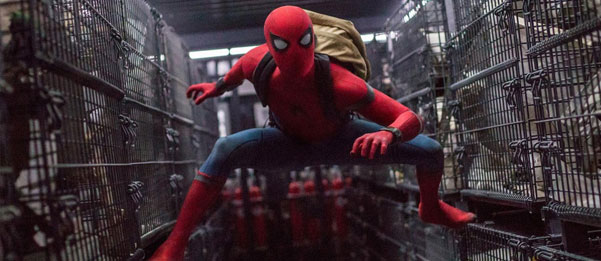 I like this "grounded" approach. Most of the major Marvel pictures have plots and villains that threaten the world on a global scale. With the exception of Ant-Man, Homecoming never really leaves New York City. Well, they go on a school trip to Washington DC so they can play with some monuments, but they don't go to any made up Eastern European countries, there are no invisible African cities, and they certainly don't ride some stupid rainbow into outer space either.
The villain is equally grounded; early 90's Batman himself, the great Michael Keaton. stars as Adrian Toomes AKA the Vulture. And he's not that bad of a guy. He's even sort of relatable. Following the events of the first Avengers movie, he's the one called in to clear up the debris and the various alien carcasses left by the failed invasion. When the government roll in and put him out of business, he's left with a hard decision; go under and put his entire crew out of work, or start shifting some salvaged alien technology on the side.
As a purveyor of alien weaponry, he and his customers start having encounters with Spider-Man. As things escalate, Tony Stark occasionally appears to tell Parker to calm down, and stop getting involved, sort of like a surrogate Father figure. There's just enough Tony Stark to make the fanboys and girls wet their pants, but he's in no way intrusive onto the Spider-story. Instead, Happy plays a much more significant role and considering it was Favreau who started this whole thing, I for one am glad to see him having a bit of fun here. He deserves it.
By the way, Tom Holland is great too. Fantastic casting. For once, they've actually found someone who looks and sounds like they're still in school. Consider that both Tobey Maguire and Andrew Garfield were both in their thirties during their spidey-tenures, it's actually pretty damn impressive they found a guy that was a mere 20 years old when Homecoming came out. I mean, Holland is so young he wasn't even born when Indiana Jones or Goonies was a thing. He didn't live through the X-Files days. He was probably young enough to think Jar Jar Binks was pretty cool. Youth is on his side, whereas you're really felt Maguire was pushing it on the back end of his run.
While there is some mild peril, some serious moments, and one shocker scene (which isn't action related and I totally didn't see coming), this feels very breezy. Parker juggling this regular life as well as his assumed responsibilities as Spider-Man is what creates a fun dynamic in the film. It's the central concept. And when Ned discovers Peter's secret identity, it really comes alive. Suddenly it feels like we're in a little club, in on this big secret and along for the ride.
The humour of all the dumb questions Ned asks (which we'd ask too if we met Spider-Man) is balanced with the introduction of Jennifer Connelly as Karen, the AI in Peter's suit. She's effectively playing the same role that Paul Bettany fulfills in Iron Man. This cannot be coincidental casting as Bettany and Connelly are married. Anyway, she effectively provides much of the exposition along with some genuinely funny moments (such as continually activating the suit's "death mode").
It's totally shed the mopey, angsty-drama of its predecessors, and has instead supped from the cup of Marvel mirth; it's funny, frothy, enjoyable…which is why I can't say it's a great film.
Yeah, it's different. Yeah, it's better than the last few attempts. But it doesn't feel like it's so different from anything we've seen before from the Marvel machine. It has familiar beats, that familiar humour, the mid-credits stinger, the after-credit stinger. It's all good. Yet it doesn't take any risks. It feels very much like a setup film for Avengers: Infinity War. In fact, these films all have for some time now.
There is no longer a feeling of risk for these heroes and in Spider-Man: Homecoming at no point do we ever think Spider-Man will fail. With more than 15 films in the can, you'd think some major character would have died by now. But no. Maybe they're saving that for Avengers: Infinity War. Until then though, I'm starting to lose interest. When I'm not buying into the peril, I'm not buying into the story. When I'm not buying into the story, I'm not buying into the characters. And when I'm not buying into the characters, I'm not buying all the action figures, t-shirts and comic book tie-ins that the studio is trying so hard to hawk on us.
So yeah, the newest Spider-Man movie was perhaps a little unnecessary in the grand scheme of things. But it undeniably succeeds where its aged brothers have failed. I can't call it brilliant, but I can call it good, solid entertainment. It looks goods, sounds good, and is a far cry from that stupid Tobey Maguire dancing crap in Spider-Man 3. It didn't leave all my spidey-senses tingling, but just enough to make curious about what happens next.
We Liked
Tom Holland is the best Spider-Man to date
Michael Keaton is a grand wizard bad guy
The breezy, fun story and presentation
We Didn't Like
Takes no risks with the character or property
Feels like a mere set up for the next Marvel film

Since their introduction in 2011, Funko Pop Vinyls have been an affordable way to collect your favourite characters from popular culture. Now, partnering with Marvel, Funko make the leap from the display cabinet to the table top in Marvel: Battleworld, a micro collectible, table-top gaming system in which you pit your heroes in various battles […]

Like being obliged to watch the support band which features a member of the headliners who you really paid to see, Captain Marvel is an adequate starter to the main course that the world is waiting for.

The Avengers latest outing will no doubt please long-time fans with its bigger than ever collection of heroes battling a worthy foe in Thanos while providing an incredibly enjoyable sci-fi ride for newcomers.