The Details
Release Date
8th March 2019 (UK)
Synopsis
Carol Danvers becomes one of the universe's most powerful heroes when Earth is caught in the middle of a galactic war between two alien races.
Director
Anna Boden, Ryan Fleck
Starring
Brie Larson, Samuel L. Jackson, Gemma Chan, Jude Law, Clarke Gregg, Lee Pace
Since its initiation in 2008 with the release of Iron Man, the Marvel Cinematic Universe (or MCU as it's widely known) hasn't featured a female lead in any of its 20 entries. There have been dominant women characters, sure, such as superspy Black Widow and the strong, pivotal presenceof the Wakandian (?) women in Black Panther but never has there been woman front and centre. That all changes with Captain Marvel, the 21st entry in the MCU as we head back to the 90's for the origin story of pilot turned photon-powered hero Carol Danvers (Brie Larson; Room, Kong: Skull Island).
How do we know it's the 90's? The first glaring clue is that Danvers crash-lands from being interrogated by a shape-shifting alien race called The Skrulls into a Blockbuster Video store. Disorientated and suffering from amnesia, she catches a glimpse of what she thinks to be a Skrull – but it's only a cardboard cutout of Arnold Schwarzenegger and Jamie Lee Curtis advertising the action classic True Lies. She ventures outside, where a security guard is listening to the 90's hit 'Whatta Man' by En Vogue & Salt-N-Pepa. Posters on the wall advertise the upcoming release of alt-rockers Smashing Pumpkins latest album, Melon Collie & the Infinite Sadness. Captain Marvel's spoon-feeding of the imagery from the decade its set in is almost patronising but never overwhelming and the allusion to Nine Inch Nails being a grunge band is positively infuriating.
But I digress. Going back to Captain Marvel's story, it catapults straight into action with the introduction of a brand new race, the Kree and planet, Hala. Don't get too attached though; we don't spend too much time there. When she first appears, her name is Vers and she already has her powers, clearly deep into a training regime being led by Yon-Rogg (Jude Law; Side Effects, Fantastic Beasts: The Crimes of Gridelwald). He's constantly telling her to not show her emotions because that amounts to weakness, so Vers is a blank canvas of feelings. After her Blockbuster bring down, she meets Agent Nick Fury (a fantastically de-aged Samuel L. Jackson; 1408) and together (along with a feline ship stowaway named Goose) they discover how she got her powers, learn more about where she's been for the last 6 years and uncover the dastardly plans of the Skrulls.
Since the dramatic conclusion of Avengers: Infinity War in April 2018, there'd only been one new entry into the MCU, the light-hearted and excessively comedic Ant-Man & The Wasp. The focus on fun was necessary with the sequel as Infinity War put in motion catastrophic events that would change the MCU forever. With Carol Danvers heavily rumoured to be a critical figure in the fight against Thanos in Avengers: Endgame, you'd think Captain Marvel would also be an important entry into the franchise. In some ways, it is; the simple fact of it being Marvel's first female-led film is a monumental step forward. But as an entry into a series which, save for a few outliers, has only gotten better with each addition, Captain Marvel feels like it takes two steps backwards.
There's absolutely nothing 'wrong' with Captain Marvel at all. It's a competent sci-fi picture and a passable way to spend two hours. It's just not all that memorable. The few action scenes are paint-by-numbers, performances are just fine and the humour didn't particularly land with me. For the most part, Larson's portrayal of Carol Danvers is correct in being just how Yon-Rogg wants her to be: largely emotionless. This would have been even greater praise if when she eventually starts to think for herself she convincingly displays this brainwashed breakout through her emotions. But unfortunately, Danvers becomes engulfed in a CGI blaze of fiery fury and the potential humanity of her character is lost. So what we're left with is Larson doing a decent job of looking unfazed and uninterested (because that's what Carol has been indoctrinated into being like) and when the time comes for her to showcase her talent, which as an Oscar Winning actress for Room we know she's got, she's covered up in flames. A real shame.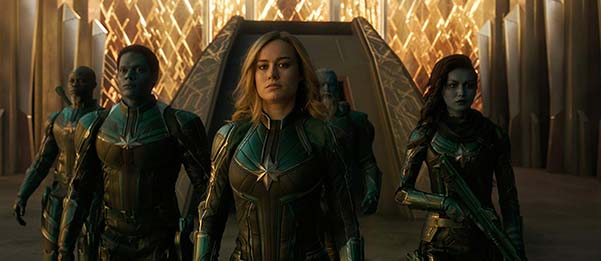 Fury doesn't fare much better either. Here, he's relegated to a bumbling sidekick, not too dissimilar to those seen in a buddy cop comedy. In fact, Captain Marvel does feel more like this subgenre than any other during its second act. Producers missed a trick here not having this pair, whose chemistry does admittedly click, in a Lethal Weapon-esque feature. Instead of drug kingpins though, they're battling aliens, who look very much like they've wandered off the set of the next Star Trek movie. I was going to use the Star Trek similarities as a criticism, but i'm a professional amateur reviewer so I did my Wikipedia research. Apparently, The Skrulls first appear in Fantastic Four #2 which was released in 1962 – a whole four years before the 1966 premiere of Star Trek. It doesn't really explain the choice to give their leader Talos an Australian accent, but I'll accept any excuse to hear or see the unsung hero of the 2010's Ben Mendelsohn (Ready Player One, Rogue One).
Devoid of a major villain – and rightly so: who could possibly be bigger than Thanos? – the race of Skrulls inject a sense of paranoia throughout the film as they could literally be anyone on screen. It's not used to its maximum potential, but there's enough character unease running though Captain Marvel thanks to their shape-shifting abilities.
Fellow Oscar Winner Annette Bening (American Beauty) is wasted in a short but sweet role as all-knowing Dr. Wendy Lawson, Jude Law feels miscast as he chews scenery being the Kree commander and Lanasha Lynch (Brotherhood) as Carol's best friend Maria is nothing more than satisfactory. There's a few cameos and familiar faces who pop up intermittently and some gaps from the Avengers timeline are filled in, but they all feel superficial rather than critical.
Let's face it – if you're a Marvel fan, you've probably seen it already. Possibly twice. It's a serviceable diversion and warm up for the main event of Endgame, although for me personally I didn't get the feeling that Thanos is about to meet his match in Carol.
The cat though: well, that's a different story altogether…
We Liked
Marvel/Fury chemistry
Ben Mendelsohn is his usual fantastic self
Goose is a scene-stealer
We Didn't Like
Flat humour
Action scenes don't feel the usual grandiose level we've come to expect from Marvel

Since their introduction in 2011, Funko Pop Vinyls have been an affordable way to collect your favourite characters from popular culture. Now, partnering with Marvel, Funko make the leap from the display cabinet to the table top in Marvel: Battleworld, a micro collectible, table-top gaming system in which you pit your heroes in various battles […]

The Avengers latest outing will no doubt please long-time fans with its bigger than ever collection of heroes battling a worthy foe in Thanos while providing an incredibly enjoyable sci-fi ride for newcomers.

While it doesn't push any boundaries, Spider-Man: Homecoming succeeds through sheer force of good will alone. Its likable characters do drift through a pretty standard story, but the added humour and wily casting elevate it to a breezy and fun popcorn movie.