The red carpet has been rolled away. Giant Oscar (Copyright, TradeMark) is now back in the aircraft hangar sized storage unit, safe for another year from Mark Ruffalo's attempt at stealing him. Here at Review Avenue, we feel that The Academy excludes a lot of releases throughout the year for various reasons, whether it be down to their release date or insufficient campaigning on the Press circuit. As a result, we've (me, Sean Burton and our senior reviewer Oliver Woodings) decided to rectify that and recognise films from throughout the year and regardless of how much exposure they've received. The only criteria the films need to hit is that they needed to have been released AFTER the 2018 Oscars but BEFORE this years event.
Our choices are based solely on the films we individually saw last year too and given we do this in our **laughs* 'spare' time, there's bound to be films that were overlooked. That's where YOU come in – feel free to let us know in the comments of any glaring omissions or to vent your anger at just how wrong we are. Agreeable comments are welcome too, but we're not expecting too many of those.
I'm beginning to ramble as much as an acceptance speech, so let's get to it – it's time for Review Avenue's inaugural Awards, the RAFTAs!  
---
Best Supporting Actress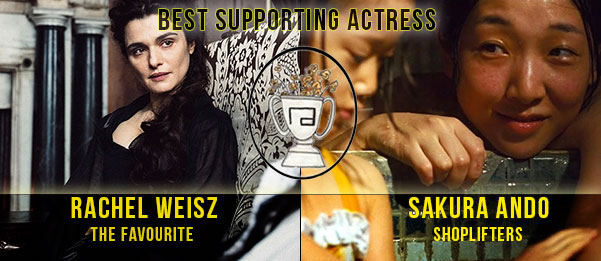 Sean's pick – Rachel Weisz in

The Favourite
A tough call to choose between Emma Stone and Weisz, but the latter marginally edges to the win with her stoic and defiant portrayal of the Duchess of Marlborough. She's entirely convincing as Queen Anne's best friend who clearly gives orders above her station but is visibly doing it for the good of the country, rather than for her own interests or gain.
Oliver's pick – Sakura Ando in Shoplifters
Shoplifters contains some of the most naturalistic acting I've seen recently and at the forefront of a great ensemble is Sakura Ando. She fully realises her character Nobuyo who becomes a surrogate mother to a neglected young girl. Her performance is heartwarming and heartbreaking at the same time. She expertly creates an empathetic and human character and one of the most realistic of the year.
Best Supporting Actor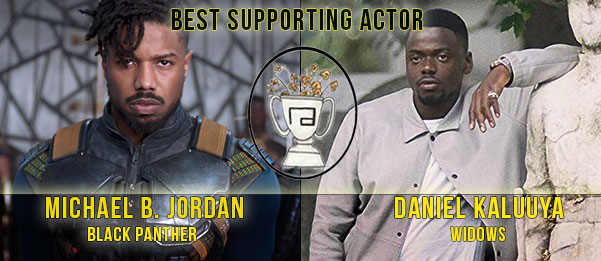 Sean's pick – Michael B. Jordan in Black Panther
Superhero movies have become somewhat tiring with the relentless frequency of releases, but Michael B. Jordan injected fresh life into the 'bad guy' side of things with his menacing work as Eric Killmonger. Undoubtedly the most threatening antagonist in the Marvel Cinematic Universe standalone films, the heart of Killmonger's hate is given valid enough reasons to beat, and his grievances regarding oppression are delivered with such passion by Jordan that even though this is a work of fiction, it's clear that the real-world issues that season Black Panther are ones that close to his heart.
Oliver's pick – Daniel Kaluuya in Widows
Another great ensemble piece, Widows is perhaps the most effective crime film of the year and part of that is due to an extremely menacing Daniel Kaluuya. The presence of his mob enforcer character Jatemme is felt throughout the film, even when he is absent. His scenes are striking and leave a great impact on the viewer. He is unpredictable and terrifying. Ruthless and cunning. Kaluuya transforms into this effortlessly.
Best Actress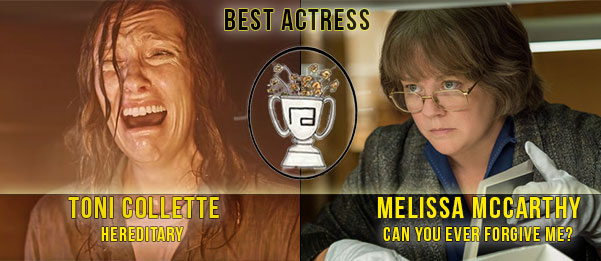 Sean's pick – Toni Collette in Hereditary
Criminally overlooked at the Academy Awards for her role in Hereditary, Toni Collette is utterly sublime as a woman wrought with grief after an unimaginable tragedy. It's a performance that shouldn't be surprising from a veteran actress who has been impressing in the industry for over two decades, but even still it's an absolutely unforgettable display of acting prowess.
McCarthy delivers her best performance to date in Marielle Heller's wonderful drama about loneliness and friendship. She solidifies herself as a serious dramatic actress in this deep role which requires great nuance and delicacy. Known mostly for her comedic roles, McCarthy has proven she has exceptional range.
Best Actor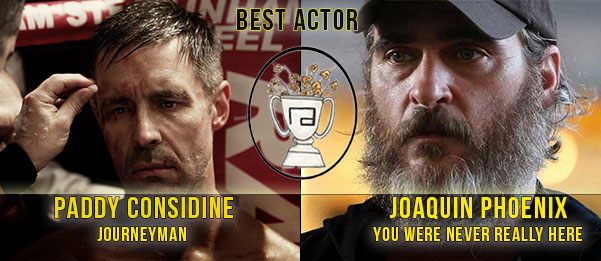 Sean's pick – Paddy Considine in

Journeyman
Quietly being one of the best British talents of this generation, Paddy Considine delivered his most powerful and heartbreaking performances as a boxer whose life is forever altered after a catastrophic brain injury. Prior to this event, he plays him as a quietly humble down-to-earth champion, proud of his accomplishments in the ring but never egotistical. It's in the subsequent scenes following Matty's dramatic change where Considine exhibits his raw talent, delivering one of the most realistic and heartfelt performances I've ever seen.
Oliver's pick – Joaquin Phoenix in You Were Never Really Here
The always terrific Joaquin Phoenix adds another iconic performance to his already legendary list of credits. Here he plays a PTSD ridden gun-for-hire named Joe, who rescues kidnapped girls from traffickers. His quiet, soulless, jaded performance feel perfectly in sync with the atmosphere of the film. There's a gentleness to his character that is easy to latch onto, however, Phoenix very subtly makes you feel uneasy by doing very little. He provides enough to create a fascinating character but lets the audience fill in the blanks.
Best Original Score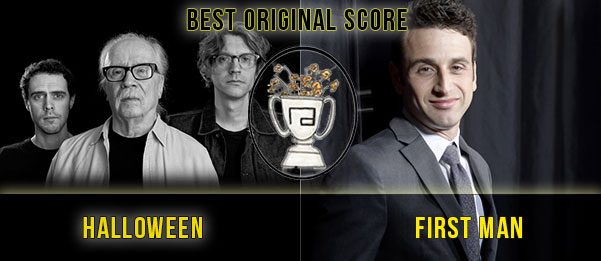 Sean's pick – Halloween (John Carpenter, Cody Carpenter, Daniel Davies)
2018 saw the return of Haddonfield slasher Michael Myers, but more importantly we were treated to a standout synth score that accompanies it. Father/son combo John and Cody Carpenter along with frequent collaborator Daniel Davies triumphantly update the originals dread-filled chords and unquestionably heighten the anxiety of every sequence that contains them.
Oliver's pick – First Man (Justin Hurwitz)
Justin Hurwitz score for First Man is nothing short of sublime, and in a year that boasted such great scores from The Favourite and Mandy, that's no small feat. His third collaboration with director Damian Chezelle, Hurwitz uses gentle motifs that transform into full-blown themes so effectively to convey Neil Armstrong's determination to reach the moon, and also the unbelievable loss of his daughter. The soundtrack hits its peak with an epic orchestral moon landing sequence that blew me away in the cinema.
Best Visual Effects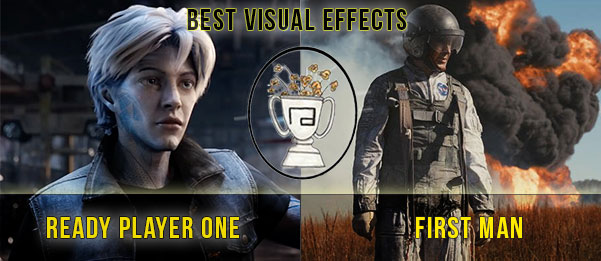 Taking place inside a pop culture filled virtual world, Spielberg's visual extravaganza consistently dazzles thanks to cutting edge SFX. But it's a sequence that takes place in an iconic horror movie location which makes it not only a startling achievement in visuals but one of the most memorable movie moments of 2018 for me.
The team behind First Man's visual effects achieved the perfect naturalistic look that was required to sell the story. Some of this was fantastically realised by building a 35-foot-tall, 65-foot-wide LED screen onto which they projected 90 minutes' worth of digital imagery. Whilst watching the film I never once noticed the CGI or visual trickery, everything felt so seamless, so it just pinches it from the more visual effects-heavy films for me.
Continue reading onto Page 2 for the Award picks for Best Horror, Action, Comedy, Drama and Sci-Fi/Fantasy >>>>