The Details
November 8, 2018
Release Date
6th November 2018 (UK)
Synopsis
Set in contemporary Chicago, amidst a time of turmoil, four women with nothing in common except a debt left behind by their dead husbands' criminal activities, take fate into their own hands, and conspire to forge a future on their own terms.
Starring
Viola Davis, Michelle Rodriguez, Elizabeth Debicki, Liam Neeson, Daniel Kaluuya, Colin Farrell
Remember the disappointment of Oceans Eight? The safe, gimmicky gender-swap heist movie that whilst not a total write-off, was completely unremarkable? Well, director Steve McQueen (12 Years a Slave, Shame) is here to do justice to a female-led crime caper with Widows, and may just kick some new life into the tired, old genre in the process.
After a botched robbery ends with four thieves dead in a police shootout, their widows Veronica (Viola Davis; Suicide Squad, Fences), Linda (Michelle Rodriguez; Avatar, Fast & Furious 8), Alice (Elizabeth Debicki; The Cloverfield Paradox, Macbeth) and Belle (Cynthia Erivo; Bad Times at the El Royale) are forced to pick up the pieces as they inherit 2 million dollars worth of criminal debt. Pressure from local gangsters and corrupt officials leave Veronica with little choice. She is forced to recruit the three other women to pull off a heist her late husband was planning.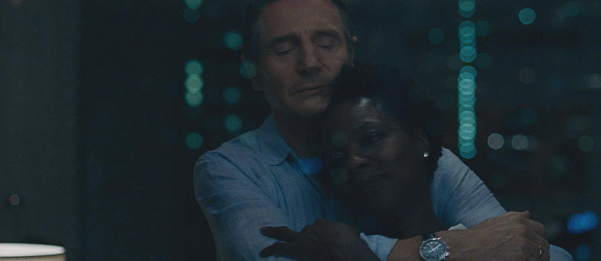 McQueen successfully achieves a tricky balancing act with Widows. The film completely works as a simple crime thriller, following the beats of a conventional heist film enough to please a more casual audience. It has great characters, satisfying twists and lots of dramatic moments. But the film also engages with many important issues without ever drawing too much attention to itself. Police brutality, class, corruption and sexism. There are various underlying themes for you to chew on after the credits roll if you wish, making it as layered and dense as you want it to be. One particular shot follows sketchy mayor candidate Jack Mulligan (Colin Farrell; Horrible Bosses, The Lobster) during a short drive after a support rally. The camera holds outside of the car as Mulligan talks to his organiser inside. The dilapidated neighborhood rolls out of sight in real time within the space of a 60-second conversation, and in its place are gated mansions and luxury. It's precise, expert storytelling that really gives you a sense of location with something deeper to think about.
The ensemble cast is one of the best in recent memory. Everyone involved is well defined and treated with care, but you'd expect nothing less from novelist Gillian Flynn (Gone Girl) who wrote the script here. Even smaller parts from the likes of Robert Duvall and Jacki Weaver enrich the story and add new flavours or perspectives to events. Viola Davis is, of course, brilliant, showcasing a true no-nonsense woman who is both stern and vulnerable. Instead of slapping conventionally male attributes onto a woman like Hollywood often does, Veronica is strong because of her feminity, not lack of it. She has the ability to express so much in silence, especially in one scene where she hesitates in opening a door, expressing everything we need to know without spelling it out. Daniel Kaluuya plays a chilling enforcer to an ex-con who's now $2 million out of pocket. The intensity of his stares and sicking love of violence reminded me of something from a Cohen brothers thriller. His impending danger is never too far away and provides some essential bite to proceedings. It's also very nice to see Liam Neeson (Unknown, A Walk Among The Tombstones) and Michelle Rodriguez doing some serious acting once again.
After a heart-pounding finale, I did find the wrap up a little too convenient. Some questions are left unanswered. They're not particularly burning questions but after such a meticulously constructed plot, the film, unfortunately, asks you to swallow some overlooked details. Hans Zimmer supplies a well-judged score that racks up the tension when needed. It's more subdued than his usual work but does its job well. The same can be said for the gritty and realistic cinematography, effectively putting you into the grime and glitz of the bustling Chicago 12th ward. But it's the compelling directing and superb cast that are the stars in Widows.
The greatest strength of Widows is how the collaborative effort of filmmaking makes it outstanding. With exception of a somewhat rushed ending, it's a puzzle that's a pleasure to see pieced together. It's a must-see for fans of crime thrillers, and arguably one of the best films of the year.
We Liked
Dream ensemble cast
Fantastic direction from McQueen
Works for both casual audiences and film fans
We Didn't Like
Plot ends too conveniently.