The Details
Release Date
7th June 1985
Synopsis
Five high school students meet in Saturday detention and discover how they have a lot more in common than they thought.
Starring
Emilio Estevez, Judd Nelson, Molly Ringwald
As it approaches its 33rd anniversary, The Movie Bastard looks back on the lasting appeal of John Hughes' The Breakfast Club. 
Back when I was a teenager I worked in a bar. When I'd finish a shift I'd head home to a household asleep. It was these formative years where I watched all kinds of late night movies. One such night I came across a film about a bunch of American schoolkids suffering through a Saturday detention.
Now, I'd normally turn that kind of thing over. I don't know why it appealed to me. It wasn't my normal preferred broth of violence, swearing and brief female nudity. But it hooked me, and I continued to watch until the wee hours of the morning.
It left me buzzing, as if it was a movie made just for me. It spoke to me. The following day at school no one knew what the hell I was on about. All I knew was the title, The Breakfast Club, and nothing else. Remember that this was pre-internet days. It would be years later that I'd get to see it again, this time at university.
The Breakfast Club is a simple premise; five teenagers from the fictitious Shermer High School are attending a Saturday detention. They vary in age and each belongs to a different social caste. As the initial voice over-puts it "in the most convenient definitions you see us as a brain, an athlete, a basket case, a princess and a criminal".
With nothing in common but sharing a Saturday killing time in a school library, they each slowly warm to the other, begin to understand the social anxieties and pressures that they each feel, and ultimately leave as friends. Sounds pretty simple, right?
Well, yes, it is. But there's so much more at play too. As I've said, each character belongs to a group. You've got Brian (Anthony Michael Hall) the brain, the young nerdy kid. Judd Nelson plays John Bender, the washout loser who is very familiar with spending Saturday in detention. "Don't worry, I've done this before", he says at one point.
His foil is wrestling star Andrew Clark (Emilio Estevez), who shares similar social circles to that of Molly Ringwald's prom-princess Claire. To round off the group is Ally Sheedy as Alison, the alternative school loner. I'd seen her previously in Short Circuit and was a big time crush for me back in the day.
Now anyone who ever went to a high school can probably identify three or four of the above (if not all) character archetypes. You probably belonged to one such group yourself. All your friends were probably of the same social standing. People are tribal in nature and we gravitate to others who share the same interests and beliefs. Equally, we're suspicious and fearful (especially as adults) of "outsiders" – those who don't tread the same circles.
The outsider to the Breakfast Club is assistant principal Vernon. He's 22 years deep into his teaching career, and has forgotten what it was like to be the age of his wards. Doesn't remember what it is to be so unsure, sensitive, confused, awkward, and pressured. And boy, do each of them feel it.
Yet despite their differences, these kids will back each other when it comes to Vern. And that's how it starts; them covering for the terminal loser Bender as he pushes his luck and mocks the older guy. Before long, the doors are closed, Vernon is out of site, and they start getting to know one-and-other. There's the typically jockeying for alpha-male-hood between Andy and Bender. Plus the classic teenage obsession with who is a virgin and who isn't.
As time progresses the walls of their perception of each other begin to break down. They start to see that they're all in the same place, experiencing the same shit. A good breakdown of their feelings happens between Alison and Andy. "I don't have a satisfying home life", she admits. "No one does, otherwise we'd all end up living with our parents", he rationalises.
The idea that they're all flawed, all unhappy about elements of their personality rings true with any observer with an ounce of self-modesty. Each character is taken out of their comfort zone and benefits for it. Relationships begin to blossom, and friendships emerge. But as Bender rails against Vernon, and his punishments keep stacking up, it's only going to be a matter of time before there's a showdown between the two…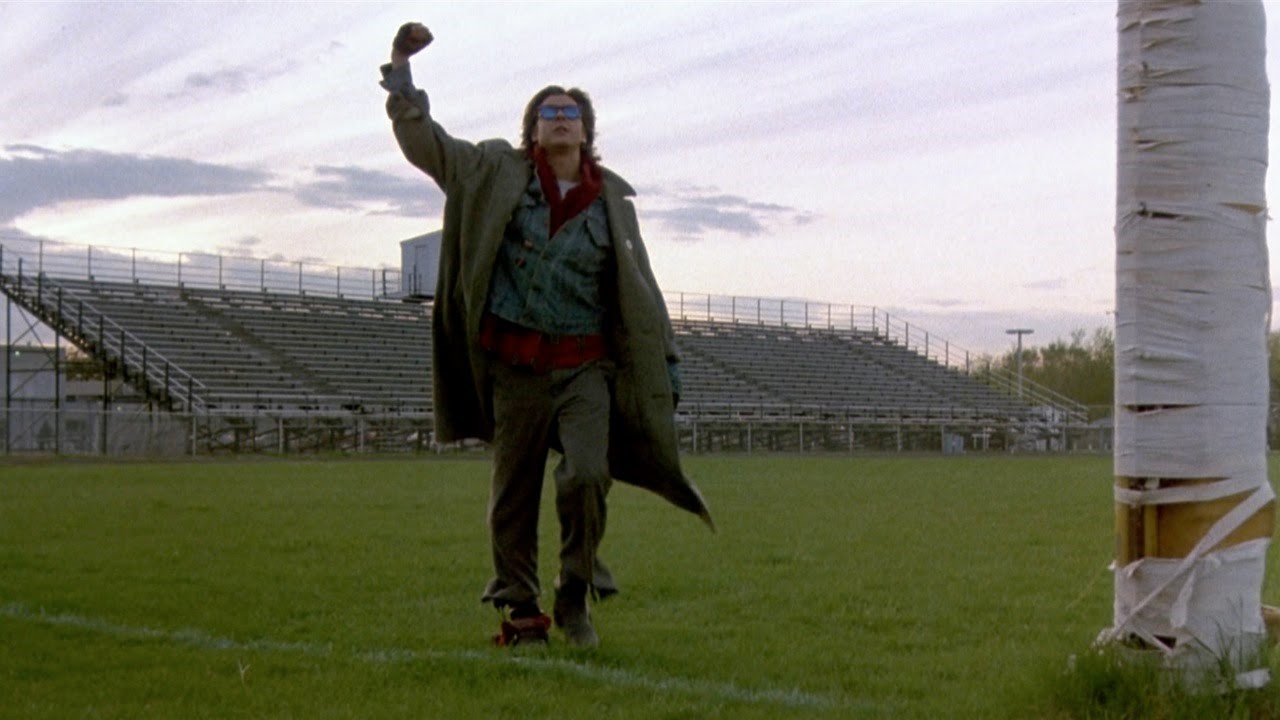 Returning to The Breakfast Club as a guy approaching middle-age it's certainly more of a bitter-sweet experience. Seeing these fresh-faced youngsters and their perceived problems (and their potential), it kind of acts like a mirror into your own youth. Now, it's nearly 33 years old. Those actors are the same age as poor old Vernon!
Sure it may remind you of hardship, broken hearts, and lost opportunities, but is also helps recall simpler times (even if they seemed so complicated back then). Maybe youth isn't so wasted on the young. As the janitor Carl (played by the great character actor John Kapelos) says, "you forgot what it was to be young".
Even now I smirk at Bender's lame insults and cringe at Brian and Allison's awkwardness. I'm moved by the same moving moments, and laugh when they laugh. In fact, I think the only real thing that's changed for me is that (Don't You) Forget About Me is no longer my favourite Simple Minds song (that title is now held by Alive & Kicking).
Maybe I'm viewing the film through rose-tinted-glasses. In today's world the tropes are probably going to be different. Gender equality and physical perception has changed so much in recent memory alone. But I still suspect that there'll be nerdy kids, sporty kids, preppy kids, goth kids, etc, despite how the fashions have changed.
The school is their microcosm, their universe, and each has a standing within it. There'll always be groups, factions and The Breakfast Club represents the meeting of these factions. Within the 90 or so minutes each character comes to realization that they're fundamentally the same, that they're not alone, and that each suffers the same fears and doubts as everyone else.
Perhaps the biggest problem is that it's a difficult sell now. It's an 80's movie, and while it's only the music that really ages the film, there's a whole host of other distractions and relevant material for kids to absorb now. You obviously can't tell them that this film is relevant or cool or that they'll love it. They'll hate it to spite you.  As the opening quote says, "these children that you spit on […] are immune to your consultations. They're quite aware what they're going through". But it's still a vital watch for anyone of a similar age.
As a film, it's ably written & directed by John Hughes, a comedy legend who worked extensively with John Candy, and the "Brat Pack" (the Breakfast Club cast, along with Rob Lowe, Robert Downey Jr and a host of other teen actors). Made on a shoe-string budget Breakfast Club catapulted both him and its' young cast to mega stardom. It's surprisingly well shot, despite not getting too flashy. It's also book-ended by music from the aforementioned Simple Minds, and that opening quote from David Bowie.
It's a snapshot of an era in time yes, but it also captures a particular timeless zeitgeist that young people will continue to experience forever. And I'm not talking about Saturday detention. I never did that shit. I mean the pressure, the fear, the elation, the confusion, the fun of simply being teenagers.
Despite how the world has changed I think it's still relevant and will always be relevant. So don't worry, Breakfast Club, we aren't going to forget about you. Ever.
We Liked
Strong casting; amazing performances from actors at such a young age.
Timeless appeal; explores themes and ideas that we all struggle with during our formative years.
We Didn't Like
The idea that the Alison character has to change her appearance to be accepted by Andy.
Actor Judd Nelson's massive nostrils.

Do you like remembering that you saw stuff elsewhere? Then you'll love Steven Spielberg's pop culture extravaganza Ready Player One.