A political scandal that dodged the camera's lens for almost 50 years finally comes under new scrutiny with a new engaging political drama from John Curran (The Painted Veil). Starring Jason Clarke (Mudbound) as a dead-ringer for Senator Ted Kennedy alongside the talents of Kate Mara (House of Cards) and Bruce Dern (The Hateful Eight), The Senator shines new light on the infamous Chappaquiddick incident on Digital HD and DVD this month.
On 18 July 1969, United States Senator Ted Kennedy drove his car off a bridge on Chappaquiddick Island. He survived, but his passenger, 28-year old campaign strategist Mary Jo Kopechne, didn't. The accident wasn't reported for 10 hours, sparking a national controversy threatening the presidential ambitions of the once-considered shoe-in, and arguably ended the Kennedy family dynasty.
While the world knows the legacy of his older brother, President John F. Kennedy, with Hollywood even implicating a Marvel supervillain in a fictional account of his assassination, The Senator marks the first feature film account of a scandal that was once the national conversation. While the scandal and its key players were household names in the US however, the Atlantic Ocean and the passage of time risked them being lost to history here across the pond, so here's our Quick Start guide to The Senator!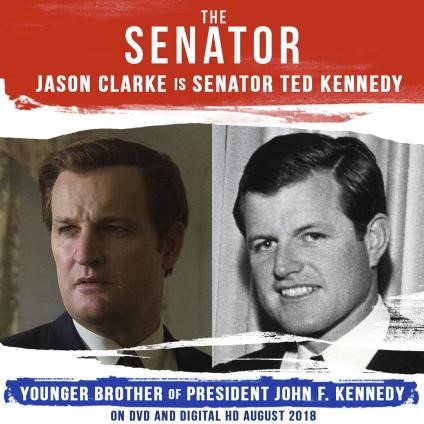 Born on 22 February 1932, Edward Moore Kennedy was the fourth and youngest son of Joseph P. Kennedy Sr., who held a number of high profile positions under President Roosevelt. A member of the democratic party, Ted Kennedy was elected the Senator of Massachusetts at age 30, following his brother's appointment as President.
Anticipated as a candidate for the position himself, the Chappaquiddick incident forever hindered his chances of high office. His only attempt, in 1980, saw him defeated in the democratic primary by President Jimmy Carter.
Despite the Chappaquiddick incident however, Senator Ted Kennedy was consistently re-elected throughout his life, serving the people of Massachusetts for almost 47 years, until his death in 2009. The fourth longest continually serving Senator in US history, he became known as "The Lion of the Senate" for not only championing economic and social justice, but also for his ability to negotiate compromises with opposing republicans.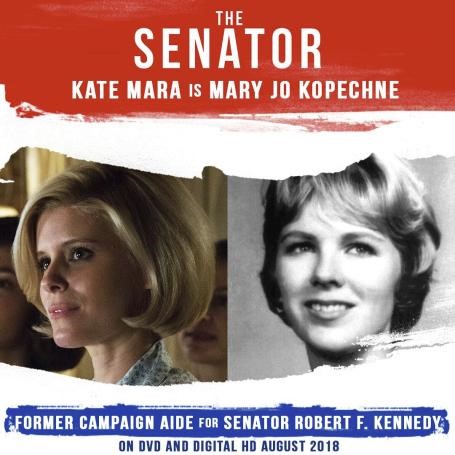 Mary Jo Kopechne was a devout Roman Catholic who, after briefly working as a teacher, moved to Washington and later joined Senator Robert F. Kennedy's secretarial team. Described as a "loyal worker", she is known to have stayed up all night to type the Senator's major speech against the Vietnam War.
During the 1968 presidential campaign, she helped compose the speech announcing Robert F. Kennedy's candidacy and worked on his campaign as one of the "Boiler Room Girls", who tracked and compiled data on democratic delegates' voting intentions. She was reportedly devastated by the senator's assassination later that year.
On 18 July 1969, Kopechne attended a reunion party for the Kennedy campaign team on Chappaquiddick Island. She left the event with Robert's younger brother, Senator Ted Kennedy, who crashed his car in a nearby lake. Mary Jo Kopechne sadly passed away eight days before her 29th birthday. Her funeral was held in her home state of Pennsylvania on 22 July 1969.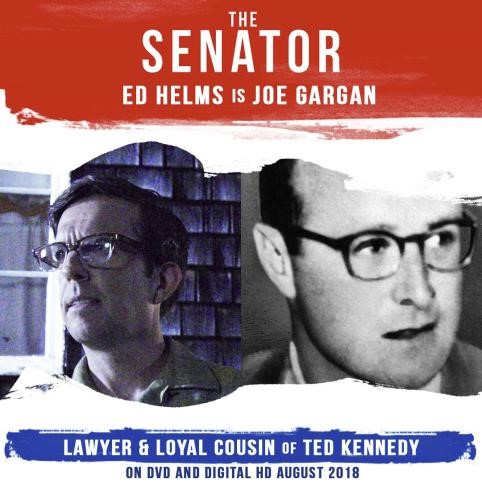 Related through his mother's side, Joe Gargan spent many summers at the Kennedy family home, where he and cousin Ted developed a close relationship. A lawyer by trade, he would later work on political campaigns for three key members of the Kennedy family: Senators Robert and Ted, and President John F. Kennedy.
A co-host of the infamous party on Chappaquiddick Island, Joe Gargan was one of two people Senator Ted Kennedy first told of the accident. After unsuccessfully trying to save Mary Jo Kopechne himself, Gargan tried to be a voice of reason for the senator, encouraging him to report the incident long before he did.
Gargan faded out of the public eye following the incident, practicing law and dedicating himself to helping sufferers of alcohol and substance abuse until his retirement. At age 87, Gargan quietly passed away in December 2017, months before the US release of The Senator.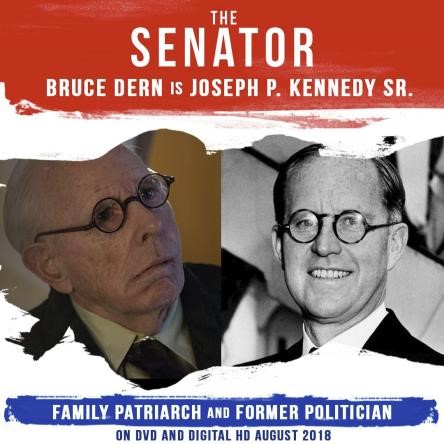 By the time of the Chappaquiddick Incident, the controversial, once-leading politician had been confined to a wheelchair following a disabling stroke eight years prior. Despite losing his power of speech, he retained the mind that earned him success as an investor and political strategist.
Previously the United States Ambassador to the United Kingdom under President Roosevelt, Kennedy Sr.'s own political ambitions ended in embarrassed resignation during the Battle of Britain, following his defeatist attitude and the publishing of comments that "Democracy is finished in England".
Kennedy Sr. remained prominent behind the scenes however, playing key roles in his childrens' own political campaigns, including John F. Kennedy's successful presidential bid, and assembling the strategy team in the aftermath of Chappaquiddick. Kennedy Sr. passed away in November 1969, aged 81.
The Senator releases on Digital HD on 13th August, and DVD 20th August, courtesy of Signature Entertainment.


Once Upon a Time In Hollywood is a film made with exceptional craft and a deep sense of passion. It's a surprisingly mournful film one minute and a characteristically silly film the next, juggling a dozen different emotions, subjects, and themes... and almost catching them all.

An affecting romantic drama that's never schmaltzy, Coming Home is as scathing to the Vietnam war as it is poignant to the idea of doomed love.