The Details
Release Date
12th June 2020 (Disney+ Premiere)
Synopsis
Artemis Fowl, a young criminal prodigy, hunts down a secret society of fairies to find his missing father.
Starring
Ferdia Shaw, Hong Chau, Colin Farrell, Josh Gad
First published in 2001, the Artemis Fowl series of books would surpass Worldwide sales of 25 million by 2018. Talks of a film adaptation have been around as long as the book itself, with Miramax Films originally producing and Cats & Dogs director Lawrence Guterman in line to direct. Evidently, that version never came to fruition and the project was shelved in developmental hell until 2011.
It wasn't until 2013 when an official announcement on the film was made. Walt Disney Pictures had acquired the rights and the then-hot property but now irreparably burned Weinstein Company signed on to produce. Veteran Thespian Sir Kenneth Branagh put his name on the dotted line to direct with Irish playwright Conor McPherson penning the script. Now, almost 20 years on from its conception, Artemis Fowl fails to fly and lands with an unflattering, fanfare-less thud onto Disney's own streaming service.
Reportedly taking extreme liberties with the source material, the film version of Fowl sees the titular child set out on an adventure to discover what happened to his father, the controversial antique collector Artemis Fowl Snr. (Colin Farrell; Fantastic Beasts, Horrible Bosses). He quickly finds out that Fowl Snr has been captured by a rogue fairy who believes Snr has stolen a vital artefact of his kind, The Aculos. Teaming with another fairy named Holly Short (Lara McDonnell), a dwarf named Mulch Diggums (Josh Gad; Frozen, Beauty & The Beast) and his trusty butler Domovoi (Nonso Anozie; Cinderella), Artemis must enter a magical world, and allow it to enter ours, if his father and the famed Aculos are to be returned safely.
Artemis Fowl is an adaptation that still thinks its a book. Every action or sequence is preceded by a character verbally stating what's about to happen, it happens, then they recap. It's incredibly frustrating and insulting to the viewer's ability to follow what's going on. A very large chunk of the script follows this method leaving little room for any development of character. Given how much the plot is explained thoroughly in every scene, there's very little substance to the overall product. I'd love to see a supercut of the amount of times the word Aculos is mentioned.I imagine it'd run almost the same length as the film's mercifully short but painfully drawn-out 93 minutes.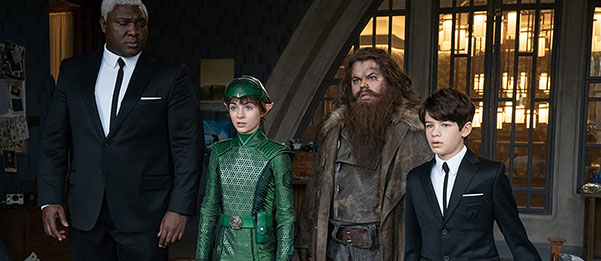 Even Fowl himself is absent for extended stretches of the film. He's not a particularly likeable lead either, a chip-on-his-shoulder, know-it-all kid who is difficult to root for. Ferdia Shaw makes his in-screen debut in the role, but it seems like the pressure is too much for him as he doesn't entirely or convincingly get into character. Judi Dench (Skyfall, Cats) is untroubled as she growls and grimaces her way through her role as Fairy Commander and Lara McDonnell looks glad to just be here even with such a poor script to work with. Colin Farrell performs a magic trick of his own and disappears after the first 10 minutes. It's not all gloom on the casting front though. An energetic and heavily bearded Josh Gad comes across as a Hagrid/Star Lord hybrid and is undoubtedly the film's saving grace. It would've been beneficial to have had Nonso Anozie's Domovoi Butler be a more prominent figure, as he's another of the film's few highlights.
Its reported budget is $125 Million and I'm failing to see where it went. The special effects would've looked great if it was released in 2001 when it was meant to, instead appearing as outdated as those seen in the uncannily similar Troll sequence from Harry Potter & The Philosophers Stone. The fresh out the oven leads are unlikely to have cost a lot to hire either and it's marketing spend will have been drastically reduced with the effects of COVID and its unloading onto Disney+.
And yet, through all of my gripes with it, Artemis Fowl still has promising franchise potential. Its fairy, goblin and other magical creature filled world(s) are ripe for a deeper mining and the door is clearly open for future Artemis adventures. Any further stories will unquestionably need overhauling – a new scriptwriter and director who has a proven track record in playful family films would be a good start – is a must. But as it stands, this Fowl demands a stern yellow card, putting the series in danger of an early permanent sending off to YA franchise abyss.
Artemis Fowl is now streaming exclusively on Disney+.
We Liked
Josh Gad is a delight as Diggums
We Didn't Like
Insistence of explaining every single plot detail throughout
Not enough substance beneath its incessant exposition
Fowl isn't a likeable character