The Details
October 24, 2018
Release Date
12 October 2018
Synopsis
A look at the life of the astronaut, Neil Armstrong, and the legendary space mission that led him to become the first man to walk on the Moon on July 20, 1969.
Starring
Ryan Gosling, Claire Foy, Kyle Chandler, Corey Stoll
Unlike the Apollo 11 mission, First Man has failed to land an audience. Despite director Damien Chazelle's previous hits Whiplash and La La Land, his biopic about Neil Armstrong and the subsequent Moon landing has only returned a disappointing $57 million so far, despite budgeting at $60 million. Whilst it's sure to gross a profit as it's cinematic run continues, the box office numbers will be meagre, and will certainly be deemed a commercial failure.
Almost complete critical acclaim hasn't helped to get bums in seats either, unfortunately. But there is an air of "safe Oscar-Bait" in its marketing, and I must admit that I wasn't excited about seeing the film myself. After all, we all know the story. So attempting to create tension around an event we know the outcome to seems futile at first glance. But once you realise that Chazelle isn't particularly interested in making a biopic, and instead hatches a story about grief and mourning, you'll be treated to one of the best films of the year.
From its opening scene with Neil Armstrong (Ryan Gosling; Blade Runner 2049, The Nice Guys) testing an X-15 rocket for NASA, you know you're in the hands of one of the finest directors working today. First Man is masterfully crafted. Scenes are edited and shot to perfection. The serene pace of Armstrong's homelife is captured quietly, and often without dialogue. But there is a consistent feeling of sadness lurking in the background thanks to the tragic loss of Armstrong's baby daughter early in the film. Gosling's withdrawn performance and Justin Hurwitz's sublime score accentuate this tone as it haunts the rest of the film.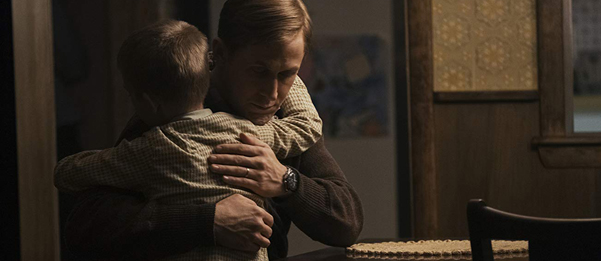 In contrast, the sequences involving rockets and spaceflight are shot frantically, but always retain a clear vision making them easy to follow. They are epic in execution but feel intimate due to the generous amount of POV used. It may be a cliche but Chazelle really puts you in Armstrong's moon shoes, and the result is simply thrilling. It's also immensely impressive how suspenseful the many rocket tests feel, seeing how we all know about the missions eventual success. But by honing down upon the tremendous risks involved as well as the ludicrous amount of scientific innovations required, First Man will give you a whole new appreciation for the Moon Landing which has become trivialised in today's society.
The terrific Claire Foy (Unsane, The Lady in the Van) arguably has the most character work as Janet Armstrong. She is the voice of reason, a source of support for Neil and the astronaut's wives. Her thoroughly selfless character provides some much-needed humanity in a film full of tightly wound, reserved men. Thankfully Foy avoids the typical "wife to an important man" role, asserting herself in many key scenes and being responsible for the most emotional aspects of the film, especially when she forces Neil to sit down and possibly say goodbye to their children.
The films most impressive moment is, of course, the landing sequence. It's similar to the balletic space-dance from 2001: A Space Odyssey. By that I mean it's pure cinema. Chazelle employs all his directing powers here to create something wholeheartedly enchanting. The scene steadily builds in wonder and tension, the pace ever increasing along with the stakes until it achieved a state of cinematic euphoria. It has stayed with me long after the credits rolled. Rounding off the scene are some completely seamless visual effects and a score that is the best film music I've heard all year.
Afterward, First Man concludes with a satisfying and incredibly touching scene. One that perhaps takes liberties with the truth, but feels completely justified in context of the film's themes. Once again, this isn't a film about a man going to the moon or outer space. It's about inner space, and it begs to be seen on the big screen.
It's a shame about the mediocre advertising for First Man because a "run of the mill" biopic this is not. This is a measured, intelligent picture that balances heartfelt character drama with awe-inspiring spaceflight. Equally as excellent as Chazelle's previous masterpieces he has proven his ability to paint on a broad canvas. Let's hope he continues.
We Liked
Meticulously crafted with some truly sensational scenes
Gosling and Foy bring the Armstrongs to life
Best score I've heard all year

Rocketman only succeeds at being a more entertaining and creative film than last years Bohemian Rhapsody, thanks to its musical aspects that offer something more impressionistic than the norm. But without those few excentric flourishes, the film is your standard copy and paste job in Hollywoods latest music biopic trend.

Get the latest details on The Lord of the Rings author's biopic Tolkien including the trailer, release date and cast information.