The Details
Release Date
16th October 2018 (LFF Premiere) (16th November 2018 (UK Limited Theatrical)
Synopsis
A darkness swirls at the center of a world-renowned dance company, one that will engulf the artistic director, an ambitious young dancer, and a grieving psychotherapist. Some will succumb to the nightmare. Others will finally wake up.
Starring
Dakota Johnson, Tilda Swinton, Doris Hick
I have never seen the Dario Argento's  bizarre cult horror classic Suspiria and made the decision not watch it before seeing this to avoid comparisons. In fact, I went in as blind as I possibly could. We are told in the opening credits that we're about to see "six acts and an epilogue set in divided Berlin". The main plot follows Susie Bannion (Dakota Johnson) arriving in Germany from America with the intention of joining the Markos Dance Academy, despite her lack of formal training. She ends up impressing Madame Blanc (Tilda Swinton) and is asked to join their Academy and even lead their latest performance. Alongside this, a young girl named Patricia (Chloë Grace Moretz) has run away from the Academy and is seen as delusional with her wild claims about something sinister going on there. Her psychiatrist Dr. Jozef Klemperer ("Lutz Ebersdorf", definitely not Tilda Swindon) slowly begins to believe her claims.
Suspiria supposedly has a lot to say, but it's crazy how empty the six acts feel. There's nothing wrong with build up being front and centre, but when the narrative is unnecessarily complex, it's easy for it all to lose sight of what it wants to achieve. As the nightmare begins for Susie, we begin to sense what is the cause of it all. The trouble is, an outline is a good starting point but it needs to be expanded upon. The mystery of the Markos Dance Academy tends to just standstill for large portions, leaving us aimlessly watching a heap of nothing unfold. You're waiting patiently due to the artistic style of the film and sadly when we reach act six, all you can say is that it's a visually stunning mess.
Alongside Susie's predicament, we also see Patricia's psychiatrist Dr. Jozef Klemperer investigate the Dance Academy, but he sure does take his sweet time in doing so. His investigation doesn't carry much weight either as we are pretty much always one step ahead of him, meaning that whenever we switch to him, we're basically watching an old man playing catch up with the story. It would perhaps be too harsh to say we could've done without this plot point all together, but what it adds to the overall narrative is extremely limited and definitely not worthy of how much attention it gets.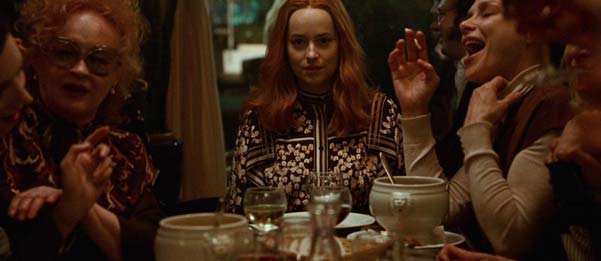 While the narrative really struggles, there are a few shining lights. Chloë Grace Moretz is more memorable in about 10 minutes of screen time than almost everything that follows and Mia Goth gives a convoluted performance as dance student Sara. It's the two leads who deserve all the plaudits however. Dakota Johnson proves that she really is so much better than 50 Shades of Grey and delivers a knockout performance that manages to hold your attention despite the floundering substance surrounding her. Tilda Swindon is predictably perfect as Madame Blanc, unnerving but also turning her into someone you can't bear look away from. These two hold everything together while the foundations of the film are crumbling around them.
Choreographically, the dance sequences don't put a foot wrong. Much like Gaspar Noel's Climax, these are usually edited alongside horrific moments and Luca Guadalcanal manages to direct them beautifully, even if you are wincing. You'd expect the music accompanying the dance to follow the edit, but by cutting to gruesome parts without it, the impact is much more brutal. Suspiria boasts some brilliant practical effects within these scenes and should be highlighted for turning these into the stand out moments. When the first one appears, it seems like the films turning point, but alas, this was just one great moment sandwiched by poor, dull build up.
Suspiria's quality descends as it progresses and, despite glimmers of genuine greatness, it's just plain dull and tedious at times. This is even more baffling as the cast are all superb, the directing is on point and there's some beautiful choreography. Even if a film impresses on a technical scale, if the core narrative of it is misguided, it won't help the final product.
We Liked
Dance sequences are brutally brilliant
Strong acting across the board
We Didn't Like
An unnecessarily overlong plot
Tedious large chunks
Build ups to a hugely disappointing final act
Complex for complexities sake
Surprisingly forgettable once the credits roll

The final entry in the Fifty Shades franchise won't set pulses racing but will instead have you running for the theatre doors in despair.