The Details
Item Reviewed
The Hate U Give
October 22, 2018
Release Date
22 October 2018 (UK)
Synopsis
Starr witnesses the fatal shooting of her childhood best friend Khalil at the hands of a police officer. Now, facing pressures from all sides of the community, Starr must find her voice and stand up for what's right.
Director
George Tillman Jr.
Starring
Amandla Stenberg, Regina Hall, Russell Hornsby, Anthony Mackie
Impassioned and topical, The Hate U Give features Amandla Stenberg (The Darkest Minds, The Hunger Games) as Starr, the sole witness of a police shooting in this adaptation of Angie Thomas's breakthrough novel. Directed by George Tillman Jr, the film begins with an eye-opening scene between Starr's father Mav (Russell Hornsby; Fences, After the Sunset) and his children, as he meticulously explains how to act around the police without getting shot. We are then taken on a vivid exploration of the human cost of such tragedies.
But before all that, we are introduced to Starr: A typical teenager caught between her happy home life in a rough neighborhood and the more privileged, "mostly white" school her parents send her to. She is essentially living a double life, restricting the more "black" aspects of herself when at school, and only letting her hair down on weekends. She equally loves and hates both aspects of her life, but also equally knows they can never mix.
During a house party one weekend Starr is reunited with close childhood friend Khalil (Detriot, Earth to Echo), where they get a chance to catch up. On the drive home their vehicle is pulled over for seemingly no reason by a lone police officer. Starr knows the drill and immediately implements her father's advice. But when Khalil innocently reaches for his hairbrush when waiting for the officer to run his details, the boy is immediately gunned down in the street. Leaving Starr as the only witness.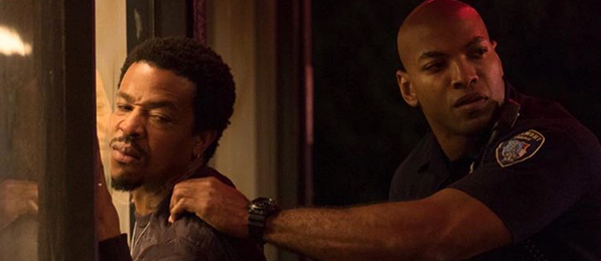 This isn't a standard "crusade for justice" film, however. Starr must overcome an incredible trauma, whilst also wrestling with the responsibility of knowing the truth when people on both sides of her life are trying to silence her. But with the help of her loving family, Starr begins to find her voice.
One of the greatest strengths of The Hate U Give is the fundamental proof that teen dramas can explore mature topics and explore them well. There is a real hard edge to the film that some will find quite surprising. The effect Khalil's death has on the community is undoubtedly felt, and the film dedicates much of its time exploring these various reactions. Starr and Khalil's family are of course shattered, but the preppy students of Starr's school start to hold their own inauthentic tributes as a way of skipping class. Even within the segregated community, there are individuals like gang leader King (Antony Mackie; Avengers: Infinity War, The Hurt Locker) who want the incident swept under the rug to preserve business, and even begin to threaten Starr if she starts to talk.
Unfortunately, Mackie's drug lord is completely underdeveloped, serving more as a looming sense of dread than an actual character. It's Starr and her immediate family that provide The Hate U Give with its rich characters. Although they are a little too perfect to be completely believable, all the actors have great chemistry and make intrinsic watching. Especially father Russell Hornsby, who commands the screen whenever he graces it.
Being based on a piece of young adult fiction, the film does occasionally stumble into some of the more juvenile drawbacks the genre is capable of. Starr is well rounded and soulfully acted for example, but the script dictates that she narrates throughout the majority of the film. Over-reliance on this type of exposition is putting it kindly. A crucial scene during the finale is almost ruined as Starr feels the need to literally explain what we're seeing.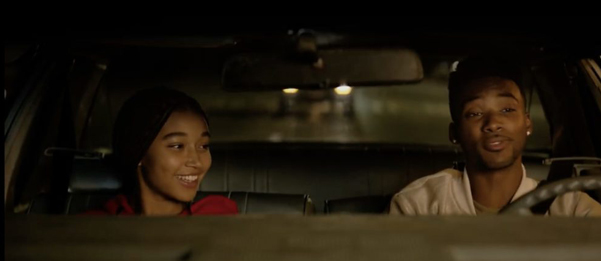 For such a refreshingly serious teen drama, The Hate U Give also plays it safe concerning it's ending. Where Blackkklansman triumphantly mic drops, The Hate U Give inoffensively walks off stage, proud of itself like a regular teen drama – a decision that feels entirely at odds with the rest of the films radical "find your voice, change the world" tone.
Technically the film holds up well. It's efficiently directed and the cinematography is creative, with some effective contrast between the colours used between Starr's two lives. But falling short is the original soundtrack, which sadly is a painfully average composition mostly consisting of everybody's favourite "two-note piano song" for the sad bits. It works to a certain extent but it's hard not to wish we could move on from these cliches.
The Hate You Give is a fine example of a teen drama and one that manages to bridge the elusive age gap and become relevant to just about anyone. Thanks to a great cast and a willingness to deeply explore its central premise from all angles, it's occasional setbacks are not enough to prevent a recommendation.
We Liked
Superb lead with Amandla Stenberg
Complexity not usually found in teen dramas
Some gut-punching emotional scenes
We Didn't Like
Overcompensating narration
Fluffy ending
Average musical score