The Details
October 22, 2018
Release Date
2 November 2018
Synopsis
A man and his teenage daughter encounter nonstop danger while searching for valuable gems on an alien moon.
Director
Zeek Earl, Chris Caldwell
Starring
Sophie Thatcher, Jay Duplass, Pedro Pascal
The moment when a film truly gives you goosebumps, elevating above simple window-dressing to affect you, is one of cinemas greatest potential gifts. To be swept away in a story, or to be taken somewhere beyond our mundane existence can be poignant. One that Science-Fiction has more opportunities than most to achieve.
Enter Prospect: a dense survival story set on a forest moon of an alien world. A world which is inhabited by cutthroat treasure hunters and gangs of fierce mercenaries. All whom are seeking riches from the lucrative minerals found in the surrounding fauna. Contractors Damon (Jay Duplass; Paper Towns, Outside in) and his daughter Cee (Sophie Thatcher) have acquired valuable information regarding the location of a large deposit of said minerals, and depart from their secure space station to retrieve them. The journey becomes much more difficult than expected, however, after their ship suffers damage upon landing and they stumble upon fellow prospector Ezra (Pedro Pascal: The Equalizer 2, The Great Wall).
Significant world building is often a staple in the sci-fi genre. From Blade Runner to Alien, these films spend a lot of time immersing you into their world, prioritising atmosphere over character or plot, but achieving levels of individuality hard to find elsewhere. Prospect is one of these films. Every detail has been poured over: the costumes, the props, the characters. You can feel the history behind them all. Tools look weathered and used, and characters refuse to spew exposition, leaving you to piece together whatever you can about them. This does create a first act that's seemingly tricky to follow as you're bombarded with information you're unlikely to understand. But stick with it and concentrate, and you're rewarded with a fascinating universe full of tantalising questions.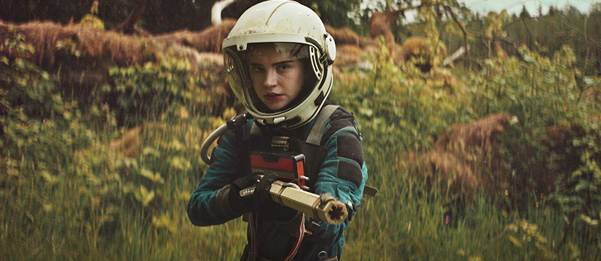 The performances by Sophie Thatcher and Pedro Pascal are nothing short of wonderful. The way they both develop and deepen their characters as the film progresses feels natural, and it's engaging to see how their attitudes change once they are forced to rely on each other. Beginning as mortal enemies before wrestling through an uneasy alliance offers heaps of interesting opportunities, something both actors apply to their fullest potential.
Adapted from their own short film, directors Christopher Caldwell and Zeek Earl saturate the hazy, pollen-filled moon with danger. Every encounter is rightly treated with a great deal of suspicion. After all, this environment breeds selfishness, and greed is the sole remaining motivator after survival. This makes our protagonist's humanity and eventual bonding all the more momentous, separating them from the ugliness of their profession.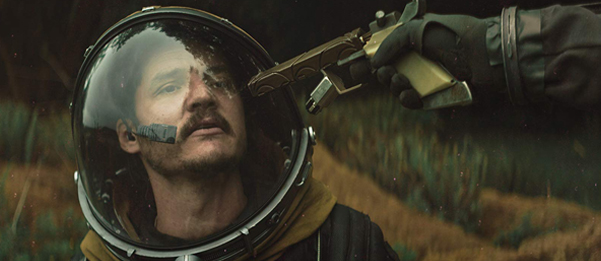 The toxic environment becomes a harsh frontier and is treated as such by the directing duo. Prospect has just as much in common with the Western as it does Sci-Fi. The absence of rule of law leads to untapped greed, standoffs, and betrayals. The grimy, industrial look of space exploration also gives it the tactile nature found in Westerns. This unique blend feels fresh and works very well in Prospect's favour. I felt like I was witnessing the birth of a brand new, fascinating world, feelings which are often associated with all-time classics like Star Wars. Not bad for a little festival film.
For such a low budget film, Prospect is technically a marvel. As previously mentioned the production and costume design is exquisite. But the same can be said for the cinematography, which captures the bleached skies and saturated colours just enough to make them feel alien, and there are a couple of truly gorgeous vistas aided by some reserved but impressive visual effects. The budget constraints are sometimes clear to see, especially when a shot or two better resemble the Staffordshire countryside over a poisonous moon. But it never majorly distracts from a fantastic looking film. A mention must also be given to the orchestral soundtrack that brings the house down by the finale with an epic, booming theme. It nails the emotional impact of the story whilst also referencing the vastness of space.
Prospect is an intelligent slow burn story of survival and redemption. It mixes familiar aspects of Westerns and Science Fiction to create a world where you can imagine hundreds of stories taking place. Its mythology is enticing, but thankfully the film itself is compact and entertaining.
We Liked
Fascinating universe with brilliant production design
Characters with depth from great actors
Epic score
We Didn't Like
Slow and overwhelming opening
Low budget is sometimes obvious