The Details
Release Date
9th February 2018 (UK)
Synopsis
Anastasia and Christian get married, but Jack Hyde continues to threaten their relationship.
Starring
Anastasia and Christian get married, but Jack Hyde continues to threaten their relationship.
At one point, it seemed like you couldn't use any form of public transport or sit in a waiting room without seeing a copy of one of the three books from E.L. James' erotic Fifty Shades trilogy. Selling over 125 million copies worldwide and becoming the best-selling book of all time in the UK, the story of college senior Ana and her Sexcapades with mega-rich businessman Christian Grey was a literary phenomenon. The inevitable film adaptation arrived in 2015, followed by its sequel Fifty Shades Darker in 2017. Now, the trilogy ties itself up with Fifty Shades Freed, a film which never learns from earlier mistakes and will no doubt leave long-time fans unsatisfied.
Fifty Shades Freed is less of a plot-driven film and more of a gloating exhibition of a materialistic lifestyle that much of its audience will never obtain. Most scenes either open with or are resolved by Christian purchasing extravagant items and Ana being amazed by it. Private jets to exotic locations, houses big enough to house all the homeless in the county, state of the art supercars: no problem is too big to be solved by Christian buying Ana's affections.
The whole thing feels like a visual companion to the soundtrack too, which over the course of three years has firmly established itself as simply a collection of string-heavy, slowed down covers of superior songs or the latest chart-topper crooning over a plinky piano piece. Hilariously, and without an ounce of irony or self-awareness, one scene of Fifty Shades Freed sees Christian himself become a piano playing vocalist to the surprise of Ana and his guests at the multi-million-dollar Aspen lodge he owns but barely uses. Seriously, if it wasn't so achingly bland, Fifty Shades Freed could have been a cult classic akin to The Room.
Now in its third and final entry, the leads of the franchise have failed to generate any convincing chemistry either. Their appearances together look like a Tinder date which has gone on far too long and they're both too polite to tell the other to leave. Jamie Dornan, who has explicitly expressed his lack of desire to play the role on several occasions, physically shows us he's done with Grey in a dead-eyed and thoroughly tired looking performance. Dakota Wilson fares a little better as Ana but again neither of them looks like they're enjoying themselves: the only thing they're happy to be 'freed' of is their contracts.
The most frustrating thing about Fifty Shades Freed is the wasted potential of all involved. Dornan has proved he's a talent in a terrific turn as a serial killer in TV series The Fall, while Dakota Johnson exhibits potential in Fincher's look at Facebook in The Social Network and the Johnny Depp starring gangster flick Black Mass. She also has acting in her lineage – she is the granddaughter of Alfred Hitchcock's The Birds star Tippi Hedren.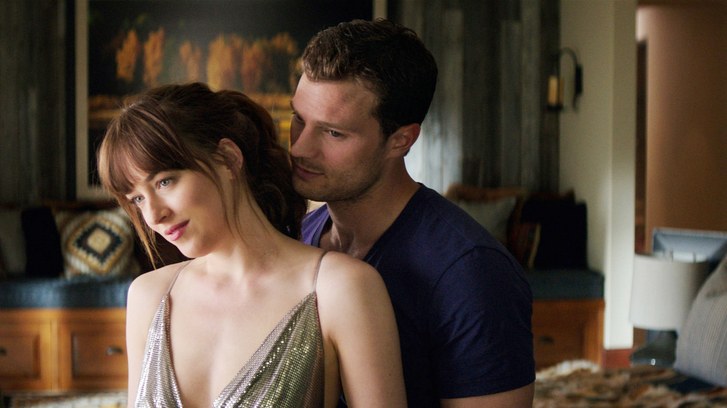 The biggest disappointment though is the banal direction given by James Foley, a director who should know better having given the world the gripping real estate drama Glengarry Glenn Ross. Fifty Shades Freed's script, written by E.L. James' husband Niall Leonard, is as poorly written as her books, with dialogue existing as an excuse for scenes to dry hump their way to another tame, milk-and-water sex scene. You could be mute the entirety of Fifty Shades Freed muted and still know exactly what was going on in its wafer-thin, soap opera-like plot.
Christian remains a controlling, borderline abusive dunderhead who has the emotional capacity of a toddler while Ana is still content living with her head in the clouds and legs wide open tied to the bed, just as long as she reaps the benefits of her sickeningly wealthy husband. No attempt is made to delve any deeper into the issues of a relationship such as this and it is delivered as though it's the most normal thing in the world. Some narrative points which have been a big part of the overall arc are resolved in seconds towards the end of the picture and the only real sequences of peril are over in a matter of minutes.
But you're not here for the story, are you? Fifty Shades has always been popular because of its BDSM debauchery and supposed exploration of the more extreme side of bedroom antics. To the disappointment of the readers of the novels, the first two installments were tamer than a caged mouse. Fifty Shades Freed continues to disappoint its hot-blooded fans – and the franchise can't use the excuse of it being their first time. Sure, there's nudity and some horizontal boot knocking but they are about as stimulating as watching your friend drunkenly devour an overly sauced burger while a rogue piece of lettuce dangles from the corner of their mouth.
Lifeless script aside, Foley's direction is devoid of any flair. Cuts last a lifetime and the scattering of opportunities for threat aren't given any sense of urgency. A car chase scene screams for a quicker pace but instead feels like its keeping to the 30mph speed limit. It's awfully clear that Fifty Shades Freed and Fifty Shades Darker were hastily filmed simultaneously and the most basic levels of filmmaking were utilized.
Look, I get that I'm not the target audience for this kind of movie. It's ridiculously easy to bash something that was never made for you, but the market this was made for deserves better. Fifty Shades Freed is an exploitative, cash-grabbing excuse for entertainment with characters who are shackled to toxic and archaic traits while promoting a dangerous message regarding the meaning of love.
The marketing material cheekily recommends you not miss 'the climax', but, it's only Universal who are getting anything out of this release; you'll be screaming 'Red' long before the credits roll on this rancid studio discharge.
We Didn't Like
Chemistry free leads
Dull direction
Minimal plot
Advertising of a luxury lifestyle
Disgusting character ideologies
A huge waste of the plethora of talent on show, Supiria is a graceless but wildly ambitious misstep.