Best Crime/Thriller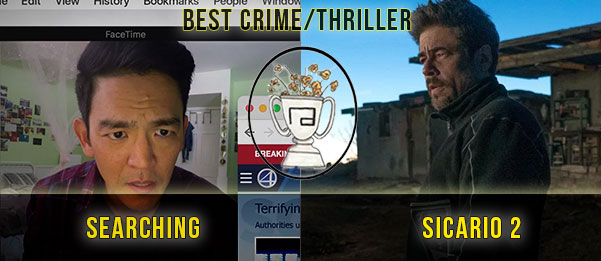 Sean's pick –

Searching

(Dir: Aneesh Chaganty)
If you're looking for an intriguing crime mystery that will keep you guessing throughout, then Aneesh Chaganty's point 'N click thriller Searching is my top result for 2018. Its unique presentation for a film of this kind and twisting story keep things consistently enthralling as the puzzle of the location of a missing girl is slowly unravelled in front of us through a computer screen.
Oliver's pick – Sicario: Say of the Soldado

(Dir: Stefano Sollima)
I'm being a little contradictory here. Earlier I gave The Favourite my best drama award despite it not being my "favourite", but because I think technically it was the best film. Here I'm doing the opposite. Widows is probably the best thriller of the year, and it's certainly a better film than Sicario 2. However, if you asked me which I'd rather watch, I'd pick Sicario every time. Despite it not quite living up to the high bar set from the first film, I still think this is a massively underappreciated thriller that deserves some reconsideration. Benicio Del Toro is fantastic as hitman Alejandro, and there are some standout hard hitting moments and standoffs that got my blood pumping more than anything else this year.
Best Family Film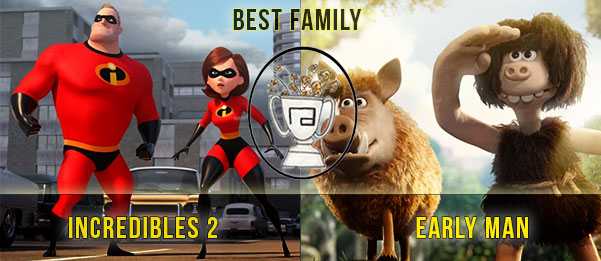 Sean's pick –Incredibles 2 (Dir: Brad Bird)
Admittedly, I didn't see many family movies in 2018. Countless 'Top 10' lists will have Paddington 2 at the top, but I never managed to see it. Out of the number of kid-friendly flicks I caught last year, of which I can probably count on both hands, The Incredibles 2 sticks out as a highlight. It may not have been as groundbreaking as its predecessor, but some gorgeous animation and a thoroughly entertaining final act made the 14 year wait worth it.
Oliver's pick – Early Man (Dir: Nick Park)
A wonderfully charming film that got lost amongst the releases early in 2018, Early Man is a delight to watch like all of Aardman's productions. I feel like it was unfairly judged against the studio's previous work, but just watching it on its own terms will leave you with a grin from ear to ear.
Worst Film
The park is well and truly gone with 2018's instalment of the long-running Dinocentric franchise. A complete lack of chemistry between the leads, even more irritating sub-characters and a worrying tease of the direction the series is going in and the absolute lie about the extent of Goldblum's involvement that the trailer suggested just about seals the deal of Fallen Kingdom being the worst release of 2018 for me.
Oliver's pick – Slender Man (Dir: Sylvain White)
A pitiful excuse of a horror film riddled with cliche's, bad acting and a dire script. It followed the studio horror formula so closely it was hard to stay awake throughout, and during my screening, a lot of people walked out. They were the smart ones.
Best Film of 2018
Sean's pick – The Favourite (Dir: Yorgos Lanthimos)
An all-encompassing success, The Favourite ticks all the boxes that cinematic entertainment should contain. It defies the conventions of period dramas, feeling entirely liberated from the prim and proper shackles that have chained similar films down for years. Add in a triangle of terrific leads, eccentric filming angles and generous helpings of crude put-downs, leave to stew for 2 hours and you'll have cooked up the best film of 2018.
Oliver's pick –

 

First Man

(Damien Chazelle)
I wasn't particularly looking forward to First Man after seeing its trailers. It looked like a typical, run of the mill biopic that I'm sure would have been entertaining but nothing overly noteworthy. I didn't understand how there could be any tension during the film when we all know how it ends. That the mission succeeds. They make it to the moon. But director Damien Chazelle seemed to have anticipated this and made a film, not about the moon landing at all. But instead a film about grief. First Man only plays biopic as second fiddle and there lies it's greatest strength. It's visceral film-making that captures both the grandeur and spectacular nature of the mission to the moon, but also the intimate psyche of the vulnerable man sitting inside the rocket.
Continue reading onto Page 4 to see our Award picks for WTF Moment of the Year, which films we thought received the most hate unfairly, the Best Streaming Release of 2018, our pick for the most Overrated Movie and the Biggest Disappointments of 2018. >>>>