The Details
Release Date
31st August 2018 (UK)
Synopsis
After his 16-year-old daughter goes missing, a desperate father breaks into her laptop to look for clues to find her.
Starring
John Cho, Debra Messing, Joseph Lee
When his 16-year-old daughter Margot goes missing, widower David Kim (John Cho) resorts to extreme measures to try and find her. First, he searches through her laptop, then bypasses password walls to her social media accounts and contacts all her friends. Rather than getting any closer to discovering his daughters' whereabouts, David realizes he didn't know his daughter at all.
Enlisting the help of decorated detective Rosemary Vick (Debra Messing), David is led down electronic pathways which make him question everything he thought he knew about the people he loves while the pair race against the clock to find out the truth about Margot.
Presented as if captured through a computer screen, Searching utilizes the likes of FaceTime, text messages and hidden cameras to tell its story. It's a technique used mainly in horror movies, namely 2015's Unfriended and its 2018 sequel Dark Web, but can also be seen in the far more disturbing and bloody independent offerings The Den and Megan is Missing.
Searching heralds the first time this method has been used for a crime thriller and for the most part, it works. In a genre like horror, there's always room for the spontaneous jump scare, flickering of a screen or an ominous figure in the background, so to attempt to tell a more conventional story this way requires a strong narrative to keep the viewer engaged without added gimmicks.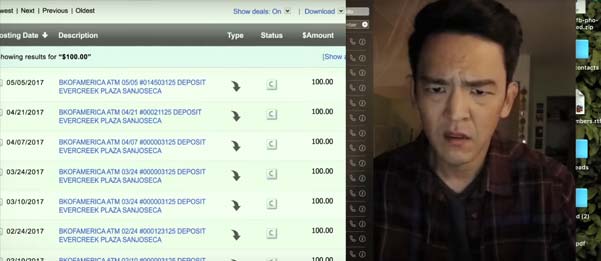 Fortunately, Searching has this. Its opening five minutes play out like a e-version of Pixar's Up, chronicling David and his wife's relationship before, during and after her illness through home movies, calendar appointments, and ultimately memorial photo collages.
If the idea of seeing someone else type a message or staring at the three dots in a grey bubble while they wait for a reply doesn't sound like your idea of a good time then Searching might not be for you. There's a lot of, well, searching through email inboxes, news articles and the like, with each new click breaking a new crumb from the clue cookie.
I personally loved the slower, more methodical approach to solving the case as opposed to big reveals every few minutes. This way, when the pivotal moments do occur they're more impactful due to being less frequent and there are enough unpredictable twists and turns here to satisfy even the most veteran of crime movie fans.
John Cho brilliantly conveys a worried but determined father as David, while Debra Messing is excellent as the concerned Detective Vick. We only get glimpses of Margot through her various social media accounts and saved videos, but it's a solid performance from newcomer Michelle La as the troubled teen.
Of course, Searching has something to say about reliance on social media and our online presence as a whole but it's less finger-pointing and more of a cautious warning about being aware of what you're sharing with the world. Much like when you're trying to find the cause of a minor ailment and end up believing you've got 12 hours to live, there are numerous occasions in the film where David gets the wrong idea based on information provided by the internet and its users.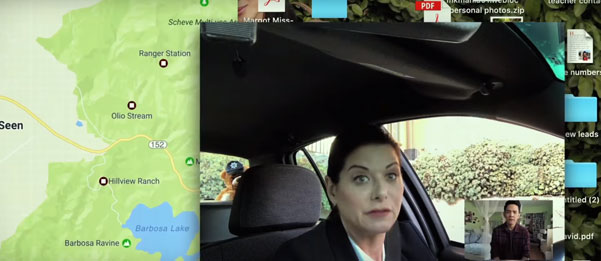 Conversely, it shows how the media can influence opinion too; you've seen it many times when a child goes missing and almost instantly the parents become a suspect based on absolutely no proof. Not only that, Searching spotlights how narcissism gets the better of people in situations that really don't concern them all for the sake of a few 'likes' or for the attention to shift onto them.
The screen capture technique doesn't come without its issues, however. Director Aneesh Chaganty has taken the utmost amount of care to keep it as genuine as possible, but there are a few inevitable instances in which the film falls foul of conventional filming techniques to heighten tension. For example, there are times where the camera unnecessarily zooms in to a face, making it slightly pixelated and blurry or the music changes to an overly dramatic piece when pieces fall into place.
Another gripe and this one bothers me in most films that do it, is the use of staged news reports from established and legitimate outlets. I find them utterly unconvincing and rather than keeping an air of reality to the story they do the complete opposite. The final third of Searching uses them quite a lot and makes the overall film weaker as it becomes a more straightforward missing person crime drama with false journalists who aren't even remotely believable.
Nevertheless, if you're looking for an intriguing crime mystery that will keep you guessing throughout, then Searching is likely to be one of 2018's top results.
We Liked
Intriguing story with many twists, turns and dead links
Interestingly presented with its screen capture technique
Strong performance from Cho as a determined father
We Didn't Like
Its methodical approach in the first two acts is more dial-up than broadband in pace
Staged, unconvincing news reports clutter up the conclusion