The Details
Release Date
13th July 2020 (UK VOD Premiere), 20th July 2020 (UK DVD Release)
Synopsis
Kyle and Swin live by the orders of an Arkansas-based drug kingpin named Frog, whom they've never met. But when a deal goes horribly wrong, the consequences are deadly.
Starring
Liam Hemsworth, Vince Vaughn, Clark Duke
In Clark Duke's southern-fried crime caper Arkansas, Kyle (Liam Hemsworth) and Swin (Duke),a mismatched drug dealing duo, find themselves in too deep when an assignment goes fatally awry. Doing the dirty work for the elusive 'Frog' (Vince Vaughn) and his management, the pair find life on the lamb increasingly difficult, especially when Swin begins dating none-the-wiser nurse Johnna. In the ruthless and murky criminal underworld of Arkansas, who will emerge as the victor of its fierce drug trade?
Usually seen in riotous comedies such as Hot Tub Time Machine, Kick Ass and TV's The Office, Arkansas marks Duke's directorial debut – and an impressive one at that. It features a sharp script filled with witty quips and exchanges as well as characters loaded with quirk. Duke himself is cast in one of the leads as Swin, a man whose fashion sense consists of vintage Wrestling T-shirts (of which I'm extremely envious) and garish, open-buttoned Hawaiian garb. He's accompanied by Hemsworth's (The Last Song, The Hunger Games franchise) Kyle, who's far more straight laced, serious and job orientated. Together, to not arouse suspicion, they pose as Park Rangers by day under the command of the eccentric Bright (a wonderful but short-lived turn by John Malkovich; Deepwater Horizon, Con Air), whose role may be small but no less pivotal to the bigger picture. By night, they're the low-level drug traffickers which has landed them in Frog's hot water.
When communication with his trusted friend Bright goes out, Frog becomes suspicious. Vince Vaughn, who has enjoyed somewhat of a career resurgence recently after remodelling his roles to more crime-centred projects (2018's uncompromising Dragged Across Concrete and 2017's brutal Brawl In Cell Block 99), tones it down a little from the aforementioned titles, playing a kingpin coming towards the end of his time at the top. It's a reality that is both a personal choice as well as an eventual certainty that comes with the territory. Vaughn toes the line of both sides of the coin well and is perpetually unpredictable as he attempts to settle down from a life that is ultimately impossible to ever escape from. Eden Brolin is splendid as Swin's highly unlikely love interest who is caught up in proceedings and, in time, adds further predicaments to already troubled waters for the pair. The Wire's Michael Kenneth Williams is always a joy to see on screen and his small part in Arkansas is no exception.
Stylistically, Duke's influences are as much on show as the flags proudly flying on countless home porches in the Southern State. It appears that contemporary culture crafter Quentin Tarantino has left an indelible mark on Duke, with Pulp Fiction's chapter-like and non-linear method of storytelling streaking through Arkansas. Its leads can be seen as a Jules & Vincent type of pairing too, with frequent, almost meaningless conversations occurring in cars between drives.
In fact, with its constant travelling, Arkansas feels like a road movie stuck in neutral. For all its interesting characters and their foibles, it takes quite some time to ever really go anywhere. Its pacing is, at times, glacial and the main narrative strand runs the gas tank to empty as it sputters towards the finish line. It's noticeably light on significant action, with the loudest thing about Arkansas is Swin's choice of wardrobe. This is far from a criticism, as I said the characters and their interactions are what make this movie, but if it's a fast-paced, gun-toting galore type of movie you're after, keep on truckin'. Indeed, it may look up to Tarantino as a father, Arkansas is more akin to the quieter cousin of small-town crime conductors the Coen Brothers.
Ultimately, although it rarely has a unique voice of its own, Arkansas is an assured and confident debut by Duke. Its casting is, on the whole, fantastic and the soundtrack of rock band Flaming Lips (who are good friends with the films star Liam Hemsworth) covering country hits compliments the images it accompanies perfectly. For fans of low-key crime thrillers, Arkansas sure is one to see.
Arkansas is available on Digital Download 13th July 2020 &

DVD from 20th July 2020

from Lionsgate UK.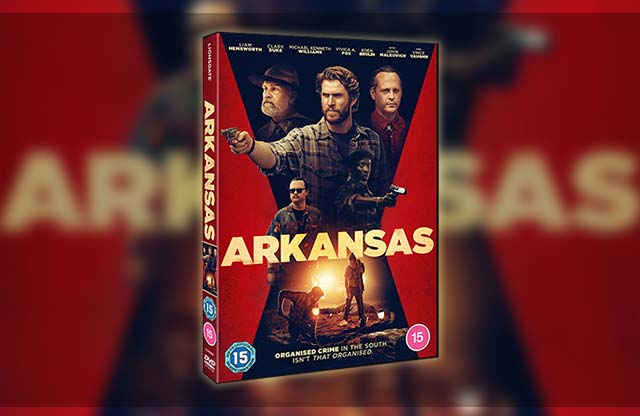 We Liked
Swin & Kyle's friendship
Veterans Vaughn and Malkovich are on top form
Swin's wrestling t-shirts. I want them all.
We Didn't Like
Borrows a little too heavily from its influences, clouding a more unique voice for Duke.
Its slow Southern-style pace won't be for those looking for an action-packed yarn

A few gags fall flat, but are clearly filler material in what is otherwise a satisfying comedy.