The Details
Release Date
16th October 2018 (London Film Festival Premiere)
Synopsis
Once two overzealous cops get suspended from the force, they must delve into the criminal underworld to get their just due.
Starring
Mel Gibson, Jennifer Carpenter, Laurie Holden
Once two overzealous cops get suspended from the force, they must delve into the criminal underworld to get their just due. Despite a synopsis that sounds pretty standard, this is anything but. Unafraid to show us totally different lives and stories without much context to begin with, Dragged Across Concrete plays the slow game with its build up towards its magnificent endgame. While we know everything will soon link up, there's no rush in showing us how. There are a lot of moving parts within and while certain characters get more development, everyone is given just enough time to leave an impression as well as an impact on the narrative.
Mel Gibson and Vince Vaughn's Ridgeman and Lurasetti are presented as unlikable from the offset. Racist language and police brutality set the tone for these character's beliefs. On the other side, Tory Kittles' Henry Johns is shown as a caring, if sometimes violent, family man, wanting to care for his mother and disabled brother. We sympathise more with the man on the wrong side of the law instead of those serving to protect it. With these sets of characters, morality isn't black and white and adds a layer to all those involved we aren't used to seeing. Most characters are morally ambiguous, with both good and bad intentions. Nobody is really the 'good guy', there's just a much nastier alternative –  the faceless killers. These guys bring pure evil to the narrative, with actions as emotionless as their masks. While the plot leaves you unsure if you should really be rooting for anyone, it makes it clear that these guys are the catalyst of everything.
Much has been said about Mel Gibson and it's abundantly clear if his much publicised outbursts had happened in the last few years, he wouldn't have got back into the film industry. There's something uncomfortable seeing him use racist language and there are a few on-the-nose moments clearly referencing his past. Personal feelings aside, he gives a solid performance, but Vaughn is the stronger of the two.
Since his unfortunate stint in the dreadful second season of HBO drama True Detective, he's slowly been proving his acting chops outside of comedy with scene stealing turns in his acting partner's last film, the World War 2 set Hacksaw Ridge and career best work in S. Craig Zahler's previous film, the uncompromising prison drama Brawl in Cell Block 99. Reuniting him with two people who managed to get the best out of him, Vaughn reigns things in and manages to produce a superb performance of a somewhat morally conflicted detective, despite having pretty awful morals himself. When we meet them both, we're meant to not like them at all, but the script and performances soon blur the lines on whether we should or not.
As the poster's abundance of names suggests, this is more than the Gibson and Vaughn show. Tory Kittles shines as Henry, who turns what could be a standard, cliched characters into a flawed human being we do connect with. Laurie Holden adds a hugely empathetic side to someone who admits they're a racist early on. Jennifer Carpenter sells the total emotional weight behind her character's fears and anxieties. There's so many different characterisations happening within the plot and everyone manages to sell their flaws and redeeming qualities successfully.
Within the narrative, there are a number of crimes we see committed and thanks to Zahler's slow burn style, we see each played out in real time, leading to some excruciatingly tense set pieces. While Zahler's previous efforts have had a tendency for hugely bloody moments, (Slow West is still one of the only films in my mind that truly earns an 18 certificate), Dragged Across Concrete reigns it in. Yes, we still get a few gruesome deaths, but they're over much quicker than in his previous work. The violence instead focuses on being ultra realistic. If someone is shot, they stay down. There's no last stands or an huge waste of bullets and, because of this, every gun shot really matters. When the violence starts, you are drawn in involuntarily instead of just watching it casually as you tend to do with Hollywood blockbusters.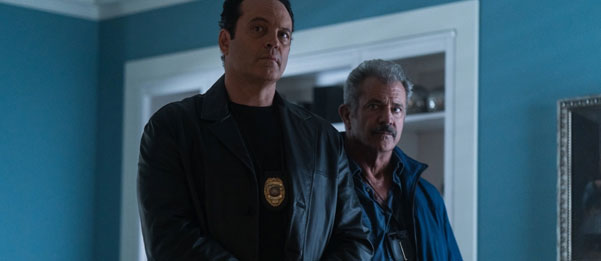 The long run time flies by faster than other films I've seen at the festival that were almost an hour shorter. By not only relying on long conversations between characters, the narrative's refusal to take any shortcuts on the overall journey means every unfolding plot point is being learnt alongside the detectives. We feel like part of the team trying to solve the mystery, slowly piecing together parts of the puzzle without characters telling us directly. There's not much filler, and even the parts you think will fall into that turn out to have a deeper connection to the plot than you'd expect.
S. Craig Zahler attracts some controversy but I don't think he is a controversial director. The alt-right movement were hugely complimentary of his previous film Brawl in Cell Block 99 (admittedly, not the best advertisement) and while there's definitely a sense of this film veering towards the right, it'd be unfair to typecast it as such. Zahler himself has stated that these are the types of characters he likes to write and in fairness to him, not many people have managed it better; It all comes down to the morally ambiguity of the writing. You can get through the entire film without really wanting anyone to come out on top, but they're all written as believable and flawed instead of good and perfect vs evil and dangerous. This is important because as long as you believe in the characters, you can hate them as much as you want whilst still enjoying a film.
Dragged Across Concrete cements S. Craig Zahler as a director with a unique style and vision who has the talents to pull it off. This is his third success in a row and this one showcasing his superb writing style at the centre of it all. The entire cast bring their A-game and really contribute to what is essentially a long car journey with toilet breaks for crimes. A hugely memorable film that will stay with you long after the credits roll.
Dragged Across Concrete is set for release in the UK in 2019. 
We Liked
The morally ambiguous characters
Tense and realistic action set pieces
Persistence to go at its own pace
We Didn't Like
Slightly on-the-nose scenes referencing Gibson's life

I went into Edge Of Darkness with expectations of an average action movie that would be forgettable. I was pleasantly surprised to find that it's none of those three. It is a thoughtful thriller that needs your whole attention throughout to have full emotional effect.