The Details
Item Reviewed
Police Story (1985) Eureka Classics Blu-Ray Review
September 2, 2018
Release Date
20th August 2018 (UK Blu-Ray Release) 14th December 1985 (Hong Kong Theatrical Release)
Synopsis
Jackie Chan goes to war with a local mob boss in a series of ever-escalating set pieces.
Starring
Jackie Chan, Brigitte Lin, Maggie Cheung, Chor Yuen
There's no slow build up to the 1985 Honk Kong classic Police Story. You only have to wait about 5 minutes before people start getting snapped in half, set on fire or crumpled onto concrete. First we're introduced to drug lord Chu Tao (Yuen Chor) and his gang of deviants via some surveillance footage. You know its serious business as each beat is punctuated by some great guitar riff that is only ever found in 80's action movies.
The Honk Kong police department are planning a sting at a local shanty town. They're gonna catch their man and his whole crew right in the middle of a deal. Nothing will go wrong, just as long as everyone follows their orders.
Naturally, it goes wrong. One of Chu's guys spies one of the undercover and it kicks off. Sergeant Chan Ka-Kui (Jackie Chan) tries his best to keep it quiet but a gun goes off and the whole shanty village erupts into chaos. Despite the hiccup it's still a good plan, with all the major roads blocked off. It's gonna be a violent take-down, but Chu has no way to escape.
It's a shame no one predicted he and his men would be ballsy enough to drive their 80's Nissan's and Mitsubishi's through the actual town; and I'm not talking just through the streets. I mean through it. Literally. Chan pursues in a little car of his own in an incredible three way destruction rollercoaster through the giant set. The logistics alone with all the stunt people jumping in and out of danger are mind-boggling.
Abandoning the wrecked vehicles, Chu flees on foot, again with Chan hard on his heels. When the drug baron and his retinue hustle aboard a bus they think they're home free. A few minutes and some backbreaking, hair-raising and death defying stunt work later, and they're all in custody of Sergeant Chan.
At this point numerous cars have been wrecked, an entire town has been destroyed and likely 50 people have been crippled, burned or worse. Proudly whipping it out for all to see, Police Story lets us know it means business right from the off.
As they didn't catch Chu in the act they have to let him go. But the Superintendent and the senior detective "Uncle" Bill Wong have a plan; Chan had managed to capture Chu's new secretary, Selina Fong (Brigitte Lin; Swordsman 2) prior to the plan going up in smoke. By releasing her without charge they give the impression that she's made a deal with the cops to turn evidence against her former boss.
Chan is assigned to protect her against any reprisals, which naturally come in all shapes and sizes. However, there's not just a bunch of crazed gangsters and crocked cops to contend with; Chan's erstwhile and long suffering girlfriend May (Maggie Cheung; Hero) is certainly not keen with her trouble-maker beau getting so close to the beautiful Miss Fong either.
I still remember my initiation into Jackie Chan's familiar brand of action cinema. Back in the 90's there was a show on late night TV called Vidz (shorthand for videos – which shows how long ago we're talking). Hosted by a Welshman and Scotsman, they'd review video atrocities and other unique and unusual movie madness that was otherwise shunned by the mainstream zeitgeist.
From the cataclysmically awful (Razor Blade Smile) to the stupendously original (Run Lola Run), they'd have an opinion on anything and everything.  Softcore vampire porn and German techno thrillers aside, they also had a huge affinity for Eastern cinema. They were specifically champions of Jackie Chan and harangued Channel 4 (whom to be fair have never been afraid of breaking the mould) into playing a whole season of Jackie movies. They of course opened with Police Story.
At the time of release (1985 to be exact), Jackie Chan was the undisputed king of Chinese cinema. Several of his earlier films had broken box office records previously held by the legendary Bruce Lee and he'd began to develop his now tell-tale call sign of dangerous stunt set pieces with the likes of Dragon Lord and Project A.
However, he'd struggled to penetrate the Western markets.  No one in Hollywood (and by extension the UK) really knew who Jackie Chan was. Of course people had heard of him. Many had even seen him in the likes of the Smokey & The Bandit themed ensemble comedy Cannonball Run. But he was hardly the star, instead appearing as a Japanese(!) "Mitsubishi Driver".
Sure, his now-iconic hair style could be seen on Kung-Fu movie clips and posters and so forth. But could the layman name one of his Hong Kong movies? Probably not. He was still resigned to being the cover star of most of the non-Bruce Lee films in the small martial arts section in your local Blockbuster, Azad or general video store. And nobody watched those except Karate dweebs, psychopaths and the action cinema elite.
Like Jet Li, only the hardcore action, VHS import or chop socky fan knew who the hell Jackie Chan was way before their first shoe-horned Hollywood outing. While Jet kicked ass in Lethal Weapon, Jackie would at least play the good guy alongside comedian Chris Tucker in the 1998 buddy cop vehicle Rush Hour.
But back to Police Story. His second springboard-into-Hollywood mainstream movie, 1985's The Protector, had failed to ignite interest. Coupled with a difficult working relationship with director James Glickenhaus (responsible for action nasties Exterminator and McBain), Chan decided to return to his roots and make something in his native Hong Kong. Police Story was the fruit of his labour.
Watching it again recently, I'll admit some viewers may be put off by some elements of the narrative, especially some of the slapstick humour in the middle of the film. But this is par for the course with Jackie Chan movies, and worry not, it never goes too far in any one direction.
In fact, the lighter touches highlight the incredible action sequences even more. Like when one of his cop buddies tries to "murder" Fong so that she believes that the mob are after her (thus convincing her to testify against them), the slasher action is obvious and comical. Contrast this with mere moments later when a real gang of goons appear to silence the potential witness. You have people falling onto concrete, desperate martial arts sequences, near misses. I loved the ending, where they finally catch up with Chu. Instead of being all magnanimous and righteous, like Steven Seagal or Mel Gibson in Lethal Weapon where they don't kill the bad guy (until provoked), Chan has to be dragged off old man Chu. He's been through hell and he wants to kick his ass, damned with the consequences. It's so not how they do it in Hollywood!
Chan's main beef with Glickenhaus in The Protector had been about how the director had shot the action scenes. According to Chan, the American had little patience or attention to detail. It also featured elements more commonly found in American schlock action movies of the time, such as excessive violence, nudity, swearing and that indistinguishable 80's hyper masculinity (just check out the movie poster). These are not common traits of Jackie Chan movies.
By contrast, Chan's Police Story (his response to The Protector) features none of the above and as a result it's magnitudes better. Crucially, the action is clear, visible, easy to follow. The impacts look powerful and deadly. There's none of this shaky cam, Michael Bay Transformers approach where you can't even tell which way is up, let alone who is punching who. And the stunts. The stunts.
A big part of the promotional material for this year's Mission Impossible: Fallout has concentrated on star Tom Cruise and his insistence on doing his own stunt work. It's undeniably commendable; seeing Cruise hanging from the bottom of a helicopter is incredible. I respect the hell out of the man for wanting to do it old school.
But Jackie Chan takes it to different levels. Even back in '85 you're left thinking – no – KNOWING that some of that shit must have hurt. One stunt which went wrong (where two guys fall out the top of a double-decker bus onto the street) is even included in the film. And it's the small stuff too. Chan has such great agility that he makes jumping over a ten foot fence look insanely easy. Stuff like that is filmed in such a casual way, like it's no big deal. Dude, I'd probably take 5 minutes to climb over that thing. And I'd need multiple cuts. And a stunt double.
The finale where Chan leaps from the top floor of a shopping mall, grabs hold of vertical pole and slides down it fireman-style WITHOUT GLOVES through a web of exploding lights was shot on 12 cameras, and the full sequence is replayed about 5 times.
Normally this would look silly in a fast paced movie. But you watch it in awe each time. You know this is the guy, the main guy, putting his actual ass on the line for an incredible shot. It's one of the best movie stunts ever committed to film, and even if you've never seen Police Story, you've probably seen the clip. Subsequently, Chan garnered a plethora of injuries, including cracked vertebrae, dislocated pelvis, second-degree electrical burns to his hands and gruesome slashes to his palms – a testament to the man's dedication.
Similar to the remaster for Iron Monkey, Eureka's restoration of Police Story is top rate. It's beautifully clear and crisp, and now is only dated by the mise en scene and not the picture quality. As usual Eureka fill up the release with a bunch of great features, including the US and Japanese cuts of the movie, and an interesting interview with Jackie Chan himself, where he takes us through the creation of the film and some of the more iconic moments and stunts.
Even some 30 years later Police Story holds up as a solid piece of action cinema. The story is by no means heavy going or complex. Instead it's all about the spectacle. It's all about brave people risking their bodies to make a fantastic piece of film, one where you really question "just how the hell did they do that?"
Jackie Chan's Police Story 1 and Police Story 2 are now available to buy for the first time in the UK on Blu-Ray through Eureka Releasing and the box set is available to order from Amazon: https://amzn.to/2sje8JT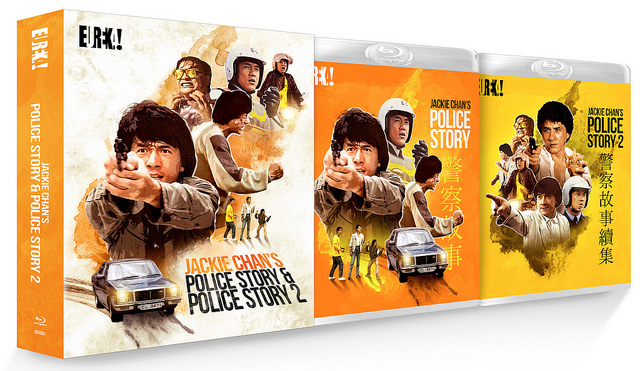 We Liked
Incredible Stuntwork ranging from chases sequences, to brutal martial arts beatdowns
Lightly Humored without a shred of cynicism
Shows a cinema legend at his peak
We Didn't Like
Perhaps a simplistic story
Some of the slapstick seems misplaced and may turn some grit-starved viewers off
A mesmerising marriage of Martial Arts and fabled storytelling, The Bride With White Hair is a timeless tale of forbidden romance with a supernatural twist.