The Details
Release Date
12th May 2020 (VOD Premiere)
Synopsis
The 47-year old Al Capone, after 10 years in prison, starts suffering from dementia and comes to be haunted by his violent past.
Starring
Tom Hardy, Linda Cardellini, Matt Dillon
He's taken on "the most violent prisoner in Britain" with Bronson. Then he pulled double duty as the notorious Kray Twins in Legend. Now Tom Hardy continues his self-appointed quest to play every major criminal in history with his portrayal of Alphonse 'Fonzo' Capone – but not how you might think.
Infamous for orchestrating the 1929 St. Valentines Day Massacre in which seven men were murdered, mob boss Al Capone was dubbed 'Public Enemy #1' during America's Prohibition Era. He was eventually jailed in 1931 for Tax evasion. Upon his imprisonment, he was diagnosed with syphilis and gonorrhoea. By the time of his parole in 1939, Capone's mental capabilities were severely diminished due to his illnesses. Capone chronicles the final year of the crime lord's life as his body and mind rapidly deteriorates while at his Floridian mansion.
Far from being a sweeping epic like Goodfellas, Once Upon A Time in America or The Godfather that its trailer may suggest, Capone is a much more intimate picture. The majority is set in Capone's mansion which, in an on-the-nose but still smart touch, is slowly emptied of its contents as an eerie parallel to his declining state of mind. It plays more like a one-man-show constructed for the stage rather than a grandiose cinematic spectacle.
Hardy's performance here is certainly something to behold. It dances on the line of ludicrous and genius, both mesmerising and horrifying, like a fiery Airshow crash where the pilot ejects at the last minute unharmed. He doesn't have too many lines of dialogue, letting his furrowed brow and over-emphasised grimacing do the talking. But when he does speak, his voice sounds like a cross between The Simpsons' cranky bartender Moe Syzlak and one of the many slow-witted Adam Sandler creations from the 1990's. Like I said, both genius and awful.
The supporting cast do as best as they can with the minimal material they're given. Their job is essentially to orbit around Capone's centre of gravity, cleaning up the messes (literally and figuratively) he leaves. The wonderful Linda Cardellini (Scooby Doo!, A Simple Favour) is especially wasted as Fonzo's long suffering but fiercely loyal wife Mae, while Matt Dillon is always a pleasure to watch and is no exception here as an old enemy, Johnny.
In an interview about his film, Josh Trank (Chronicle) says that he likes the idea of 'deconstructing iconic figures'. With Capone, he hasn't so much deconstructed but utterly decimated Alphonse's bad guy persona. With a face covered in syphilitic sores, bloodshot but vacant eyes and eventually chewing on a carrot which he believes to be a cigar, an untouchable figure this ain't. Here's a man who's helpless to stop the effects of illnesses that are unrelentingly merciless. Frequent debilitating strokes, bouts of extreme paranoia, nightmarish hallucinations, reflective flashbacks, questioning of own identity and graphic depictions of loss of bowel and bladder control are all on show here.
But why?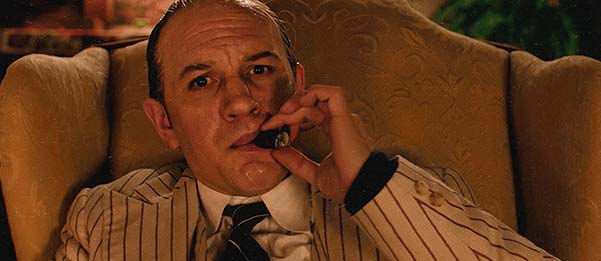 I found myself asking this question a number of times throughout Capone. I get that he's trying to portray this once-feared figure as nothing more than a mere mortal, but that's achieved in the first 10 minutes. Trank, who sees this as somewhat of a passion project having written, directed and edited it, doesn't stop there though. As Capone's condition worsens, we're forced to watch in all its vivid detail. This seems to be the focus of the film, rather than making us feel anything about the people it affects. As tragic as this may be, there's very little in the way of advancing characterisation. Deconstructed or not, Alphonse is a convicted criminal responsible for the death of many. We're expected to feel sympathy for the Devil but are given no convincing reason to do so.
There's attempts to widen the net for narrative with a subplot of Capone having hidden $10 Million dollars but not remembering where. The police, monitoring his house to make sure he's not faking the illness and actually continuing his wrongdoing, try to get the information from him through his doctor, Karlock (Kyle MacLachlan; Inside Out, Twin Peaks). Another story sees anonymous phone calls persistently being made to his home, only for the caller to hang up. Neither are given a substantial amount of screen time to flourish and are usually forgotten in favour of exhibiting more occasions of Capone's broken down body.
Despite these flaws, Capone did impress me with its distinctive method of delivering a biography. There's a certain sense of romanticism to the criminals Hardy's played in the past – no doubt partly the reason why he in particular was chosen to do the role. As stated, there's nothing sentimental about this profiling of a prolific Chicago gangster. When he's not enamoured with making sure we know Capone can't control his bowel movements (twice!) thus resulting in many shots of him waddling around in adult nappies, Trank does show signs of visual flair in the flashback scenes. Acting like his own Ghost of Crimes Committed Past, Capone 'revisits' the scene of some of his most heinous acts. One particularly gruesome sequence wouldn't be out of place in a slasher movie. These provide some of the films best moments, but they never quite fit into the bigger picture. A late third act swerve uses the oldest trick in the book, but it doesn't necessarily disappoint simply because by the time it happens I'd already lost faith in the film anyway.
If there's anything to take away from Capone, it's that that there's no dignity in death. No matter what your reputation or notoriety may be, no one can escape their ultimate fate. You should only hope that it happens swiftly rather than the drawn-out suffering that Old Al went through.
That, and always wear protection for goodness sake.
We Liked
Tom Hardy's performance
Linda Cardellini in a wasted role that she gives her all to
Moments of visual flair in its flashback sequences
We Didn't Like
Tom Hardy's performance
Feels voyeuristic in its depiction of physical and mental decline
Subplots aren't given enough time to flourish