The Details
Item Reviewed
The Half of It
May 21, 2020
Synopsis
When smart but cash-strapped teen Ellie Chu agrees to write a love letter for a jock, she doesn't expect to become his friend - or fall for his crush.
Starring
Leah Lewis, Daniel Diemer, Alexxis Lemire
The Half of It's tagline reads "A different kind of love story" to which I say CODSWALLOP! Don't be fooled, this is the same teen coming-of-age love story you've seen a dozen times and an unfortunately average one at that. The advertised "difference" is unknown but I imagine it's due to the protagonist Ellie Chu (Leah Lewis: Nancy Drew) being gay. If true it seems like a confusing way to advertise the movie. But even so, young homosexual stories have been done much better and with more intelligence recently with Call Me by Your Name, Love Simon, and The Perks of Being a Wallflower. But if you really want "A different kind of love story" just stick on Guillermo del Toro's The Shape of Water.
The setup is as follows. Ellie Chu is a lonely but not unconfident student living in small-town America. Being incredibly smart she makes money by writing assignments for her fellow students until one day she is approached by Paul Munsky (Daniel Diemer: Sacred Lies). Paul is hopelessly infatuated with the popular girl at school Aster (Alexxis Lemire: Paint by Murder), but there's a problem: Paul is completely inarticulate and wants to pay Ellie to write love letters for him. Ellie is initially hesitant as she also is secretly in love with Aster, but when increasing bills at home mean the lights could go out she accepts. Ellie (pretending to be Paul) and Aster begin a relationship over letters but Ellie struggles to hold her feelings at bay.
If all that sounds a bit silly and far-fetched The Half of It is not for you. The plot is cheesy and straight out of a young adult romance novel, full of teens contemplating love and quoting Greek philosopher Plato. Pretentious at times it certainly is, with cracking lines of dialogue such as "Gravity is matter's response to loneliness" whilst Chu and Aster float around in a ridiculously clean pond in the middle of a forest. Why this pond isn't a hive for frogs and various insects is anyone's guess. Clearly because that wouldn't be romantic duh!
Despite the eye-rolling situations throughout, there are character dynamics that are well done, Ellie and Paul especially, who grow into a very believable pair of friends. Some potential cheese flavoured moments are also avoided with earned setups and pays offs, but this is rare overall in the grand scheme of the picture.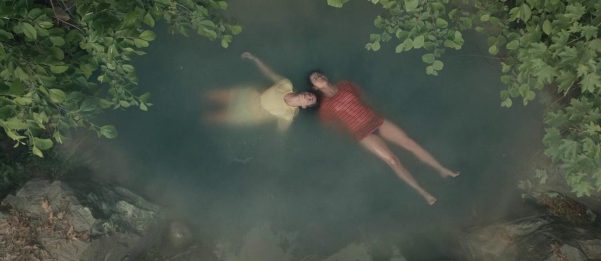 Whilst Ellie and Paul give the film some life, the love interest Aster all but drains it away. I have no idea why Ellie and Paul find her so alluring because she's a complete plank of wood and has zero chemistry with either of them. She's also dating a stereotypical jock the entire film but is happy to actively cheat on him by going on dates with Paul, making her quite the morally murky character. But the film acts like she's some kind of angel. We never see her side of the story other than the occasional disappointed look at her boyfriend, which certainly isn't enough to understand or sympathise with her.
There are various plot conveniences by the end that really show how shallow The Half of It is, always sidestepping away from complex or difficult issues for an easy, cheap payoff. But it's clear this film never had intentions to challenge or make the audience think however, which is perfectly fine. It's not pretending to be anything other than a silly teen romance with exception to some pretentious dialogue, making it an easy, unoffensive watch overall. So if you enjoy coming of age stories and are more immune to cringing at overly mushy happenings, I'm sure you'll find plenty to enjoy and would recommend seeking this out.
The Half of It is available to stream on Netflix now.
We Liked
Charismatic leads
Target audience will find a lot to like
We Didn't Like
Cringe inducing scenes make it hard to take seriously
Generic and average