The Details
Item Reviewed
Charlie Says
July 15, 2019
Release Date
29 July 2019 (DVD)
Synopsis
The tragic tale of an all-American girl who was transformed into a cold-blooded killer in the summer of 1969.
Starring
Hannah Murray, Suki Waterhouse, Annabeth Gish, Matt Smith
Films based on Charles Manson or the infamous Manson murders have a somewhat seedy reputation nowadays, with a slew of straight to DVD releases that feel cheap, exploitative and borderline disrespectful (see: The Haunting of Sharon Tate). This may be beginning to change with the release of Quentin Tarantino's Once Upon a Time in Hollywood this summer, which supposedly features Manson victim and actress Sharon Tate heavily. But alas, it's too early to pass judgement upon that film. Besides, 10 months before Tarantino's 9th film, Charlie Says premiered at the Venice Film Festival from American Psycho director Mary Harron. But is this just another sordid release cashing in on a tragedy, or is there a worthwhile story beyond the nastiness?
Charlie Says isn't a film about Charles Manson, and thankfully so, as a whole miniature industry has been built upon that study. Less has been explored about Manson's followers, who are arguably his first victims. Hannah Murray (Detriot, God Help the Girl) plays Leslie Van Houten, who we find incarcerated on death row at the beginning of the film for her participation in the brutal murders of Leno and Rosemary LaBianca, along with accomplices Patricia Krenwinkel (Sosie Bacon) and Susan Atkins (Marianne Rendon). All three women remain under the spell of Manson's cult ideology 3 years into their prison sentences, unable to fully accept the reality of their heinous crime or break away from worshipping Charlie. They are visited by human rights activist Karlene (Merritt Wever: Birdman, Godless) who attempts to break through and rehabilitate them. From this point on Charlie Says zips back and forth from Manson's ranch in the San Fernando Valley, 1969 to "present day" prison life with Karlene reaching for a psychological breakthrough with the Manson girls.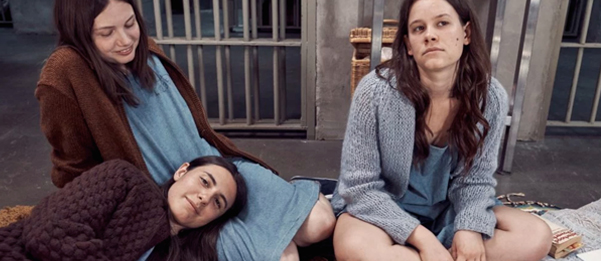 As someone who has only known about the Manson murders through passing conversations and short glimpses of late night documentaries, it's difficult for me to fully appreciate if Charlie Says is an "accurate" adaptation of real events. However, I can say despite my ignorance, that I'm confident it's a respectable portrait of a sensitive subject. The cast is good, including Matt Smith (Dr. Who, Womb) as Manson himself, who seems miscast at first, but soon fills the role well by adding valuable humanity through the pathetic depiction of Manson's vain attempt to launch a music career. Whilst he is not the focus, Smith's ramblings and temper tantrums imprint a dark cloud of tension over proceedings that's both unnerving and appropriate. But the film belongs to Hannah Murray, who impresses and proves she can sustain a leading role. Her descent from doe-eyed hippie looking for a home to an indoctrinated weapon of a psychopath may be half-baked, but it's her subtle self-doubts when Manson contradicts himself that really shine through in her performance. The quiet battle behind her eyes gives the audience something to hope for, but it also serves to remind us of the fragility of our minds. If the script had handled the magnetism towards Charles Manson with more conviction, this could have been something truly special.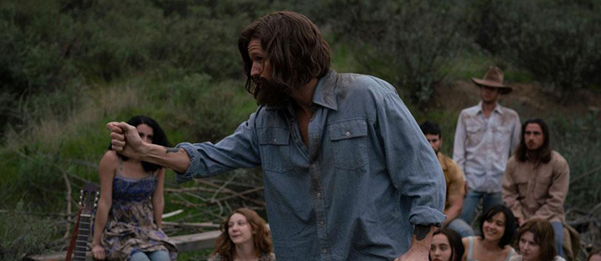 It should also be known that Charlie Says isn't a horror film or a bloodbath. The murders are largely rendered off-screen and a significant chunk of run time is spent counselling with the three Manson women in prison. Here Merritt Wever as Karlene takes control of scenes with ease, as she tries to unravel and understand the motivations behind the women she is treating in hopes to heal. The film attempts to argue that these women are victims of Charles Manson but never does it diminish their first-hand role in his crimes. Whether this is something to agree with or not is down to the viewer, but I personally felt the film's perspective was well constructed and intriguing.
All in all, Charlie Says is a well-made drama with a more refreshing look at the much-documented series of murders than most. You can expect spirited performances, a strong soundtrack & visuals, and a focus on unconventional victimhood. Perhaps with a tighter script and more investible characters, this could have reached even greater potential.
Signature Entertainment presents Charlie Says on DVD & Digital HD 29th July.
We Liked
Interesting new perspective on the Manson subject
Convicted performances from all
Never feels exploitative
We Didn't Like
Unsure how effective it would be for Manson experts
Half-baked character transformation