The Details
Release Date
27th February 2019 (UK)
Synopsis
A former wrestler and his family make a living performing at small venues around the country while his kids dream of joining World Wrestling Entertainment.
Starring
Dwayne Johnson, Lena Headey, Florence Pugh, Nick Frost, Vince Vaughn
Being a wrestling fan can be tough. Kids can get away with it because of their naivety to its scripted nature, but when you have to drag yourself into work at 8am after having only 2 hours of sleep thanks to being awake until 4am watching an utterly forgettable live Pay Per View, you do seriously consider some of your life choices.
It inevitably comes with ridicule too. Once your friends know of your interest in sports entertainment, they will most likely (and not to mention wholly originally) incessantly remind you about how 'fake' it is, or quip about the nature of the competitors, shall we say, 'tight fitting' attire. Because, it seems, unless those involved are saving the world and wearing a cape while doing so or facing off against an intergalactic alien or fire-breathing dragon in the hopes of claiming a chair made of swords, it's preposterous to enjoy a form of entertainment that is already predetermined.
Like it or not though, there's no denying that the WWE is a behemoth of a company. Its Facebook page has a huge 39 million likes, dwarfing the social counter numbers of the NFL (17 million), the NBA (37 million) and NASCAR (5.1 million).
Its spike in popularity came in the 1990's thanks to warring promotions who upped the ante every week in an attempt to win the TV ratings battle. Having been the dominant force for years, the World Wrestling Federation (WWF which was forced to rename to WWE after legal battles with identically acronymed World Wildlife Fund) faced fierce competition for the first time when Billionaire Ted Turner began his own show called World Championship Wrestling (WCW).
At its inception, WCW's product was edgier, meaner and had more rebellious characters than CEO Vince McMahon's WWF, which during the mid 90's had become almost comical with its gimmicks focusing mainly on exaggerated vocations – The Mountie, Repo Man, Duke 'The Dumpster' Droese, The Goon and Isaac Yankem the deranged dentist just to name a few. Knowing he had to something and quick, McMahon reshaped his company into an in-your-face and aggressively masculine product, an era which would come to be known as 'The Attitude Era'.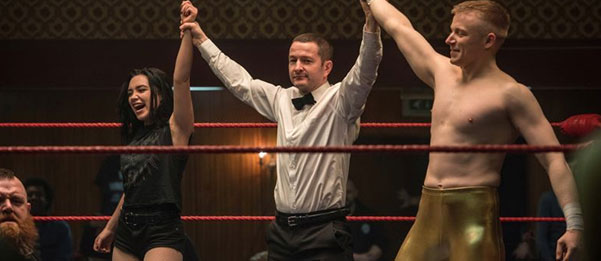 This period gave birth to and solidified the legacies of the likes of legendary characters such as Stone Cold Steve Austin, The Rock, The Undertaker, Edge, The Hardy Boyz and Shawn Michaels. Along with higher risk matches and buckets of blood, the Attitude Era sexualised the female performers like never before. The majority weren't in the company for their athletic ability but more-so for their appearance and to tantalise the hot-blooded male fans with bouts such as a 'Bra & Panties' matches, Mud or Chocolate Pudding matches, commentators consistently pointing out the size and firmness of assets, frequent backstage segments of the women wearing towels or less and storylines where the wrestlers would begin to feud over relationships with them.
It wasn't until the Attitude Era had concluded in 2002 that the female wrestlers were taken slightly more seriously. Trish Stratus, who had debuted in 2000 and engaged in a storyline involving an affair with Vince, emerged as an agile and proficient performer along with fellow workers the muscular '8th Wonder of the World' Chyna and the high-flying and acrobatic Lita. But still, women played second fiddle to the male performers and there was still an unshakeable aura of them only being present as eye candy.
All that began to change only as recently as 2014, when Paige (real name Saraya Knight), a wrestler from WWE's developmental promotion NXT, debuted on their biggest show, Monday Night Raw and successfully captured the Championship Belt. Fighting With My Family (yes, believe it or not this is still a review of the film) chronicles her journey from a working class family to the bright lights of the WWE where she became an instrumental figure in bringing a new revolution for women in the company.
Florence Pugh (Malevolent, Outlaw King) plays Paige, the outcast who doesn't fit the mould of what's expected of a WWE 'Diva'. She's a pale skinned Brit with facial piercings and jet black hair, all attributes vocally pointed out to her by other WWE hopefuls and her cynical coach, Hutch Morgan (Vince Vaughn; Dodgeball, Dragged Across Concrete). Pugh is perfect as Paige as she superbly showcases her worries, fears and flaws. She's backed up by a stellar supporting cast of Nick Frost as her dodgy dad with a big heart and even bigger criminal past, Lena Headey as her mother Julia, an ex-wrestler herself who wants the same career path for her daughter and the aforementioned Vince Vaughn whose firm but fair approach resonates with her.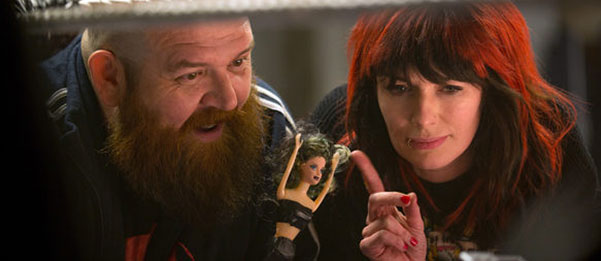 But it's Jack Lowden as Saraya's brother Zak who deserves the biggest pop (that's cheer in 'Wrestle Talk'). He is absolutely superb as the rejected wrestler whose resentment for his sister grows as he sees her rise through the ranks of the biggest wrestling company in the World while he seemingly festers and stagnates in the lowly promotion run by his parents. It's an age-old angle of friends becoming enemies due to success, but the sibling rivalry that comes with it adds extra emotion which culminates in a worrying showdown upon her return. Lowden seethes with inner rage as he grapples with the reality of what he believes is someone else taking his dream when he deserves and wants it more, an anger that spills out into the ring and beyond.
Between the family friction however, there's still plenty of laughs in Stephen Merchant's script. Paige's attempts to 'fit in' with the other wrestlers with an appearance change will likely raise a smile and an awkward family dinner between two vastly different social classes is consistently hilarious. The real humour comes from the thoroughly British and off-the-cuff remarks from Paige's parents, comedy veteran Nick Frost (Shaun of the Dead, Hot Fuzz) and Game of Thrones favourite Lena Headey. The chemistry between this portrayal of the Knight family is palpable and is a huge reason why the film is always such a joy to watch. Be sure to stick around for the credits to see just how right the casting choices are with some short home videos of them all.
Not to let a small thing like 'the truth' get in the way of a good story, Fighting With My Family does take some artistic liberties throughout. Paige and Zak's alleged meeting with The Rock never occurred, she wasn't accepted on her first try-out and the title match on Raw goes down much differently than it did live on Raw. But just ask Bohemian Rhapsody; this is Hollywood, and anything goes. Still, it doesn't make Paige's journey or accomplishments any less important.
Fighting With My Family isn't a squash match (a bout which lasts mere seconds to display the dominance and power of a particular superstar) of a victory but it's a memorable mid-carder of a comedy drama which, unlike this review, won't require a great deal of wrestling knowledge or patience to grasp.
We Liked
Palpable chemistry between all cast
Lowden is sublime as the left behind brother, Zak
Funny and emotional in equal measures
We Didn't Like
Zak's storyline occasionally overshadows Paige's own troubles
Second act lull towards the end