The Details
Release Date
18th February 2019 (UK DVD Release)
Synopsis
A VHS collector and a woman obsessed with the 80s, both alcoholics, initiates a romance that helps them battle their personal failures.
Director
Kristian A. Söderström
Starring
Stefan Sauk, Lena Nilsson, Morgan Alling
As home entertainment evolves to produce higher quality image, sound and presentation methods there will always be a dedicated group who remain loyal to a particular format. Ennio, like the famous composer Morricone as he likes to remind people, is one such example. At one time, he was the most successful video store manager in Sweden. Now, he collects VHS tapes and the walls of a storage room are lined with rare, out of print and virtually unobtainable movies, most of which are horror. But acquiring such a treasure trove comes at a price and Ennio is drowning in debt to the point of becoming dangerously close to having the room repossessed.
When a chance discovery of the film Zombie from a clueless woman who is also stuck in the past allows him to complete the elusive 'Invest Collection', he immediately snaps it up. Almost immediately, he receives a phone call from a fellow collector known only as Faceless who offers to purchase Zombie for 10,000 Euros. Thinking this will solve his financial woes, Ennio agrees to the sale – only to discover on the day of the transaction that someone has stolen the tape.
So begins Ennio's desperate hunt for the thief, but along the way he meets Simone an equally lonely woman who is also stuck in the past and they form an unlikely friendship through their love of nostalgia and heavy drinking. Both figures are profoundly flawed and stubborn yet they may just be the key to each others happiness. That is, if Ennio lives long enough with the notoriously shady Faceless on his tale.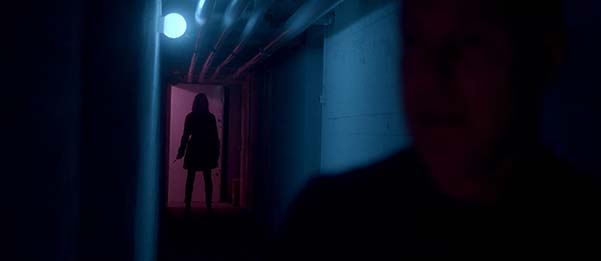 Released under the Frightfest Presents label, Videoman is more of an appreciation of the horror genre than concerning itself with having any considerable content featuring it. It's an assuredly grounded drama with a spatter of dark comedy for the most part as we attempt to delve deep into the psyche and workings of two broken people who barely know themselves. Writer/director Kristian A. Soderstrom's love for the Italian Giallo subgenre, known for its female protagonists who suffer from fragile mental states, shadowy killers and mystery narratives, clearly bleeds into Ennio's character and eventually his life, making for a tonal juxtaposition that in theory should not work. Soderstrom's confident script tackles the challenge with apparent ease and the authentic chemistry between Ennio and Simone blends flawlessly with his obsession for grisly grindhouse movies. Videoman is the Ready Player One of Giallo and Grindhouse too, as fans of these movies will love scouring the background of the scenes in Ennio's room to spot the countless titles that align his walls.
But the real joy will come from getting to know the leads. Ennio is a hermit who knows the price of everything but the value of nothing while Simone desperately vies for the attention of her social media followers. Both use copious amounts of alcohol to make it through the day and mask the pain of their realities rather than do the uncomfortable thing and face their issues, ultimately being too busy with both feet in the past to realise the hope that stands in front of them. Stefan Saulk plays Ennio with emotional unpredictability, warm and inviting in one minute then cold and dismissive the next. Lena Nilsonn perfectly channels the fears of, I imagine, many middle aged women who feel their best days are behind them as she becomes another cog in the relentless Social Media machine – all the while those who really care about her are in plain sight.
It's this sense of authenticity which make the few moments of surrealism in Videoman seem out of place though. The promotional imagery and even the title are undeniably reminiscent of David Lynch's nightmarish Videodrome, but anyone hoping for something similar are likely to be sorely disappointed. In place of the eerie imagery though is a neon-drenched aesthetic where soft reds and delicate blue glows collide to the sounds of a thumping synth score. It's a soundtrack you'll want to listen to again and again and is a huge part in why Videoman manages to capture the essence of the 80s.
Simply put, Videoman will most definitely be better enjoyed when viewed as a universally gorgeous character study that, much like Ennio himself, uses the horror genre as a crutch to tell its story without really spilling any real blood itself.
We Liked
Excellent character study with fully fleshed out characters
Söderström's love for horror and Giallo is on full display
We Didn't Like
Those looking for surreal horror, or indeed any horror at all, are likely to be disappointed
Lags in pace at times

It is somewhat difficult to recommend Madness in the Method to non-fans of Mewes or Kevin Smith's previous work. It has it's moments of hilarity and a handful of amusingly playful scenes, but it's one only for the fans because of it. It lacks anything substantial to invite a casual audience enough to make a great impression
An unconventional romance living in the body of a horror, Lifechanger is a sombre, blood-splattered story of self discovery and doomed love.

Old McDonald ain't seen anything like this on his farm before. Pacing and CGI issues aside, Boar is a bloody good time with some stellar practical effects work.