The Details
Release Date
10th July 2019 (UK)
Synopsis
While babysitting the daughter of Ed and Lorraine Warren, a teenager and her friend unknowingly awaken an evil spirit trapped in a doll.
Starring
Vera Farmiga, Patrick Wilson, Mckenna Grace, Madison Iseman
Home: a place of safety and familiarity where you feel most comfortable. It's fitting then that the seventh entry into The Conjuring Universe contains this word in the title, as Annabelle Comes Home fits the above definition perfectly, applying them to a routine horror that admittedly is an improvement on the last few franchise instalments but unsurprisingly fails to reach the lofty heights set by the original.
A welcome albeit brief return by Vera Farmiga (The Front Runner, Up In The Air) and Patrick Wilson (Insidious, Aquaman) as Ed and Lorraine Warren respectively gives Annabelle Comes Home far more credence than the other spin-off movies, even if it is temporary. Their on-screen chemistry remains strong and is clearly one of the main reasons for the franchises success, so it's disappointing then that their appearance is short-lived, book ending the film with a brief prologue which shows how Annabelle reaches their house and a short scene upon their return to survey the prior nights events.
They make a quick exit early on when another case requires their attention, leaving babysitter Mary Ellen (Madison Iseman; Jumanji: Welcome to the Jungle, Goosebumps 2) in charge of their young daughter Judy (Mckenna Grace; Gifted) for the night. Having read in the paper about one of their recent exorcisms, Mary Ellen's friend Daniella (Katie Sarife) turns up uninvited, curious as to what the Warrens have in their house. She's also still mourning the death of her father and is hopeful that there's some way she can contact him in the supposedly spirit-filled house.
While snooping around their forbidden artefact room, Daniella unwittingly unleashes the demonic power of the Annabelle doll, who in turn essentially 'switches on' some of the other powerful and malevolent spirits dwelling within resulting in a night that the trio will never forget but a film that you probably will.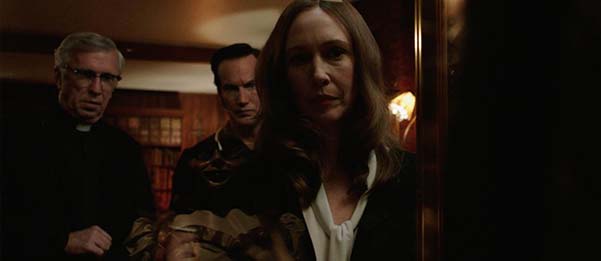 It's not that the ideas aren't present in Annabelle Comes Home. Ever since the Warrens' menagerie of malevolent trinkets and objects were first revealed in 2013's The Conjuring, its potential was clearly an untapped goldmine for future Conjuring movies or even a TV show spotlighting a different case in each episode. Annabelle Comes Home does expand on this idea, utilising multiple threats found in the room, bringing them to life and condensing their powers into bite-size boo!'s, most of which provide adequate if empty scares. This approach of using numerous hazards though means the film plays out like an R-rated Goosebumps book and even Annabelle herself is figuratively put back in the box in favour of the newer toys.
Much like its sister The Nun, and perhaps even more so, Annabelle Comes Home devolves into an exercise of simply watching others braving their way through a haunted house attraction. To its credit though and after a sluggish start, it is admirably relentless in its attempts to bring the jolts. A balanced mix of drawn out silences and haphazardly placed bangs come thick and fast in the final act, so while there's nothing particularly memorable or unique about any of them, writer Gary Dauberman (who makes his directorial debut here too) finely hones the tropes of the franchise. The frights in this series have unquestionably become stagnant and largely interchangeable, but Dauberman still manages to find some water in the bone-dry well; most notably in The Ferryman and a 1967 board game called Feeley Meeley.
While there may be a few solid ideas in the scares, the plot devices in Annabelle Comes Home are DOA. Right from its opening moments, the film displays head-slapping stupidity on the part of Judy's parents. The Warrens experience an alarming and potentially fatal incident during a breakdown next to a graveyard, which Lorraine quickly links to the doll. Does that stop them from taking this clearly dangerous item back to their home where their young daughter lives? Of course not. The heavily bolted room may seem firmly secured, but if you're going to leave the set of keys for all the locks on your desk in an office that is accessible by everyone in the house, it somewhat defeats the point of sealing it in the first place.
Annabelle Comes Home doesn't propel the series forward in any meaningful way, instead acting as a half-way house before the intended destination of The Conjuring 3 in 2020.But in a series that once had such strong foundations, the reputation of The Conjuring Universe is in danger of being washed away thanks to a storm of lacklustre sequels and diluted scares.
We Liked
Vera Farmiga and Patrick Warburton's brief appearance as The Warrens
Expansion of the haunted artifact room
We Didn't Like
Recycled scares
Weak set up to justify existence

The Nun does nothing to break the habits of the genre conventions and commits one of the the cardinal sins of horror: it gives us a wholly unnecessary and unsatisfying backstory to a monster that worked so much better as an ominous, sinister Sister.

When posed with the question "What is the best horror movie of the decade?", 2013's The Conjuring will no doubt be a popular answer. The relentless and ever-increasing terror of the Perron family home introduced the world to Ed and Lorraine Warren, a couple who investigate the paranormal. As interesting as they were, it was their 'Occult Museum' […]