The Details
Release Date
7th September 2018 (UK & US)
Synopsis
A priest with a haunted past and a novitiate on the threshold of her final vows are sent by the Vatican to investigate the death of a young nun in Romania and confront a malevolent force in the form of a demonic nun.
Starring
Taissa Farmiga, Bonnie Aarons, Jonny Coyne
When you hear the phrase 'Cinematic Universe', chances are your first thought will be the one Marvel has created with its plethora of superheroes. Horror fans, however, will likely be more inclined to head towards a different franchise.
Beginning in 2013, The Conjuring series has scared up an impressive $426 million from its 4 instalments; not bad for quartet of films which cost less than $90 million combined to produce. Right from its beginnings, a lucrative franchise was visible. The main characters, paranormal investigators Ed and Lorraine Warren (Patrick Warburton and Vera Farmiga respectively), kept a room full of supposedly haunted and cursed objects which were ripe for backstories and analysis in spin-off movies.
Sure enough, the first of such arrived merely a year later in 2014. Annabelle was a huge financial success, making an incredible $85 million on a minuscule budget of $6.5 million. While nowhere near as critically successful as its predecessor, it was clear that The Conjuring Universe was just getting started.
A sequel to The Conjuring followed in 2016 which saw The Warren's tackle the infamous case of The Enfield Haunting, with 2017's spin-off sequel Annabelle Creation going back even further and giving us a little more insight into the sinister doll's origins. But it was the re-appearance of the horrific hooded figure Valek in The Conjuring 2 which left its mark on both Lorraine Warren and audiences everywhere. Now, the franchise continues with The Nun, a prequel which sheds light on the darkness of Valek.
Set in 1952, The Nun follows Father Burke (Demián Bichir) and Sister Irene (Taissa Farmiga), as they head to the countryside of Romania to investigate the suicide of a nun in a mysterious convent. Aided by a local delivery boy named Frenchie (Jonas Bloquet), the trio face an unstoppable, malevolent force in form of a demonic nun – as well as battling inner anguishes of their own.
If horror movies have taught us anything, it's that real fear comes from the unknown. Once you unmask the ghoul and remove its mystery, it becomes undeniably less scary. It's a criticism which has been thrown towards the most iconic of monsters: Michael Myers became nothing more than a misunderstood child thanks to Rob Zombie's Halloween, Leatherface tried (and failed) to make us sympathise with the Texas Chainsaw Massacre killer and according to the Nightmare on Elm Street reboot from 2010, Freddy Krueger's crimes towards children didn't just stop at killing them.
Regardless of what story became canon to the respective franchises, it's largely agreed they did more damage than good. Now, with the insertion of The Nun into its Universe, The Conjuring has also fallen foul to this kind of franchise deterioration.
Taissa Farmiga, daughter of The Conjuring's lead Vera and star of American Horror Story, suffices as the screaming Sister Irene, but lacks the conviction and belief in the material that her mother showed. Hard to blame her really with the script and story being substantially less interesting than the one Vera had to work with, but the lack of charisma and charm is noticeable. Demián Bichir stars as Father Burke, a character will no doubt be the next aspect of The Conjuring World to get their own vehicle as they traverse the globe investigating unexplained phenomena; something along the lines of The Case Files of Father Burke sounds about right. Jonas Bloquet rounds off the trio of leads as Frenchie, an extremely forgettable addition who repeatedly makes tasteless remarks and jokes towards Irene.
Surprisingly, and perhaps wisely, The Nun keeps its titular figure Valek hidden for the majority of its mercifully short 96 minute run time. Instead, Gary Dauberman's script puts more attention on The Abbey itself and alludes to a greater story than the one it delivers. When the origins of the castle are finally revealed, it's a preposterously laughable explanation that feels completely out of place in both its own film and the series as a whole.
But back to Valek. For the most part, she's an ominous presence, stalking the end of corridors and gliding towards the camera in the darkness, her glowing eyes the only sign of her being there. It's this kind of teasing which made the character such a force to be reckoned with in the first place, so the inevitable showdown in which her full face is revealed ultimately strips away an irretrievable amount of mystique from her for future appearances.
Even more unforgivably, Valek simple isn't all that scary anymore. Once you've seen the pointy teeth, purple-tinged skin and cats eyes, you realise she becomes nothing more than a modern take on the vampires from Tobe Hooper's 1979 Stephen King adaptation Salem's Lot.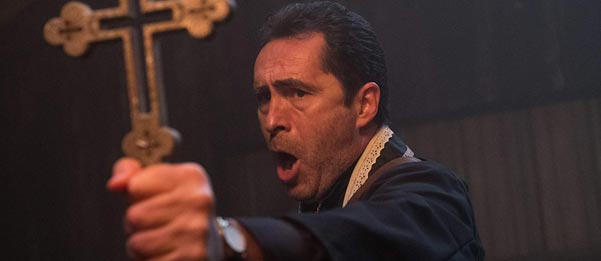 As for the rest of the jolts, they stick firmly to the gospel according to jump scares. Save for a few effective moments, The Nun doesn't break any of the bad habits found in countless horrors; a grabbing hand here, a quiet few seconds followed by deafening crashes there. It's a real shame, because its labyrinth of a location in The Abbey had plenty of potential to really make a difference to the overall product.
Speaking of maze-like, the film feels less of a cinematic event and more like promotional material for a walk-through scare attraction at a top Theme Park. A concerningly high number of scares, scenarios and scenery pieces in The Nun are exactly the kind of situation you're likely to find yourself in for the next few Octobers at officially licensed locations. These include (but are not limited to): a claustrophobic narrow corridor filled with smoke and crosses sticking out at all angles, a room full of nuns with bloody sacks over their heads who you must shimmy past in close proximity to make it to the next room, and of course, a wisecracking guide who leads the way with a lantern – that intermittently goes out at the worst possible time.
I'm all for real-life attractions taking inspiration from horror films to immerse you into further into the movie and the walk-through, but The Nun feels like a tacky, tailor-made attempt to create one of these mazes. Even films about haunted house attractions (The Houses October Built, Hell House LLC) didn't feel this contrived.
There's a third Conjuring movie in the works, which will see the Warren's head to London in the 1980's as they uncover the truth about a man reportedly possessed and haunted by a demon of a werewolf. For how much of an effect Valek had on Lorraine, it's a safe bet that we've not seen the last of her plaguing the couple.
But after such a flat and spiritless solo outing, this demonic nun has a lot of praying to the screenwriting Gods to do if she wishes to be as menacing as she once was.
We Liked
Valek largely kept lurking in the shadows for the first two acts
Potential in The Abbey location
Would be interesting to see more of Father Burke's cases
We Didn't Like
More of an advertisement for a scare maze tie-in than a feature film
Mystique of The Nun now all but erased
Wasted opportunity to explore The Abbey, with a ludicrous backstory instead

Demonic doll Annabelle may have come home, but it's not a return worth celebrating.

When posed with the question "What is the best horror movie of the decade?", 2013's The Conjuring will no doubt be a popular answer. The relentless and ever-increasing terror of the Perron family home introduced the world to Ed and Lorraine Warren, a couple who investigate the paranormal. As interesting as they were, it was their 'Occult Museum' […]