The Details
Release Date
18th May 2020 (Eureka UK Blu-Ray debut), 26th November 1969 (Italy Premiere)
Synopsis
A chain mail-clad gunfighter contends with a pacifist sheriff, a seductive banker, a one-armed Mexican bandit, corrupt businessmen and hippies while trying to learn the secret of the money allegedly stolen by his lynched brother.
Starring
Johnny Hallyday, Gastone Moschin, Françoise Fabian
I feel I should open this review with a disclaimer: I really don't know a lot about Westerns.
I can probably count on one hand the number of films in this genre – traditional or Spaghetti – that I've seen. Heck, I even had to google what a Spaghetti western was before writing this review. Don't worry, I've done a considerable amount of research on the topic for this piece. But you're going to stick around because you enjoy my writing style, right?
That said, I'm not entirely dumb to its conventions and tropes. I just haven't seen them in action very often. So don't expect me to be able to place The Specialists (or Gli Specialisti as it was released in Italy) onto a specific point in the development of Westerns. Genre expert Austin Fish does that in the included special features (more on that later). This will simply be a review of what I thought of the film. Okay? Okay.
Notorious gunfighter Hud Dixon (Hallyday) arrives in Blackstone, a town where his brother was wrongfully accused of robbing a bank and lynched for it. As Hud seeks revenge, he starts to discover the truth behind the stolen loot, and has to contend with an idealistic sheriff, a beautiful and seductive female banker, a corrupt businessman and a one-armed Mexican bandit, who was once his friend.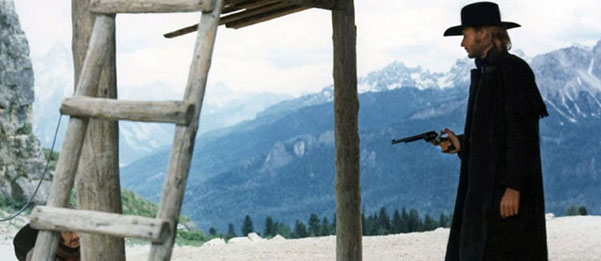 The first thing that took me by surprise was its location. I was expecting a sandblasted desert town with tumbleweed blowing by, but no. The Specialists is unique in its setting in that it was filmed in the Italian Dolomites. This makes for some extremely picturesque backdrops and landscapes. The town of Blackstone, filmed in a sweltering Rome, is your typical Western town though – a saloon, a bank, a sheriff's office and so on. It's the people of the town (and its invaders) who make visiting The Specialists worthwhile.
With an introduction that's hard to forget, our hero Hud he emerges from the shadows and instantly oozes charisma. If you aren't killed by his bullet, you'll surely drown in his 4K restored ocean blue eyes. With his dashing good looks, it's criminal that Hallyday only featured in one Western, but he was a prolific musician and widely credited for bringing Rock 'n Roll to France in the 1960's. His accolades are incredible and it's surprising he's not heard of more here in the UK – he's sold more than 110 million records worldwide, released 79 albums and sang well over 1000 songs. Clad in chain mail and riding the lonely lonesome road alone he makes for a fantastic anti-hero and has an alluring screen presence rarely seen nowadays.
He's not the only star shining in The Specialists, however. Silver Ribbon Award-winning actor Gastone Moschin and multi-Award winning actress Francoise Fabian feature prominently as the pacifist Lawman Gedeon and scheming banker Virginia respectively. My favourite character (apart from dreamboat Hallyday, obviously) is Mario Adorf's one-armed bandit El Diablo. Travelling nowhere without his scribe to take note of his achievements – even if he fails – Diablo is a formidable (yet frequently funny) foe. There are a pack of hippies which pop up every now and again, and for me these were the worst thing about the film. From what I've gathered, they were supposed to be a part of the directors political message, but I only ever saw them as a nuisance to the narrative. Mission accomplished then, perhaps?
There are gun fights and saloon brawls with wonderfully over-the-top sound cues aplenty in The Specialists. It's one notch away from including THWACK! POW! and KABLAM! on screen. Still, it never feels farcical due to Hallyday's steely and swoon-worthy stare. I regret inserting the above image before finishing writing the review – I keep finding myself stuck in a staring contest that I'm never going to win. It's swiftly paced so you're never too far from another showdown and its utterly bizarre finale completely caught me off guard. I genuinely never expected to see such an ending in a film like this and apparently it's one of the few reasons which make The Specialists so, well, special.
Despite being seen as the weakest of Director Sergio Corbucci's 'Mud and Blood' trilogy, the other two being 1966's Django (which of course I've heard of) and 1968's The Great Silence, The Specialists is still immensely enjoyable. Personally, I have no reference point so can't say whether I prefer this to its predecessors, but it achieved enough for me to want to scope them out.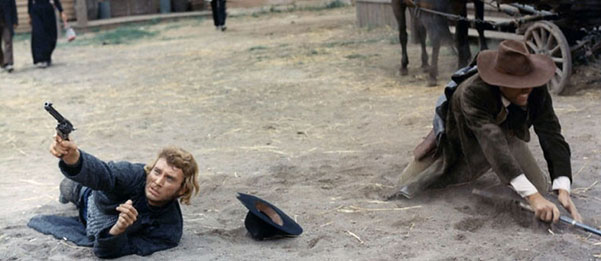 Eureka's 4K restoration is, as expected, lovingly produced, with the mountainous scenery and Dario Di Palma's exquisite cinematography looking more vibrant than ever. The Specialists has never been available on Blu-Ray in the UK before now and not only have Eureka given it the 1080p visual presentation from a 4K Restoration that it deserves, they've thrown in three different audio options. There's both Italian and French tracks as well as the rarely-heard English dub. For the first 20 minutes I couldn't decide between French or Italian before settling on the directors native tongue. With english subtitles too, naturally.
An insightful interview with Austin Fish, the author of Radical Frontiers in the Spaghetti Western: Politics, Violence and Popular Italian Cinema, is thrown in the extras for good measure. This short feature really did help me understand The Specialists place in Spaghetti Western history, what its function was for Italian cinema as a whole and explained why it is important that it's remembered. It's surprisingly critical but constructively so, which I found to be refreshing. It's not often you find a feature included which argues the film in question is not entirely essential to its genre.
The Specialists (Gli Specialisti) is out now through Eureka Entertainment and is available to order from

Eureka Store

&

Amazon.
BLU-RAY SPECIAL FEATURES
LIMITED EDITION O-CARD SLIPCASE [First Print Run of 2000 units]

1080p presentation on Blu-ray from an incredible 4K restoration

Restored Italian and French audio options

Rarely heard English dub track

Optional English subtitles

Feature-length audio commentary by filmmaker Alex Cox

A brand new and exclusive interview with Austin Fisher, author of Radical Frontiers in the Spaghetti Western: Politics, Violence and Popular Italian Cinema

Trailer

PLUS: A LIMITED EDITION collector's booklet [First Print Run of 2000 units] featuring new writing by western authority Howard Hughes on both the film, and the "French-western" sub-genre
We Liked
Hallyday's charismatic screen presence
Plenty of action and substantial story
Highly unconventional ending
We Didn't Like
Those damn hippies
Probably could have wrapped up sooner