The Details
May 6, 2020
Release Date
6 January 1965 - Original release, 27 April 2020 - Eureka UK Blu-Ray Release 
Synopsis
A collection of four Japanese folk tales with supernatural themes.
Starring
Rentaro Mikuni, Michiyo Aratama, Tatsuya Nakadai, Keiko Kishi, Katsuo Nakamura
Based on Lafcadio Hearn's collection of Japanese folk tales, Kwaidan is an ambitious and often mesmerising anthology of horror stories. Although I'd be wary of attaching it with the horror badge so definitively, in fear of grouping into the more modern J-horror efforts like Ringu or Ju-on: The Grudge. This is not one of those films. Elements of dread and chills are purposefully low key, and the film will startle you with its beauty more than unnerve you with fear.
Kwaidan contains four stories over its lengthy 3-hour runtime, each individually titled. The Black Hair follows a samurai who leaves his loving wife to marry a wealthy woman, only to regret his decision after years of unhappiness. The Woman of the Snow has two woodcutters seeking shelter from a blizzard where they are visited by a pale womanly ghost. Hoichi the Earless focuses on a blind musician who gets haunted by the very soldiers in the epic poem he sings about. Finally In a Cup of Tea has a writer struggling to finish his own ghost story whilst waiting for his publisher.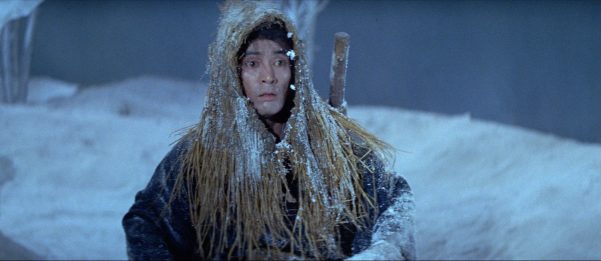 The problem with all anthologies is that you're bound to like some sections a lot more than others. The Woman of the Snow was easily my favourite story of the four, being the most visually gorgeous and creepiest tale of the bunch. Each story has its highlights though and there is much enjoyment to be found in them all. The potential issue you might run into is Kwaidan's runtime. It is an endurance test. By the time the fourth story In a Cup of Tea began, my attention was starting to wane and I was ready for it to end. There is a handy intermission after the 2nd story that I'd suggest taking. Maybe even treat it as two separate films.
Despite the unavoidable struggles of anthology films, Kwaidan more than makes up for it with visual artistry. The hand-painted, impressionistic backdrops are worth seeing the film for alone. They capture the folkloric essence that presides over Kwaidan so perfectly whilst never distracting you away from story or characters. There are also many beautiful sets and an extremely experimental soundtrack that wraps up a totally unique technical package. I don't think the soundtrack always works, but there are certainly many interesting choices and some terrific examples of messing with the preconceived notions of what constitutes diegetic and non-diegetic sound.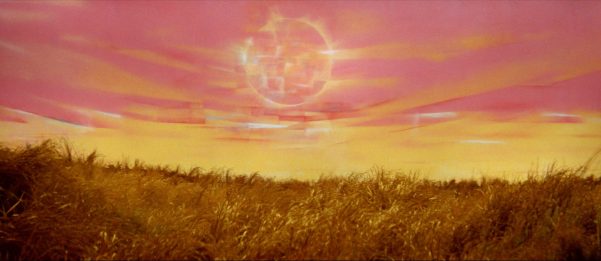 As you'd expect from folk tales, the stories are fairly simple. Thankfully, that doesn't stop the cast from giving their all. Even with minimal dialogue, the ensemble manages to bring these mythical characters to life in a way I'd love to see done with other folklore. Instead, we get Hansel & Gretel: Witch Hunters! The key ingredient Kwaidan gets right is in keeping with it's stories traditional origins. The actors inject just enough personality into their archetypal characters, but never tip the balance too far. The characters still remain removed from us. They aren't real people. They represent deep emotions within us all.
But don't worry, I'm sure Hollywood is working on a Grimm fairy tale universe with a sexy Red Riding Hood lead played by Margot Robbie…
Kwaidan is out now in the UK on Blu-Ray and is available to order from

Eureka

and

Amazon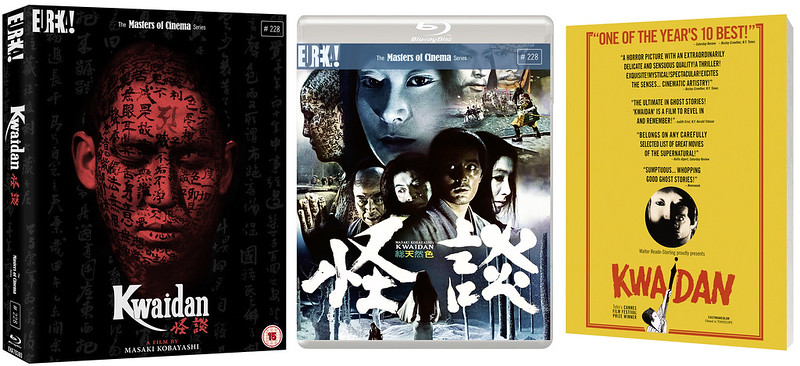 SPECIAL FEATURES
Limited Edition Hardbound Slipcase [3000 copies]
A 100-PAGE Perfect Bound Illustrated Collector's book featuring reprints of Lafcadio Hearn's original ghost stories; a survey of the life and career of Masaki Kobayashi by Linda Hoaglund; and a wide-ranging interview with the filmmaker – the last he'd ever give
1080p presentation on Blu-ray from Criterion's 2K digital restoration of Kobayashi's original director's cut
Original monaural Japanese soundtrack
Optional English subtitles
Kim Newman on "Kwaidan" – a new interview with the film critic and writer
Shadowings [35 mins] – a new video essay by David Cairns
Original trailers
We Liked
Visually stunning
Successfully captures folk tale mood
We Didn't Like
The last two stories start to drag
Experimental soundtrack doesn't always work.