Best Action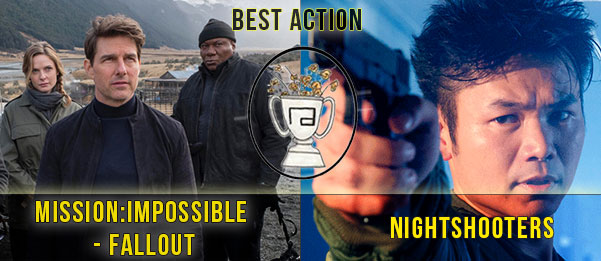 Defying all laws of sequels, the sixth instalment in the Mission Impossible franchise somehow succeeds in being the best entry yet with its hard hitting fist fights, exhilarating action scenes and, of course, Tom Cruise performing his own death defying stunts – each one more breathtaking than the last.
Oliver's pick – 

Nightshooters

 (Dir: Marc Price)
This low budget martial arts, gangster comedy is an action indie gem. Ridiculously violent, sweary and laugh out loud funny, it gives rising star Jean-Paul Ly a leading role with plenty of outstanding fight set pieces. Keep an eye on this one!
Best

Comedy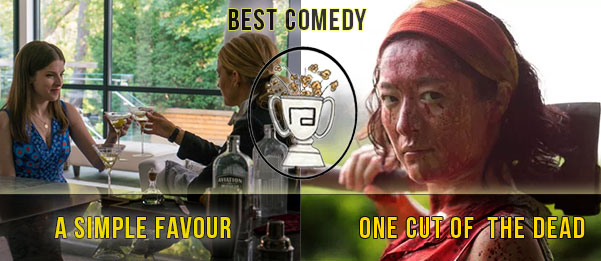 Sean's pick – A Simple Favour (Dir: Paul Feig)
Cutting in its remarks and delicious in its mystery, A Simple Favour is deviously cruel and razor sharp-witted. Kendrick and Lively are a dynamite duo who perfectly compliment each other by being polar opposites.
Oliver's pick – 

One Cut of the Dead

 (Dir: Shinichirou Ueda)
Easily one of my favourite films of the year and an unequivocal surprise, One Cut of the Dead is a Japanese zombie comedy that simply has to be seen to be believed. The less you know about it, the better. Just know it's one of the most original and hilariously fun films in years.
Best Horror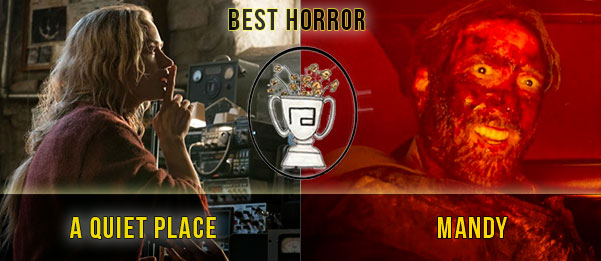 Sean's pick –

A Quiet Place 

(Dir: John Krasinski)
Horror was the most watched genre of mine last year (and the year before that, and the year before that…) so this was by far the toughest category to pick a winner for. On balance, A Quiet Place takes the crown for its simplicity and effectiveness. It's a film that's essentially based around the characters not making a noise, which in turn performed miracles offscreen as cinemagoers were made to think twice about rustling their snacks or slurping their drinks.
Oliver's pick – Mandy (Panos Cosmatos)
Mandy certainly isn't the most typical horror film. It sort of blends action and horror with a headache-inducing amount of psychedelia. But although there certainly were some great, more traditional horror films made in 2018, nothing left as much of an impression on me than Mandy, so it takes the cake. Nic Cage is freakishly wonderful and the whole film is incredibly oppressive and mood-heavy, it's a nightmare come to life.
Best Drama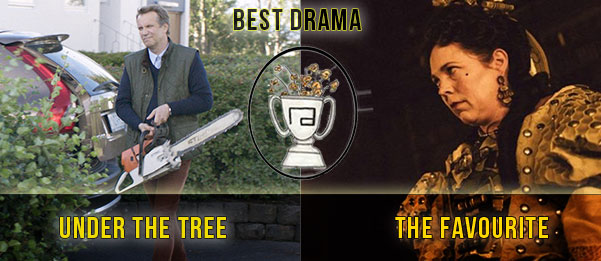 Sean's pick – Under The Tree (Dir: Hafsteinn Gunnar Sigurðsson)
The bark and bite are both as bad as each other in Under The Tree, a searing dramedy about warring families whose real troubles lie just below the surface. Under The Tree is a wildly unpredictable film, taking evermore darker turns with each move of retaliation between the neighbours. Edda Björgvinsdóttir is sublime as Inga, who is clearly channelling her pain from other aspects of her personal life onto the baffled neighbours. I can guarantee you won't be laughing by the conclusion though as the film firmly plants itself as a more sombre drama in the last 20 minutes or so, causing you to reflect on how things got this bad – and what could (or should) have been done sooner to stop it.
Oliver's pick – The Favourite (Dir: Yorgos Lanthimos)
There were some dramas that I preferred over The Favourite, however no film this year could equal the manipulative triangle between Emma Stone, Rachel Weisz, and Olivia Coleman. On a technical level The Favourite wipes the floor with other dramas released recently, the number of things you could analyse and talk about would fill a book. With such a juicy script and excellent performances it simply deserves the win.
Best Sci-Fi/Fantasy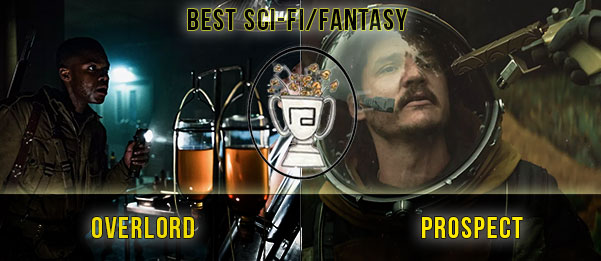 Sean's pick – Overlord (Dir: Julius Avery)
While this could have qualified for the horror category, Julius Avery's gory World War II picture Overlord is just as much of a science fiction offering too, with its featuring of experimental serums and mad scientists. It's basically Wolfenstein: The Movie in all but name and fortunately thanks to its schlocky B-Movie vibe and wanton Nazi destruction more than does it justice.
Oliver's pick – Prospect (Dir: Zeek Earl, Chris Caldwell) 
Another indie surprise, Prospect impressed me with its dense, rich world and fascinating world building. Its story may have been simple, but thanks to such a realised vision from directors Zeek Earl and Chris Caldwell, it elevated the material to greater heights.
Continue reading onto Page 3 to see our Award picks for Crime/Thriller, Family and the Best and Worst Films of 2018 >>>>