The Details
October 17, 2018
Release Date
12 October 2018
Synopsis
The enchanted lives of a couple in a secluded forest are brutally shattered by a nightmarish hippie cult and their demon-biker henchmen, propelling a man into a spiraling, surreal rampage of vengeance.
Starring
Nicolas Cage, Andrea Riseborough, Linus Roache, Bill Duke
Oh boy, this is a tough one.
You may have heard whispers about Mandy. It's a new Horror/Thriller film from Panos Cosmatos and starring the Internets favourite actor Nicolas Cage. It's been playing in festivals the world over, getting an unnatural amount of buzz from critics and audiences alike: Something rare for this kind of genre film. Even rarer for a Nic Cage vehicle.
Whilst attending Mayhem Film Festival in Nottingham (which you can read about here), I was lucky enough to see a late night, sold-out screening of Mandy on the UK release date. Exactly how it should be seen: Big, loud, and with a rowdy audience. It certainly was a wild ride that I won't soon forget.
Cage plays Red, a content lumberjack living with his wife Mandy (Andrea Riseborough; Oblivion, Battle of the Sexes) in an isolated home near Crystal Lake (reference much). After some "Charles Manson" like cultists pass through the area and spot Mandy, their leader Jeremiah develops a fascination for her beauty. He decides to take her and attacks Red's house with the aid of some supernatural bikers straight out of Mad Max, unleashing Red on a bloody quest of vengeance.
It's a simple revenge plot that begins quietly and slowly, something gore-hounds might not expect. But Cosmatos employs a fuzzy dream-like quality to the opening act, meaning scenes often don't follow on from the last, or rarely make much logical sense. Visual elements are instead the front and centre: Extreme saturation, sensory overload, and a focus on the experience over story. There is time dedicated to Red and Mandy's seemingly tranquil existence for instance, in which Cage plays second fiddle to Riseborough. He proves that he can act subtle, which is something we don't usually see from Cage. But the film expertly bathes you into its trippy tone to prepare you for the explosion of its second half.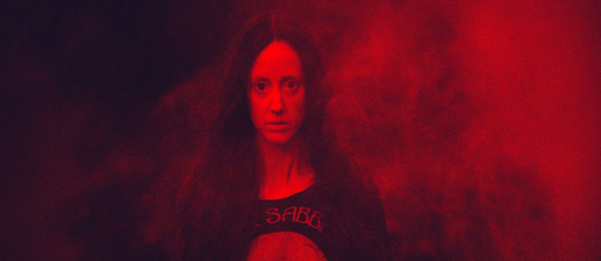 Once the more action focused second half launches, it never really surrenders. It's insanity, to be frank: Glorious, untamed, dazzling insanity. There's a one-take scene of Red downing a bottle of vodka, screaming to the heavens in an utter frenzy, before collapsing to tears, and switching back and forth. All whilst only wearing a tiger t-shirt and some undies. It's likely a scene to rival Cage's wildest moments, and will certainly please such fans. It's strange because it does provoke laughter, but the incredibly raw acting on view cannot be denied. Much of the second half feels this way: hilarious but sincere. You truly connect with Red as a character, you want him to succeed. You care! Then you're suddenly reminded that he's fighting demons in armored gimp suits! He's having a chainsaw battle with a cultist hillbilly! He's snorting coke off shards of glass to keep him mobile! You have to laugh and cheer.
All that being said, this film certainly isn't for everyone. Its fragmented nature will immediately turn people off, and it's a challenge to get through. I'm not even sure if it is a good film, but it could be a masterpiece. All I know is it was one heck of a trip, one I'm glad to of had from the safety of my comfy cinema seat.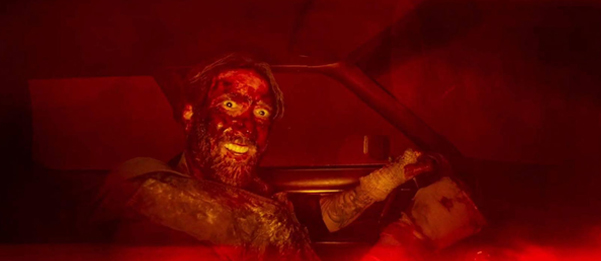 The late Johann Johannsson composed the score for Mandy, and by rights it's sensational. From haunting love themes to maximum synth satisfaction, Johannsson raises the sensory experience of the film to a whole different cosmos. The ambient music used also captures what has to be one of the most "metal" films ever made. But thankfully without it simply being heavy guitars thrown together. This was Johannsson's final completed film score, and one that should cement him as one of the greatest experimental talents this century.
I think the hosts of Mayhem Film Festival described Mandy best. Imagine David Lynch taking a ludicrous amount of drugs, teaming up with Nic Cage and trying to make John Wick. That's Mandy. It's beautiful but oppressive, comical but heartfelt, it's a whole different dimension of wacky awesomeness. I loved it, or at least think I did. So make sure you're prepared for its divisive nature.
We Liked
One of a kind experience
Cage delivers one of his best performances
Uniformly strong score and visuals
We Didn't Like
Will be too fragmented for many
Slow start

Brandon proves the rotten fruit doesn't fall too far from the Cronenberg tree in Possessor, a sinister and upsetting sci-fi reserved for the strong of gut.

It may not be a burden to watch, but this racial drama feels too "by the numbers" and pedestrian despite the talent involved. What could have been a potentially great character study is marred by unsatisfying broad strokes.