The Details
Release Date
21st September 2018 (UK)
Synopsis
A young orphan named Lewis Barnavelt aids his magical uncle in locating a clock with the power to bring about the end of the world.
Starring
Cate Blanchett, Jack Black, Kyle MacLachlan
Better known for his grisly horror output, director Eli Roth turns his hand to a more family-friendly frights in his latest, The House with a Clock in its Walls.
After the death of his parents, Lewis Barnavelt (Owen Vaccaro; ironically most well known for Daddy's Home) is sent to live with his eccentric uncle Jonathan (Jack Black; School of Rock, Jumanji: Welcome to the Jungle) and his aunt Florence (Cate Blanchett; Elizabeth, Blue Jasmine).
Lewis' new classmates warn him of the murder-filled stories they've heard about the sprawling mansion he now lives in, which triggers him to investigate further. While the tales he's been told have been greatly exaggerated, the truth is far more magical: his uncle is a Warlock (basically a male witch). The previous owner of the house, another Warlock named Isaac, was infinitely more evil and constructed a clock that counts down to doomsday. Before his untimely death, he hid this clock in the walls and now it's up to Lewis and his relatives to locate the clock before it's too late.
Produced by Steven Spielberg and his Amblin Entertainment company, The House with a Clock in its Walls is as muddled as you'd expect from this unusual producer/director collaboration. Roth, whose previous work includes the 2005 traveller's nightmare Hostel and 2015's cannibalistic The Green Inferno, has undoubtedly restrained himself here to cater to younger audiences but due to it's imagery of unnaturally moving puppets, mannequins and zombies, it's still a little too frightening for anyone under 10.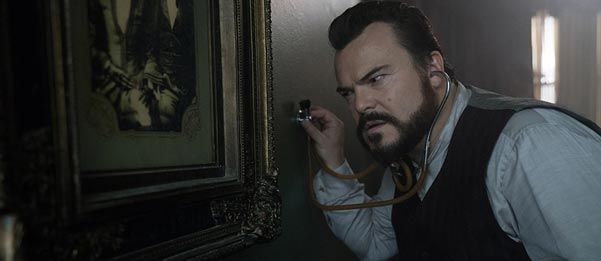 This works directly against the whimsical tone usually found in Amblin or Spielberg's work – which would be acceptable if it wasn't trying to imitate the feel of their past successes. The House with a Clock in its Walls tries valiantly to have it both ways, magical and scary, but in the end lies in a middle ground of not really being either.
It does get a few things right though, namely the lead casting. Black and Blanchett brilliantly bicker back and forth relentlessly with Jack's patented exaggeration bringing most of the comedy. The young lead Owen, however, is a little too eager to please in his first leading role, especially in scenes that require him to cry. No one likes a know-it-all, and that's exactly what Owen's character Lewis comes across as; correcting people at every opportunity and just generally making me mutter 'Shutup Lewis' multiple times.
The central, clock-centric premise of the film is no doubt promising, but Eric Kripke's screenplay drowns it in unnecessary subplots and side stories, none of which are particularly interesting and some even forgotten about until the final few moments. Its lack of narrative focus adds to the frustration because there is an entertaining film to be had here if the fat were to be trimmed.
Nevertheless, The House with a Clock in its Walls is a perfectly satisfactory gateway to bigger, scarier things for young teens. Black and Blanchett keep things ticking along nicely, and thanks to its creepier-than-needed images, it does fully deserve its 12A rating in the UK. Families with younger boils and ghouls looking for an all-round crowd pleaser this Halloween are better off sticking with the likes of Monster House than ringing the doorbell on this.
We Liked
Black and Blanchett's brilliant bickering
Central plot is intriguing
Good gateway horror for people in their early teens
We Didn't Like
Unfocused narrative
Too scary for all the family
Feels like too much compromise from both the director and producers