WTF Moment of the Year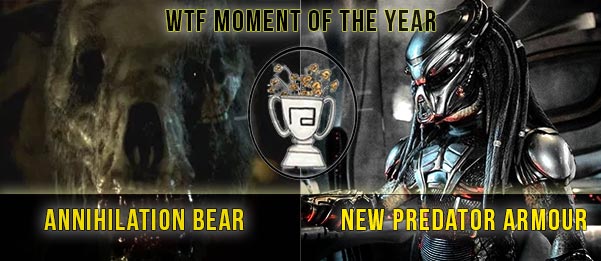 Sean's pick – Mutated Bear Scene from Annihilation
Netflix's sci-fi horror provided the most terrifying and spine-chilling moment of 2018 for me with its mutated bear from hell. In the scene, the main characters are tied to a chair and being held hostage by a human villain. But it's the monstrous creature that slowly strides in from the wilderness which they should all be terrified of. Its ability to manipulatively mimic human screams meshed with the already frightening sound of a bear growl results in a truly disturbing hybrid howl which won't soon be forgotten. Add in the ferocious power of a bear attack and the dead-eyed stare of the creature through its exposed skull and it's easy to see why this is my most WTF moment of the year.
Oliver's pick – New Predator Armour reveal in The Predator
*SPOILER WARNING* The final scene of the already awful The Predator really pushed it over the edge for me. After a convoluted and glaringly chopped up film, The Predator goes full wacko by revealing that everyone in the movie was fighting over a Terminator-esque, automated Predator suit of armour. It's basically just a robot predator and looks like a piece of crazy fan-art. It feels massively out of place and simply left me dumbfounded – Like 'Okay, WTF but sure, why not'.
Unfairly Hated Release of the Year
Ste
Sean's pick – Venom (Rotten Tomatoes Score: 29% / Metacritic Score: 35)
The troubled journey of Venom's production should've meant the brutally low scores from critics was expected, but the sheer vitriol and hatred towards the solo outing of Spiderman's nemesis was completely unnecessary. Studio meddling and the going back on a tease of it being a hard R rated movie only for it to be a rather tame PG-13 didn't help its cause either, but an erratic Tom Hardy and a refreshingly different yet ten years too late tone for a superhero movie made Venom the most unfairly hated movie of 2018 – and one the best Superhero movies of 2008.
Oliver's pick – The Upside (Rotten Tomatoes Score: 41% / Metacritic Score: 46)
Perhaps it's due to it being an American remake of the much loved French film The Intouchables that The Upside received poor reviews from critics and audiences. But there was also a lot of unfair criticism targeted towards it's lead actor Brian Cranston for essentially not being disabled himself. People argued that the role should of been given to someone with actual disabilities and this film was just typical minority hating Hollywood serving itself. I'd argue that the role should go to whoever they feel is best for the part, and in my opinion Cranston did a more than adequate job. To say that any character with a disability automatically has to be played by a disabled person or vice versa is ridiculous. Isn't the whole point of acting to be someone you're not?
Best Streaming Release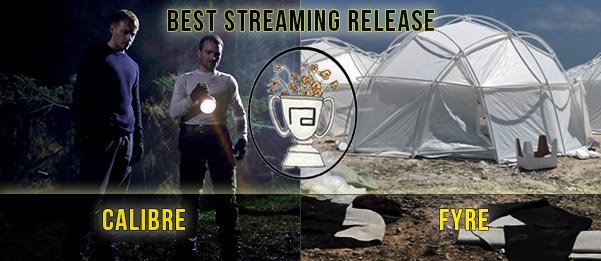 Sean's pick – Calibre (Netflix)
This little seen gem was an exercise in growing tension to a red-hot breaking point as a shocking deed turned a weekend trip for two hunters into a nightmare. Relying heavily on the the fantastic performances of its jittery leads, Calibre uses the simplicity and believability of its opening dilemma to maximum advantage as it consistently spirals towards its tense-as-a-tightrope conclusion.
Oliver's pick – Fyre: The Party That Never Happened (Netflix)
This recent documentary really blew me away with the true story of the failed luxury music festival "FYRE" which I surprisingly never heard about. Crafted to tonal perfection, the film felt like a documentary equivalent of The Wolf of Wall Street and just showed the insanity that ensues when people become greedy and overly concerned with self image.
Most Overrated Movie of 2018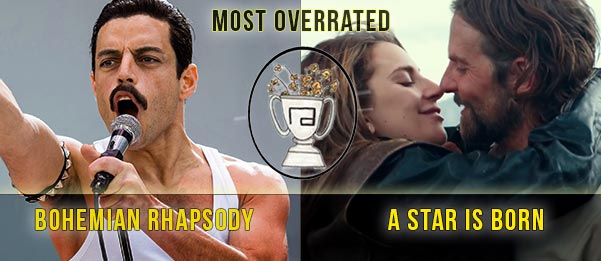 There's no doubt that I enjoyed Bohemian Rhapsody, but personally there's not a lot going on if you look past Malek's mesmerising and deservedly Oscar-winning performance as Mercury. Its toying with history and juggling around of the timeline of events to fit its redemption narrative seems in bad taste and the almost vilification of Freddie as the other band members avoid any blame for the band's misfortunes is particularly unfair. Nevertheless, the Live Aid show is meticulously recreated on stage, even if the crowd is choppily CGI'd.
By all accounts A Star is Born is a good film. It's first hour was fantastically handled in fact. But I just feel that people blew it up much more than was necessary. If you've seen any of the previous versions of A Star is Born, you'll know exactly what to expect. Bradley Cooper's version is a good modern update of a timeless tale but not much else. The films second half sticks so close to formula that I was never swept away with it's characters unfortunately.
Disappointment of the Year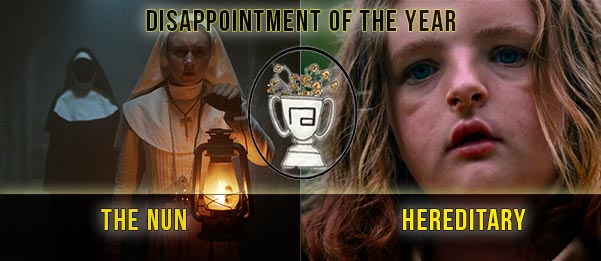 First introduced in 2013's The Conjuring, the demonic nun known as Valek was one of the creepiest creations in horror of the decade. Key word there – was. The characters popularity meant an origin story was inevitable, but the final product was a crushing disappointment that reduced an ominous, intimidating figure to a Pennywise-esque knockoff that relied on cheap and ineffective jump scares. The overtly supernatural story of portals opening up to hell negatively affected the franchise as a whole too, as The Conjuring movies based their central stories on real cases.
Oliver's pick – Hereditary
I really wanted to like it. I wanted it to be the next It Follows or The Witch.Something that made me think, that would really get under my skin. But Hereditary never succeeded in doing that for me. Maybe I need to re-watch it in case I wasn't in the right mood, but I just confused about what the film was really going for, and why it was supposed to be scary or unnerving. I did love the way it was shot, and the performances were exceptional, but overall I left feeling very disappointed.
Do you agree or disagree with our picks? Let us know what films YOU enjoyed from 2018 in the comments below!