The Details
Release Date
31st July 2020 (UK)
Synopsis
After a confrontation with an unstable man at an intersection, a woman becomes the target of his rage.
Starring
Russell Crowe, Jimmi Simpson, Caren Pistorius
Road Rage. Not only is it the best event mode in the Burnout series of games, it's a very real response to bad driving by those on the receiving end. Examples can range from swearing, offensive gestures and even dangerous manoeuvres which jeopardise lives. In Derrick Borte's Unhinged, events turn deadly for one driver who gets on the wrong side of a man who isn't so much on the edge of insanity, he's dived off into the deep end, belly-flopping on entry.
Scatterbrained Rachel (Caren Pistorious; Mortal Engines) is having the morning from hell. She overslept, is late dropping her son off for school – again – and has just been fired over the phone by her best client. Just when she thinks things can't get worse, she crosses paths with Russell Crowe's (Robin Hood, The Next Three Days) unnamed Man. When he fails to move forward at a green light, she angrily drives past him, tooting her horn aggressively.
Unbeknown to Rachel, The Man is having a much worse time than her and he decides to show Rachel what a bad day really looks like, beginning a relentless campaign of stalking and vicious murder.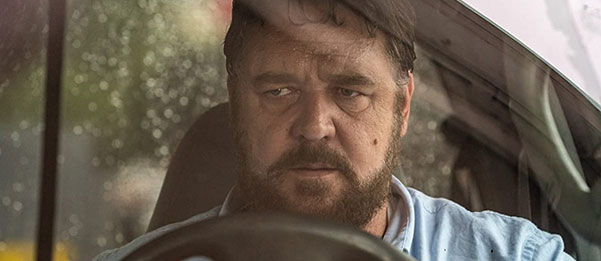 You'll need more suspension in your disbelief than can be found in Range Rover to fully buy into Russell's ruthless rampage; the complete incompetence of the police in having failed to apprehend the thug after his first crime being just one reason why. But its spontaneous outbursts of violence are so brutal that I almost didn't want him to be caught just to see what he'd do next. Many thrillers tease particularly nasty acts of assault, whereas Unhinged kicks the door in and follows through with them, complete with a supreme mean streak that is hard to shake. There were plenty of times where I'd think to myself 'there's no way they're gonna do that!', only to be shocked that the film does indeed 'do that'.
There's no question that Unhinged would be nothing more than a completely forgettable offering if it wasn't for Crowe. Far from being in the same bargain bin with films that hope to sell themselves simply by featuring former A-List stars such as John Travolta and Bruce Willis, Crowe's dominating presence gives us one of the most loathsome and despicable figures in 'The Man'. A far cry from the heart throb we know as Maximus Decimus Meridius in 2000's Gladiator, Crowe is now a hulking, eye-twitching, growling and scowling bulldozer who uses a cunning combination of mental and physical abuse to torment Rachel.
Speaking of which, she's played by a gutsy Caren Pistorious who doesn't have a great deal to do after her introduction other than appear helpless to The Man's crusade as he smashes his way through her loved ones. Extra support comes from young Gabriel Bateman, who continues to impress after prominent roles in 2019's Child's Play and 2016's Lights Out, as Rachel's son Kyle and Austin P. McKenzie as her slacker brother Fred. Jimmi Simpson plays Andy, a divorce lawyer who gets rather a lot more than the usual caffeine kick from his morning coffee thanks to The Man.
Overall then, Unhinged is an exceedingly violent road rage revenge picture which is undoubtedly elevated by a scowling Crowe performance.
We Liked
Crowe's 'The Man' is one of the years most loathsome creations
Commitment to following through on threats of extreme violence
We Didn't Like
A lot of disbelief is required to go along with the story
Ending lays the cheese on too thick