The Details
Release Date
13th October 2018 (London Film Festival Premiere)
Synopsis
A lonely TV weatherman strikes up an unusual friendship with a middle-aged Latino migrant worker.
Starring
Matt Bomer, Alejandro Patiño, Elena Campbell-Martinez
After a mental breakdown whilst presenting the weather on live TV after a bad break up, Sean (Matt Bomer) is told to take some time off. During this time, he hires Ernesto (Alejandro Patiño) for work labour, but soon begins to pay him to go on excursions and day trips he used to enjoy with his partner. Director John Butler has described Papi Chulo as a comedy about loneliness, but there's a lot more hidden within the depths of this hugely enjoyable film.
There's a sense that the dynamic duos adventures could become tedious or repetitive as the plot advances but Bomer and Patiño bring an abundance of charm to the pairs' friendship. As Ernesto's "job" becomes less work and more play, a mutual respect seems to form between them. As Sean uses Ernesto to unload his personal issues, the mismatch friendship blossoms into something we genuine believe in. We see Sean not allowing people to bad mouth Ernesto and witness Ernesto recognising the pain Sean is in and being there for him.
When Papi Chulo wants to tackle the more serious, sadder side to Sean's handling of his break-up, it does so with a natural glint. Because Bomer has portrayed Sean as such a kind-hearted man throughout, we do get swept up with emotion as his anxieties and grief get the better of him. Late nights alone with nothing but the distant hyenas to keep him company are harrowing to watch. As word gets around about what he's up to, the mockery begins. Because we see his life in full however, you feel so awful when little comments clearly get to him. He wears a mask when around others, hiding all his true feelings. When his emotions start to crack through this however, it really hits you.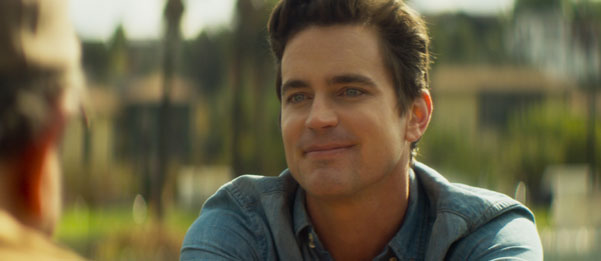 Bomer is astounding in a seemingly simple role. His dilemma with painting over the circle left by his ex's tree is so interesting as he shows us that this is Sean's main coping mechanism. Like the empty circle on his decking, he is merely wanting to paint over the issue, despite a lot more work needing to be done. His late night phone calls to his ex show the vulnerabilities many have suffered when not fully getting over someone. It's so uncomfortable to watch as it's such a raw and perfect representation of loneliness, something we don't see portrayed to this level often.
A brilliant script allows writer-director John Butler to tackle cultural barriers inside the stories main plot. Sean tries extra hard to make Ernesto feel welcomed into his home and to treat him as a friend, not an employee. Ernesto realises quickly Sean is gay but this doesn't change his mood on the matter, he still shrugs in agreement at things he doesn't fully understand. In these tense political times, seeing a middle class gay man and an working class Latino forming a friendship over one's battle with loneliness really help remind you how wholesome and great humans can be.
Papi Chulo has been the surprise of London Film Festival this year. By not relying on just having a mismatched pair go on wacky adventures, we're treated to a story that shows heartbreak and grief as well as bittersweet happiness and moments of pure charm. Bomer's performance is near perfect and this in turn leads to a huge investment into Sean's personal battles. It's a timely film, but unlike others it brings a huge smile to your face. It's a reminder of how good the world can be at a time when it really isn't that great.
Papi Chulo is currently screening at Film Festivals around the World. There is currently no distribution deal in place for a UK release, but we'll keep you updated as soon as we know.
We Liked
Boomer's note perfect representation of dealing with loneliness
A story that sounds ridiculous but never becomes a farce or mockery
Witty and heartfelt whilst not afraid to break your heart
We Didn't Like
Ernesto's character not being explored enough