The Details
Release Date
17th August 2020 (UK Blu-Ray Debut), 9th July 1943 (London Premiere)
Synopsis
During World War II, an undercover British soldier tries get word to the Allies that the Germans have tons of supplies buried in five excavations across Egypt.
Starring
Franchot Tone, Anne Baxter, Akim Tamiroff
There aren't many films that can boast about having a place on pop culture extraordinaire Quentin Tarantino's 'all-time favourites' list, but Billy Wilder's 1943 Wartime Espionage yarn Five Graves To Cairo certainly can. Now, for the first time ever in the UK, it is available on Blu-Ray from a 4K restoration thanks to Eureka Releasing as part of their Masters of Cinema Series.
Opening with a striking sequence of a tank recklessly accelerating across endless sand dunes, it's here we are introduced to British Corporal Bramble (Franchot Tone; Mutiny on the Bounty). The only survivor in his unit after a battle with Rommel's soldiers in North Africa, Bramble staggers through the desert until arriving at the largely deserted Empress of Britain hotel, staffed only by owner Farid (Akim Tamiroff; Touch of Evil, For Whom The Bell Tolls) and his French employee Mouche (Oscar Winner Anne Baxter; All About Eve, The Then Commandments).
While Bramble hopes to hide there, the hotel doesn't remain deserted for long – Rommel (a scene-stealing Erich von Stroheim) and his men arrive and take over the building as new headquarters. Bramble assumes the identity of a recently killed waiter…only to soon discover that this waiter was also serving as a German spy, a role Bramble now has to adopt for his own survival. And while Mouche knows Bramble's true identity, she has her own reasons for not wanting to aid in his plot.
Based on Lajos Bíró's 1917 play Hotel Imperial, Five Graves To Cairo takes place almost exclusively in the Empress of Britain hotel. This means we spend a lot of time in the company of its guests and staff, to varying degrees of success. Let's start with the positives though, shall we?
Unquestionably the highlight of Five Graves is Erich von Stronheim as Field Marshall Rommel. The film revolves around Rommel and his plans and von Stronheim is nothing short of mesmerising as the formidable General. At the time of filming and release in the early 1940's, Rommel was still somewhat something of a mythical figure but coming off the back of decisive victories in North Africa, one thing was for sure – he was an astonishingly meticulous strategist and a man to be both respected and feared. Von Stronheim captures this perfectly and is one of the few genuinely great performances of the picture.
Sadly, I wasn't as bowled over by the rest of the cast. There's nothing particularly wrong with their work – Akim Tamiroff as jittery, eager-to-please-all Hotel owner Farid is another worthy standout even if his character is a rather crudely drawn one – but I felt they amounted to nothing more than stereotypes and caricatures. This meant Five Graves skirts dangerously close to being a comedy and is all the worse for it. Academy Award Nominee Franchot Tone is totally likeable but completely unbelievable as the Officer under cover as a waiter and, realistically, would have had his cover blown quicker than a firing 125mm artillery shell (thanks, Google!).
Anne Baxter as Mouche gives Dick Van Dyke a run for his money in the bad accents department as she attempts to put a French spin on her dialogue, only to result in word vertigo. Peter van Eyck is a joy to watch as Rommel's aide Lt. Schwegler, but I felt he was either slightly restrained in his menace or outshined by his superior in von Stronheim's 'Desert Fox'. Fortunio Bonanova is possibly the most stereotyped of them all as the Opera-singing Italian General Sebastiano who has absolutely no power in the room.
Gripes aside, it's still a wholeheartedly entertaining affair. The pacing is swift, the suspense is satisfying (especially in the opening act) and there are nuggets of dialogue dynamite in Wilder and Charles Brackett's script. If you've never seen it before and World War Two films are your thing, it gets a strong recommendation from me for its alternative take on the genre. There's very few battle scenes, although it does feature real-life combat footage. It's essentially a bigger-budgeted theatrical production featuring an imposing figure of war – and a lot of ridiculing of every one else.
Extras 
Five Graves To Cairo is rather sparse in the visual Special Features department, with only 2 additional goodies of note. There's the radio play version featuring the film's stars Franchot Tone and Anne Baxter as well as a 11 minute section taken from the three-part documentary Billy, How Did You Do It? in which Wilder talks about his early films, including Five Graves. The full doc is included in Eureka's previously released The Lost Weekend.  The 32-page booklet includes extensive essays on the film too.
1080p presentation on Blu-ray for the first time in the UK from a brand new 4K restoration
Uncompressed LPCM audio (original mono presentation)
Audio commentary by film scholar Adrian Martin
Billy Wilder on 

Five Graves

 to Cairo
"

Five Graves

 to Cairo" episode ofLux Radio Theatre, originally aired in 1943, starring Franchot Tone and Anne Baxter
Theatrical trailer
A collector's booklet featuring new writing by critic Richard Combs; and an archival article from 1944 about Wilder and Charles Brackett
Five Graves To Cairo is available in the UK from 17th August 2020. It can be ordered from

Eureka Store

&

Amazon

.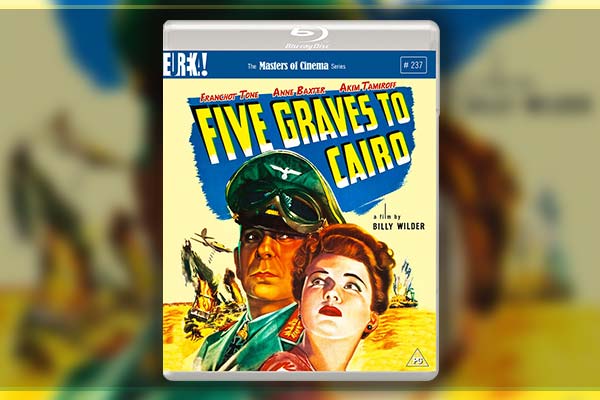 We Liked
Erich von Stroheim is incredible as Rommel
Suspense-filled first act and striking opening sequence
Fast paced espionage thrills
We Didn't Like
Rest of the cast seem to be caricatures and stereotypes
Hard to believe Bramble wouldn't get instantly rumbled

A captivating lead from Ingrid Bolsø Berdal and an engrossing espionage tale means its impossible to keep my widespread praise for The Spy under wraps.

Defying all laws of movie sequels, Fallout accomplishes the impossible by being the best mission in a series of six thanks to some truly awe-inspiring stunts, a familiar yet engaging plot and a dedicated cast and crew.

Jennifer Lawrence is fooling no one in this overlong and underwhelming spy drama.