The Details
Release Date
1st June 2020 (UK VOD Premiere)
Synopsis
Luz, a young cabdriver, drags herself into the brightly lit entrance of a run-down police station. A demonic entity follows her, determined to finally be close to the woman it loves.
Starring
Luana Velis, Johannes Benecke, Jan Bluthardt
A dazed, young cab driver drags herself into a rundown police station late one night. Across town, a psychiatrist is striking up a strange conversation with a lady in a bar, when he is paged by the police station to come in to counsel the cab driver. When he arrives, the cab driver begins an eerie and surreal confession that endangers all who cross her path.
Created as German director Tilman Singer's final year thesis project while at Cologne's Academy of Media Art, Luz is an astonishingly confident debut. Don't be put off by its reasons for existence – this is as far from a 'student' film as they come. Shot on 16mm film to replicate the grainy look of 1980's horrors, Luz pays tribute to its influences in its harsh aesthetics and the ominously eerie synth-driven score. What emerges is an atmosphere that is consistently palpable and I found it mostly similar to John Carpenter's Prince of Darkness and indeed Andrzej Zulawski's criminally underrated Possession. Luz is infinitely greater than a by-the-book recreation of Singer's cinematic heroes styles, however.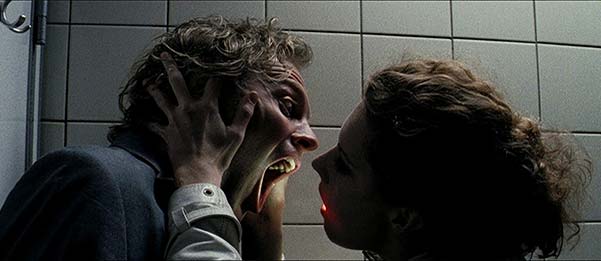 With one foot in the past, Luz is very much leaning to the future of the genre, with its narrative more in line with contemporary horror names such as Robert Eggers (The Lighthouse, The VVitch) and Ari Aster (Midsommar, Hereditary). It's extremely ambiguous and anyone looking for a more straightforward piece will likely be frustrated at its multi-layered story approach. Admittedly, I found Luz to be a mentally arduous affair and felt more confused at what was happening and why than shaken at times. It's aims are incredibly ambitious, almost too big to contain in its intimate mostly one-room setting. But Singer employs ingenious methods to work around its micro budget limitations that are decidedly simple in their execution but no less compelling to watch, even if it is overly perplexing.
It's not just Singer's inventive approaches which will hook your attention. Performances from all are enthralling, with Luana Velis as the titular Luz being completely captivating as we continuously question her mental state. Julia Riedler convinces as the seductive Nora Vanderkurt and Johannes Benecke injects some surprising comedic moments as the petrified translator Olarte. For me though, the absolute standout is Jan Bluthart as Dr Rossini, the unwitting participant in the evening's horrific events. Looking like a hybrid of Rutger Hauer (Flesh + Blood, Blade Runner) and Paul Bettany (Solo: A Star Wars Story, A Knights Tale) and just as commanding of the screen, Bluthart's steely stare is spine shivering.
With a searing debut that respects the pictures that made it possible all the while showcasing a signature approach, Luz signals a potent and alluring new vessel for modern horror in the form of Tilman Singer. Watch this space.
Luz will be available on Sky Store, Virgin Media, Google Play and Amazon in the UK through Sharp Teeth Films from 1st June 2020.  
We Liked
Assuredly confident debut
Harsh 16mm style
Ambitious in its storytelling
Compelling performances from all
We Didn't Like
Occasionally frustrating in its ambiguity
None of the characters are fully fleshed out

If you have an acquired taste for espionage flicks from the 1960s, The Thousand Eyes of Dr. Mabuse will be one to watch. Everyone else best avert their gaze.
The most charitable thing one can say about Snowflake is that it was possibly intended to be this awful.

Eureka Entertainment has released an intrinsically interesting documentary about a subject matter unjustly unexplored. Suchsland knows how to compose a documentary and Hitler's Hollywood is certainly a focused piece of work